*This post may contain affiliate links. As an Amazon Associate we earn from qualifying purchases.
Whether through HGTV, home design magazines, or other media, you've probably heard of modern tiny homes and the tiny home movement. This trend began in the United States but is certainly not isolated to North America. While some experts cite the financial crisis of 2007-2008 for the increase in tiny home popularity, the housing market's recovery has had little impact on the number of homebuyers opting for tiny homes. Many people prefer the simple, minimalist lifestyle that inherently comes with living in a tiny home. That is a far cry from the consumerist style of larger suburban houses that otherwise dominate the real estate market in most of the United States.
Although most information surrounding tiny homes paints them as a brief trend among wanderlusting millennials, reports show that the number of tiny homes in the country is growing. And tiny homes have become increasingly popular among retirees looking to downsize. But since many tiny home dwellers purposely choose to live off-the-grid, getting an entirely accurate number is difficult. While some organizations try to keep tabs on the tiny homes being lived in, built, and sold, these numbers are just estimations.
What Is a Tiny Home?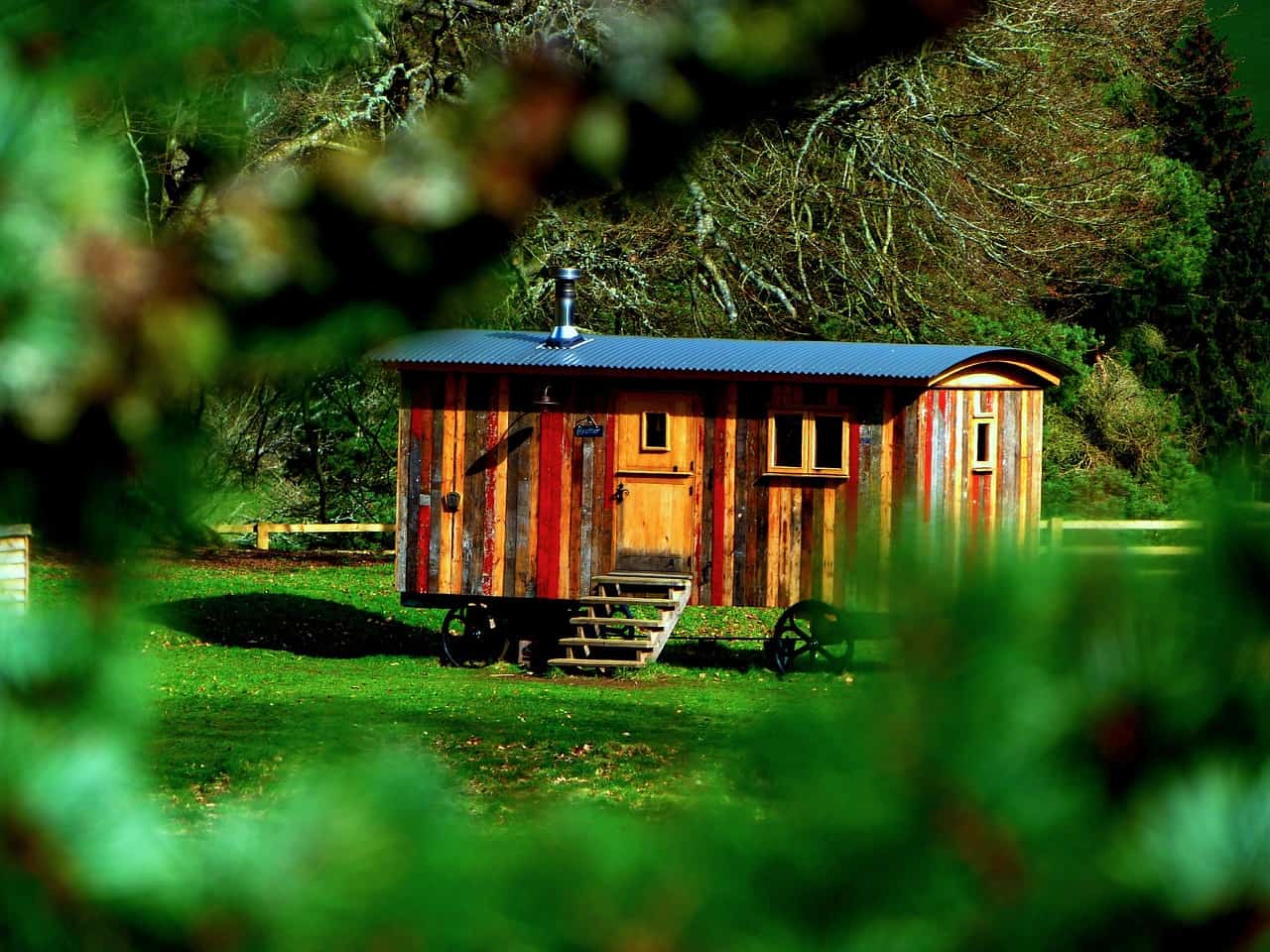 Tiny homes come in an impressive array of styles, sizes, and materials. Most tiny homes range from 100 to 400 square feet. Considering that the average American home is over 2,600 square feet, this is quite small. But there are no set rules for what is or is not a tiny home. Some tiny homes can get below 80 square feet, and others are as big as 700 square feet. It's all up to personal preference.
Some tiny homes are available fully built and ready to live in, while others are available as building plans for the motivated DIY-er. A big part of the challenge (or fun, depending on your perspective) of designing a tiny home fits everything one needs inside such a small space. Not only is the square footage limited, but almost all tiny homes are technically only one level. Because of this, most tiny homes incorporate multiple-use spaces. Tiny homes often feature loft beds and a combined living room, kitchen, and dining room to accommodate such a small space. While some people thrive in this tight living environment, others struggle.
What is Modern Design?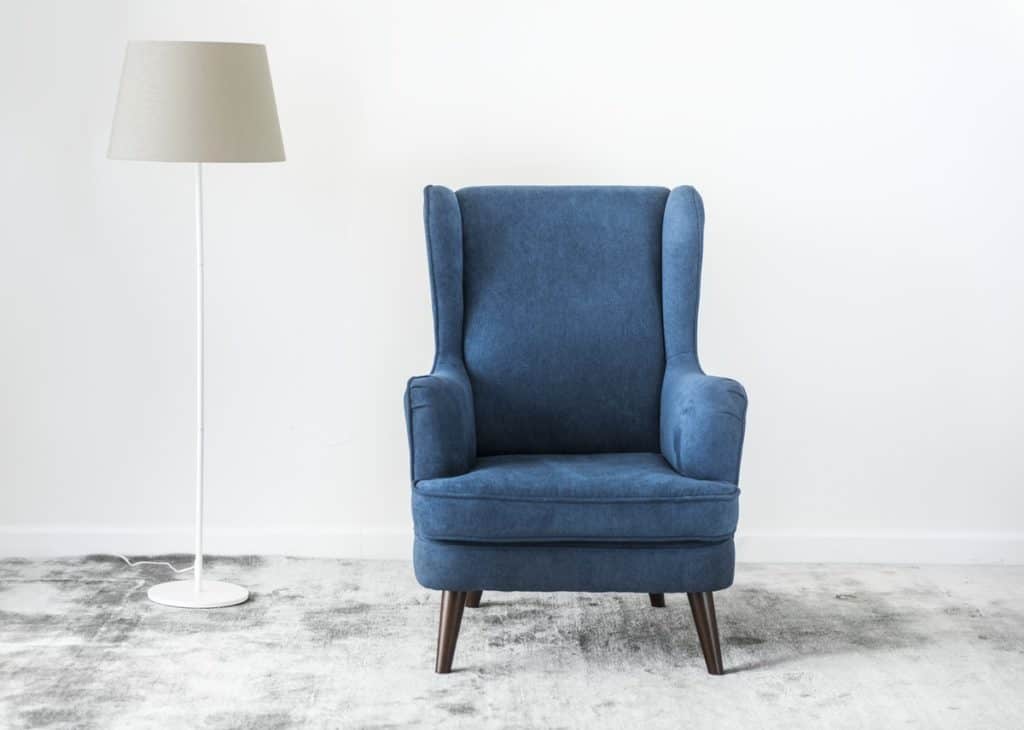 One of the biggest home decor trends of the moment is called modern design. But what counts as modern design? Modern design mostly comes from early 20th-century styles and trends, with the most popular being mid-century modern. Although some people use modern and contemporary design interchangeably, contemporary refers to a design that is current while modern design relates to a plan that is recent, but still in the past. That might seem like semantics, but many home decor enthusiasts will defend this distinction to the death.
[amazon fields="B0773TW9Q2″ value="thumb" image_size="large" image_align="center"]
[amazon fields="B0773TW9Q2″ value="button"]
Modern tiny homes take inspiration from traditional, modern home design but on a stripped down and smaller scale. This design trend uses muted, neutral color palettes with occasional pops of bright, solid color. Furniture and architecture lines are typically clean and smooth. You'll pretty much never find carving or engraving typical of Victorian or Edwardian styles. But natural textiles and wood bring texture to otherwise plain pieces of furniture.
How Much Do Modern Tiny Homes Cost?
Most modern tiny homes cost between $200 to $400 per square foot. But premium tiny homes can cost over $100,000 once everything is said and done. While this is a lot cheaper than the average traditional home in the United States, it's still a hefty price tag.
Opting to build a tiny home instead of buying one ready-made can significantly cut down on costs. But the average price to build a tiny home is still about $25,000 to $35,000. Some tiny home builders can create their new abode for around $10,000. While you'll still need the skillset and tools necessary to build a tiny home, you can find building plans for sale all across the Internet. Some are even free.
[amazon fields="B079VS368P" value="thumb" image_size="large" image_align="center"][amazon fields="B079VS368P" value="button"]
Just like "normal" homes can vary in cost from under $100,000 to several million, the same is true (on a much smaller scale) for modern tiny homes. While the overall price range is lower than a typical home, the final cost for building or purchasing a tiny home dramatically depends on several factors. Size, materials, and add-ons like high-end appliances will make all the difference price wise. Building permits and the land you choose to rent or buy to place your tiny home on also impacts the price.
Can you get a mortgage for a tiny home?
Technically, yes, but homebuyers rarely choose this path. Modern tiny homes are generally cheap enough that a mortgage is either not necessary or not the best financing option. One limiting factor when it comes to obtaining a mortgage for a tiny home is that mortgages are only available for permanent properties. Many modern tiny homes are portable, therefore excluding them from the mortgage loan criteria. However, this means some modern tiny homes qualify for RV loan financing instead.
[amazon fields="B07C2T847W" value="thumb" image_size="large" image_align="center"]
[amazon fields="B07C2T847W" value="button"]
But most tiny home shoppers opt to purchase their tiny home out-of-pocket or take out a personal loan. Since personal loans work for any purchase, they're the easiest option if you aren't able to afford your new tiny home outright. Some private tiny home builders also offer in-house financing options. Whatever way you choose to pay for your tiny home, say goodbye to the burden of a 15- or 30-year traditional mortgage.
Our Favorite Modern Tiny Homes
​/2-bedroom-tiny-house/​​​From pre-fabricated to blueprints, there are tons of modern tiny homes available to prospective tiny home owners. Whether you plan on building or buying premade, you can find inspiration from current tiny homes that already exist.
Some people think that living in a tiny home means putting home decor and design on hold. Thankfully, this isn't true at all. If you're interested in downsizing to a tiny home, but don't want to sacrifice style and aesthetics, then these modern tiny homes might be right up your alley.
The Nest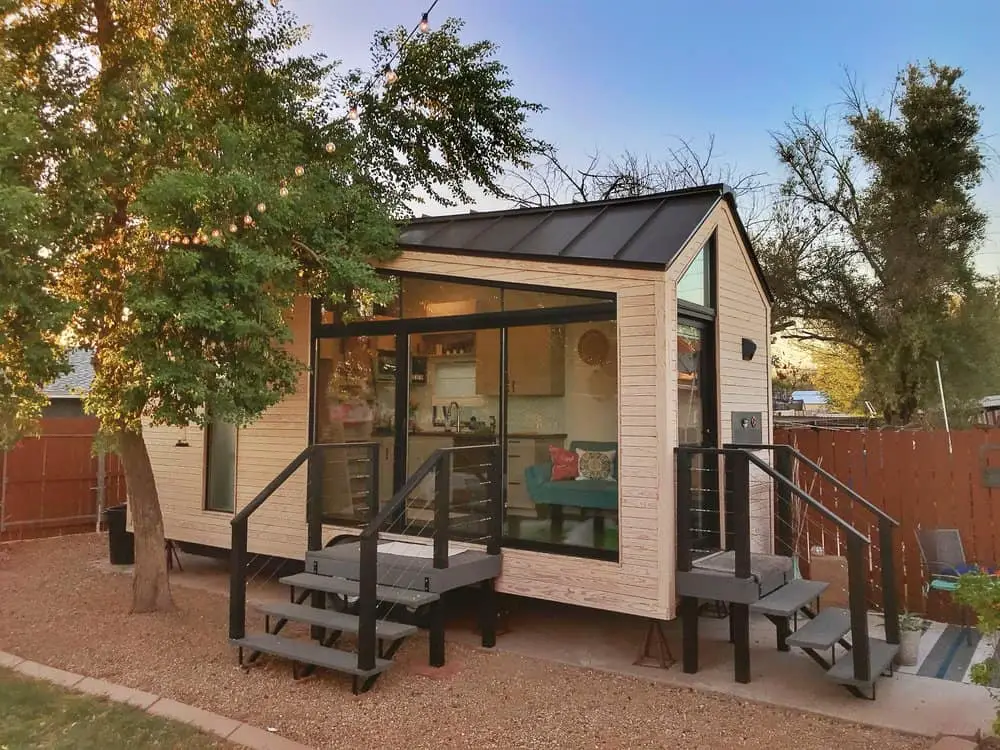 Image from The Nest Phoenix
The Nest is a tiny home rental located in Phoenix, Arizona. This sleek take on the tiny home movement uses a wall of windows and space-saving techniques to make this small space feel open and inviting. This home is only 200 square feet but, despite the limited space, the lofted bedroom features a queen-size bed.
While the decor inside The Nest is definitely modern, it's this tiny home's architecture that seals its contemporary charm. The exterior and interior both feature matching light-stained wood panels with dark trim. They accentuate this tiny home's clean architectural lines. But if you do fall in love with the contemporary decor inside this home, you can purchase the handmade planters featured in The Nest online.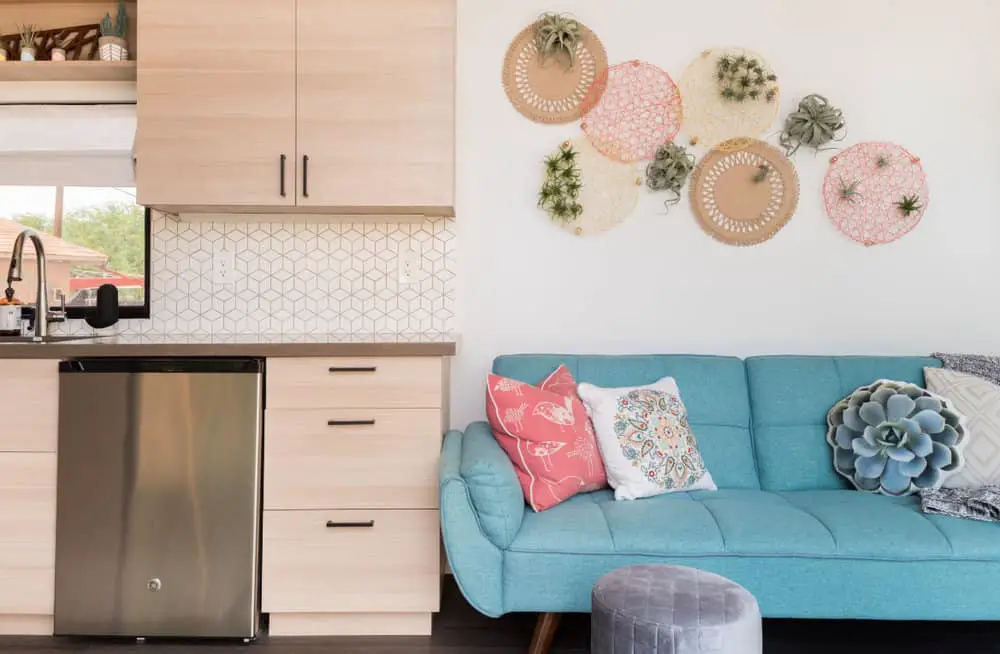 Image from The Nest Phoenix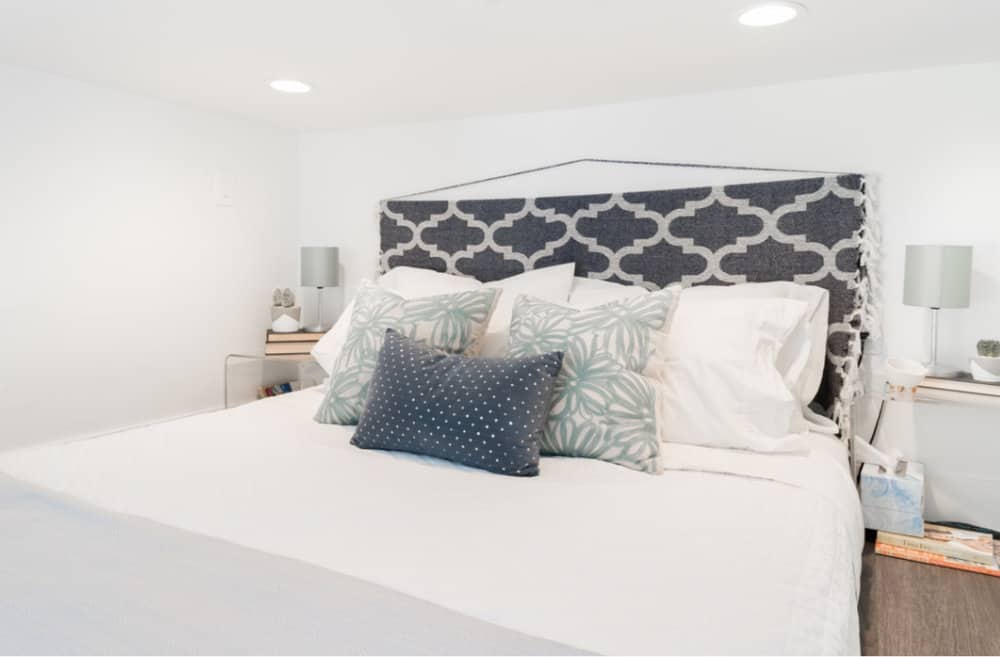 Image from The Nest Phoenix
While you can't purchase this house for yourself, you can stay there if you ever visit the Phoenix area. Rates are around $90 per night on Airbnb. Maybe your visit will inspire you to bring some of The Nest's modern style into your own tiny home.
Land Ark RV Drake
Image from Land Ark
The Land Ark RV Drake is a luxury model among most modern tiny homes. This home is just over 350 square feet. With two lofted bedrooms, one big enough for a king mattress and the other big enough for a queen, this tiny home can fit up to six or seven people.
This tiny home is on an RV base but looks nothing like traditional mobile homes. The matte black exterior is instantly striking, and the interior is equally so. The entire interior of this tiny home features white-washed wood paneling with matte black trim and accessories. This home also includes plenty of small, but useful, built-in storage features.
Image from Land Ark
Image from Land Ark
But as far as modern tiny homes go, the Land Ark RV Drake home is extremely pricey. Coming in at around $140,000 for a new model, you won't save much money compared to purchasing a full-sized home.
The Nash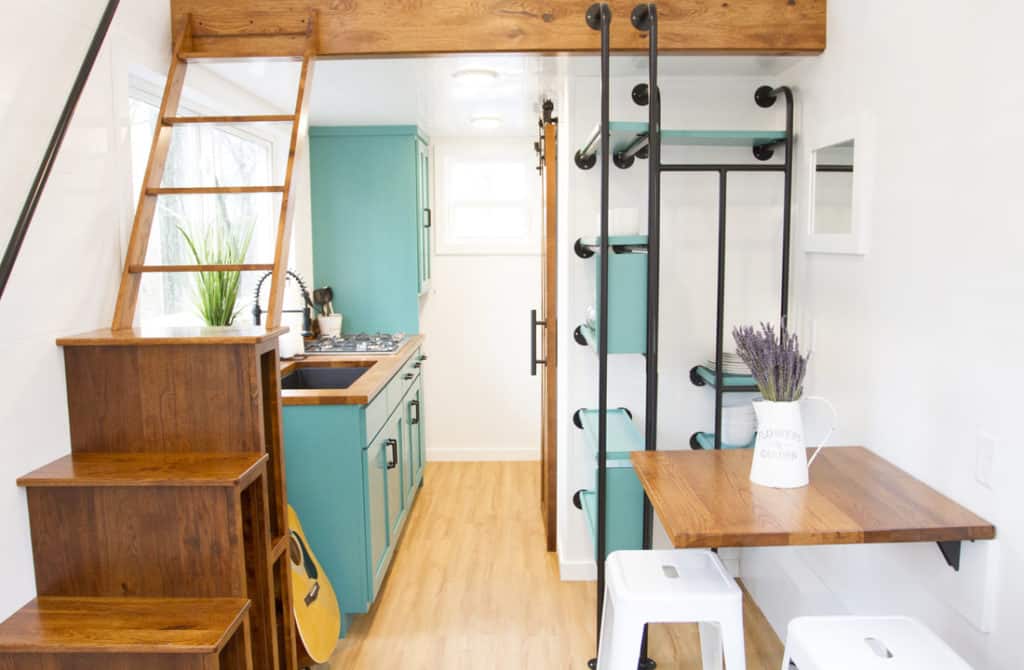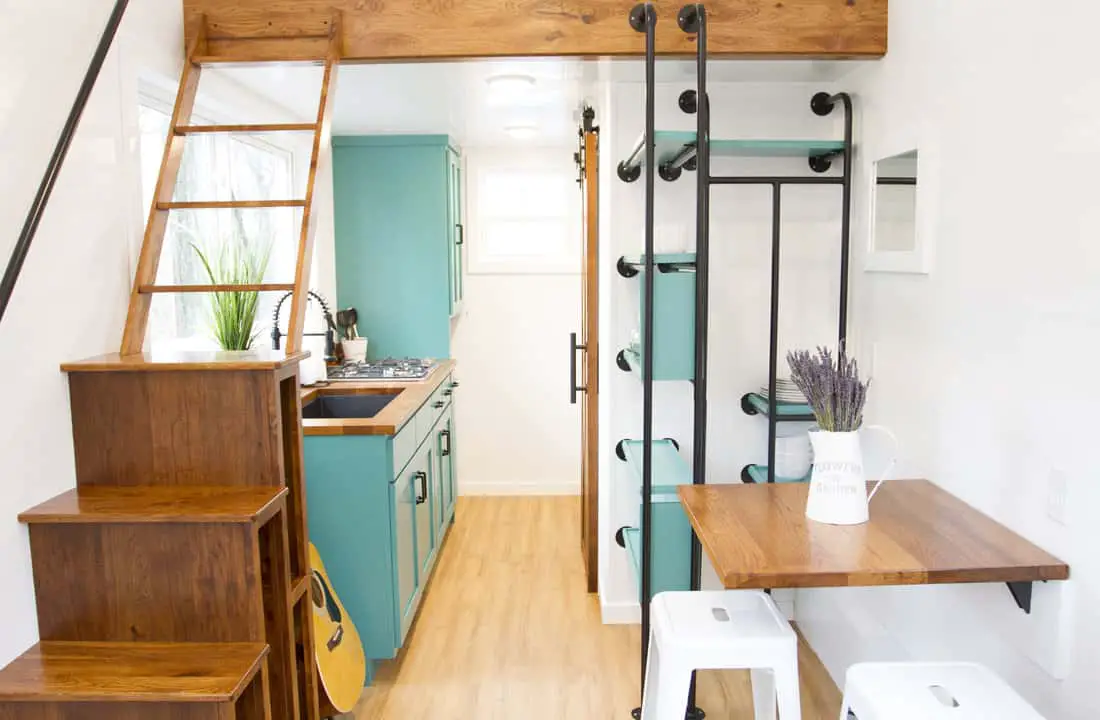 Image from Modern Tiny Living
The Nash tiny home, by Modern Tiny Living, is an excellent example of using a single pop of color to brighten a space. This home is on a 20-foot trailer and is only 160 square feet. Despite its small size, it features two bedroom lofts. These lofts fit a queen mattress with a built-in dresser and a single twin mattress.
The interior of this tiny home is all white and natural hues, with one key exception. The bright teal found on the front door, shelving, cabinetry, and more transforms this space. And varying shades of wood bring texture to these otherwise clean-cut space.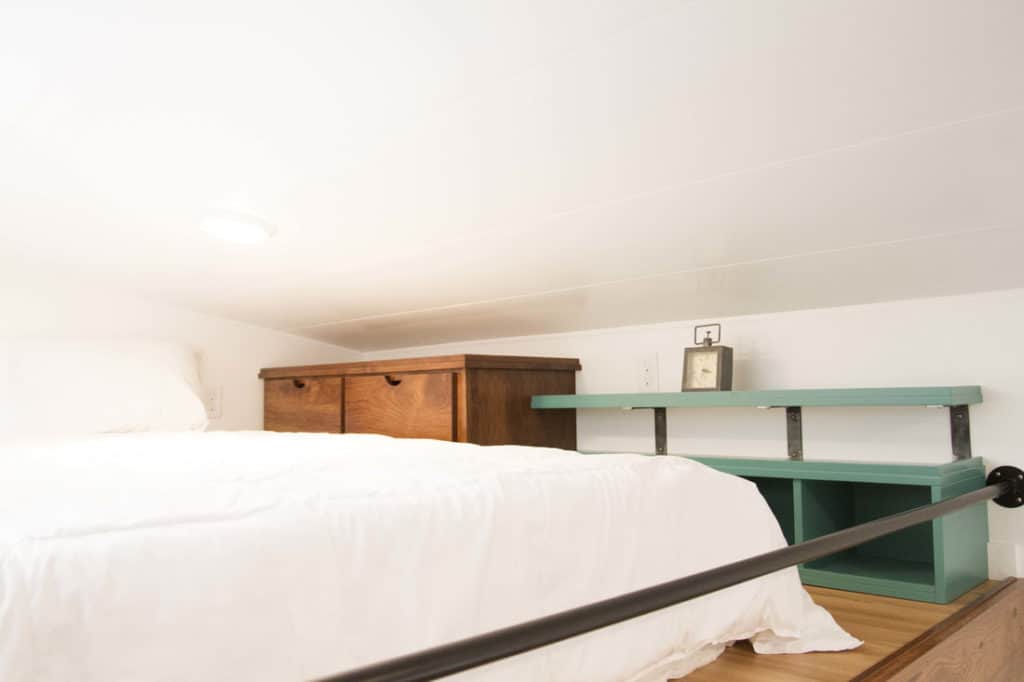 Image from Modern Tiny Living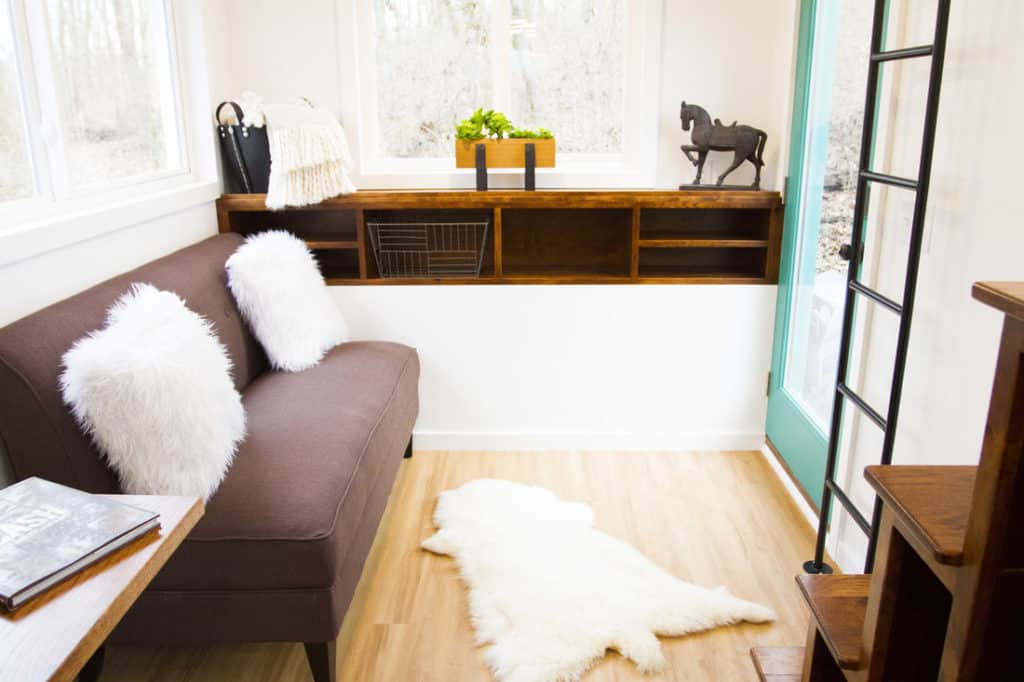 Image from Modern Tiny Living
Modern Tiny Living, which manufactures and sells many modern tiny homes, sells the base model of The Nash for around $60,000. While this isn't as cheap as some modern tiny homes out there, it's pretty reasonable for a luxury, prefabricated model.
WheelHaus Wedge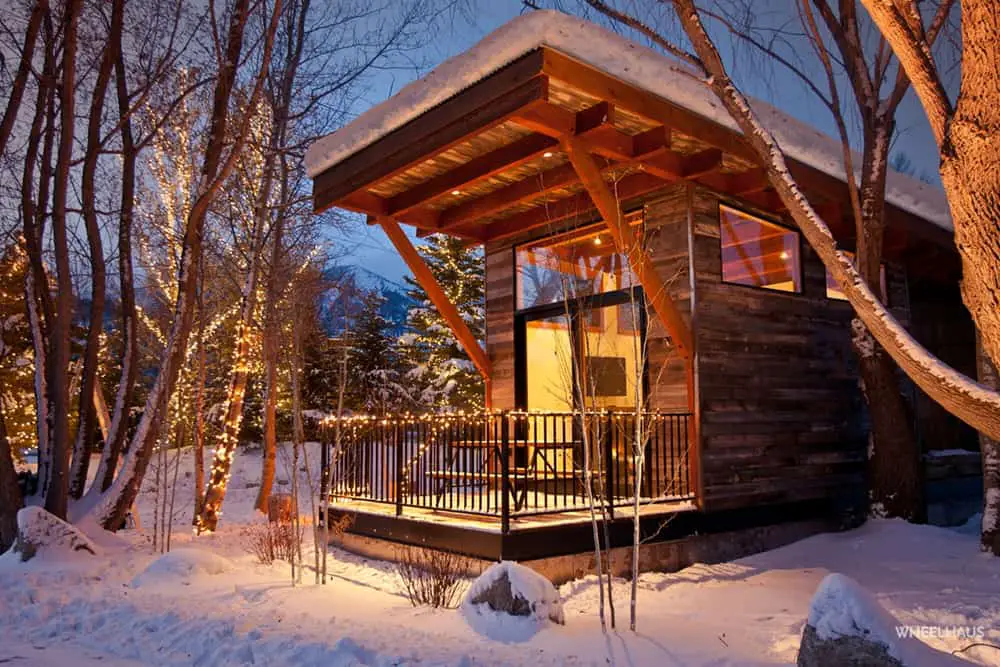 Image from Wheel Haus
The WheelHaus Wedge is a modular tiny home that from many angles does not feel like one. This home's oversized windows sit along the ceiling's edge, which fills the space with light without exposing the interior living space. This 400 square foot home even features an additional 100 square foot outdoor deck.
The exterior of this tiny home is reclaimed wood, giving it a rustic cabin feel. But the interior looks and feels like a high-end apartment. The bathroom features a built-in glass shower and floor-to-ceiling tiles. And the non-lofted bedroom fits up to a king mattress.
Image from Wheel Haus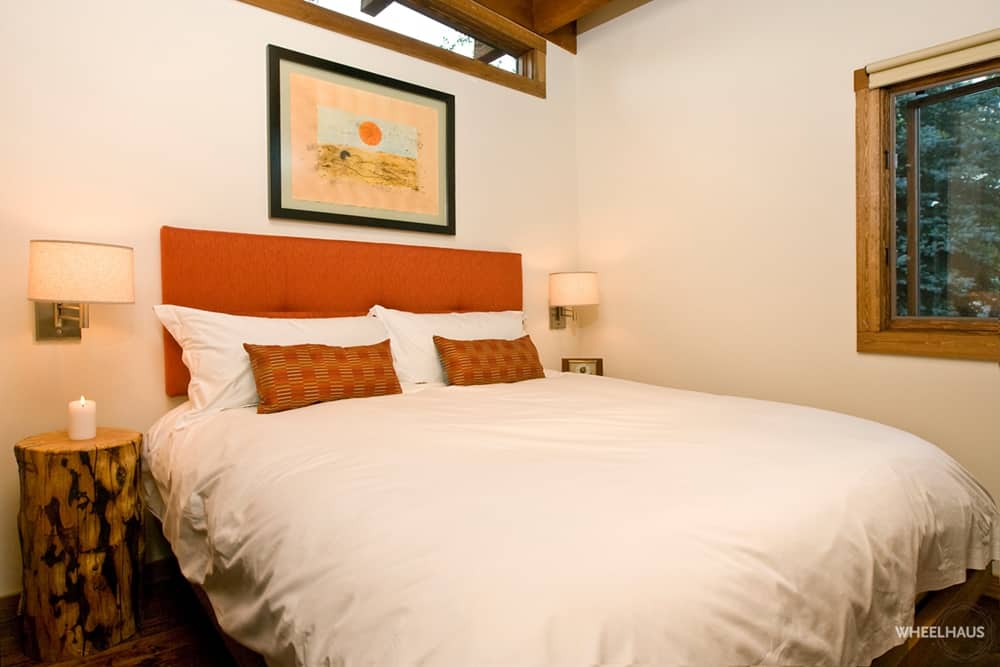 Image from Wheel Haus
The Wheelhaus Wedge is around $95,000 for the base unit. WheelHaus also makes several other modern tiny homes, including modular and RV styles. While the Wedge is one of their cheaper modern tiny homes, some models are close to $400,000.
The Nugget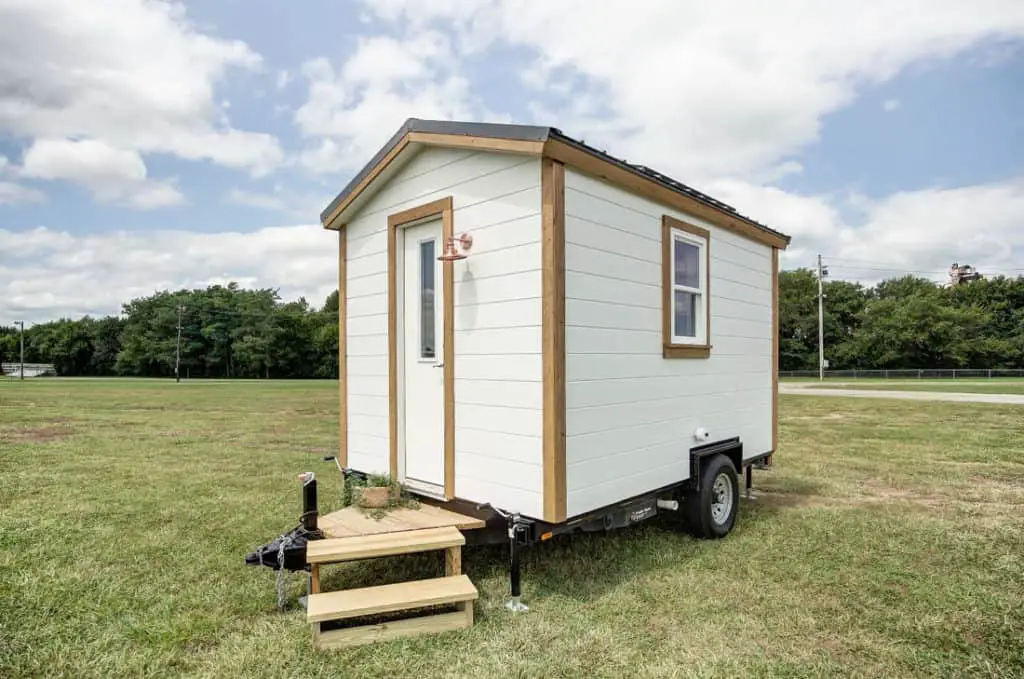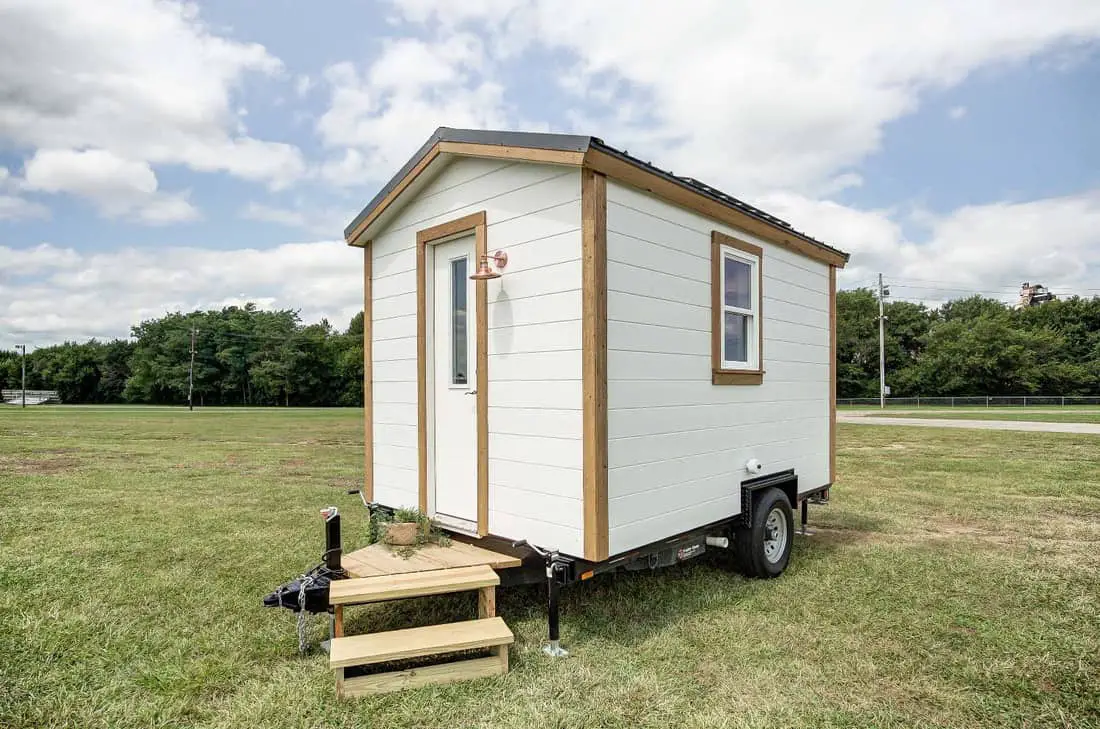 Image from Modern Tiny Living
The Nugget is another model from Modern Tiny Living, the makers of The Nash. This extra small home is designed to go off-the-grid with built-in solar panels, a composting toilet, and a 100-gallon water tank. This home is only 102 square feet, making it cozy to some and claustrophobic to others. Because of its limited space, Modern Tiny Living markets this tiny home as a weekend getaway, rather than a full-time home.
This tiny home is built on a trailer, making it the perfect RV replacement. The exterior features white pine panels with bare wood trim. The Nugget interior combines lots of white with light-washed wood counters and shelves. While the space inside this tiny home is quite tight, there are plenty of built-in storage options throughout, and the colors help open up the available space.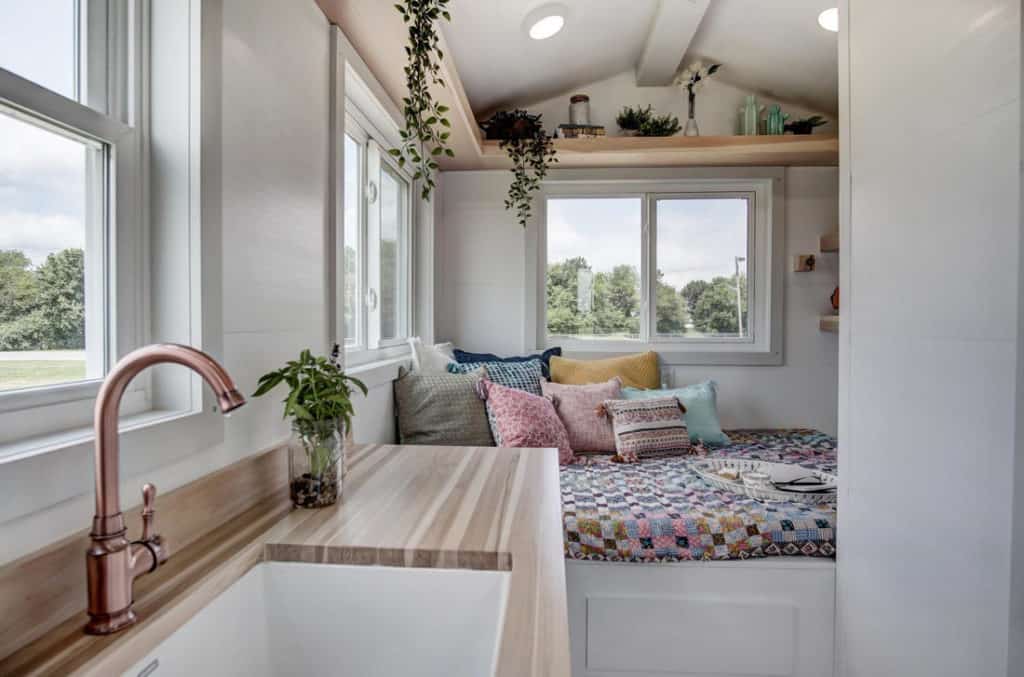 Image from Modern Tiny Living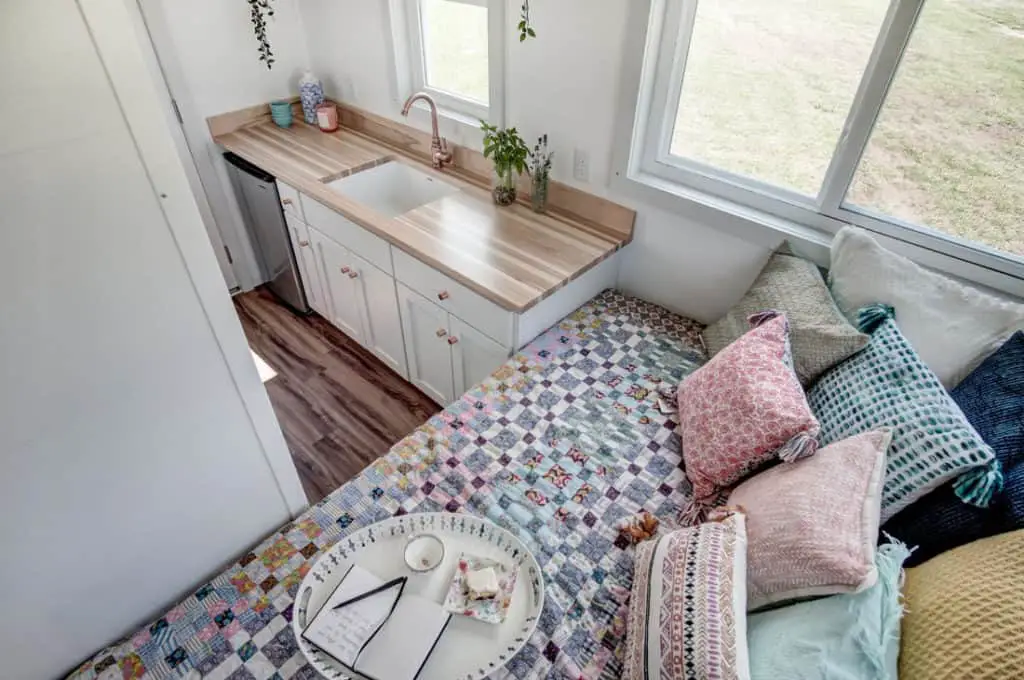 Image from Modern Tiny Living
The Nugget tiny home starts at around $40,000, but add-on features can quickly add a few thousand dollars to this price. A 40-year warranty covers The Nugget's metal roof.
Is a Tiny Home Right for You?
| Product | Details | Price |
| --- | --- | --- |
|   The Nest | Total Floor Area200 sq. ft.DesignWall of windowsSpace-saving techniquesContemporaryWood panelsFeaturesBedroom with queen-sized bedClean architectural lines |   |
|   Land Ark RV Drake | Total Floor Area350 sq. ft.TypeRV-basedDesignMatte black exteriorWhite-washed wood paneling interiorFeaturesTwo lofted bedrooms with king and queen-sized bedsSmall and useful built-in storage |   |
|   The Nash | Total Floor Area160 sq. ft.DesignSingle pop colorAll white with natural huesClean-cut spaceFeaturesTwo bedroom lofts with queen-sized mattressBuilt-in dresser |   |
|   WheelHaus Wedge | Total Floor Area500 sq. ft.DesignOver-sized windowsRustic cabinFeaturesBathroom with built-in glass showerNon-lofted bedroom with king-sized mattressOutdoor deck |   |
|   The Nugget | Total Floor Area102 sq. ft.DesignWhite pine panels with bare wood exteriorLight-washed wood countersFeaturesBuilt-in storage optionsBuilt-in solar panelsComposting toilet100-gallon water tank |   |
Lovers of minimalist living can easily list the benefits of modern tiny homes. These homes are overall less expensive than traditional homes and have a smaller energy footprint than their larger counterparts. You can also take on less debt and expect to be debt-free much earlier than with most mortgages. Modern tiny homes built on a non-permanent foundation also give you the freedom to move around the country as your heart desires.
The most obvious downside of living in a tiny home is the size. If you live alone, this might not be a huge deal. But if you live with a partner or family member, then you can expect to have little or no privacy. Living in a tiny home also forces you to let go of many of your material possessions. While most of us could do without a closet full of barely-worn clothes if you have a hobby or passion that takes up space you might not be able to take it with you when you move into your new space.
Whether or not one of these modern tiny homes is right for you will depend on your lifestyle. And the sacrifices you're willing to make to take on a more minimalist way of life. While tiny homes might be a trendy way to escape the daily grind of civilization, they're certainly not for everyone. Make sure to take a long look at your current life and future goals before jumping into one of these modern tiny homes.