*This post may contain affiliate links. As an Amazon Associate we earn from qualifying purchases.
Tiny homes on wheels open up all sorts of possibilities for living situations. Maybe you've fallen into an unfortunate situation and need a small home for a while. Or, perhaps you simply need a small vacation getaway for a weekend to rejuvenate your mind.
Whatever your circumstance, tiny homes on wheels could be extremely important in your life. They offer a minimalist approach to life while also offering the mobility of a trailer. But what do you look for in a tiny home and what questions do you ask? Knowing what to look for will help you choose the perfect one for you.
The Popularity of Tiny Homes on Wheels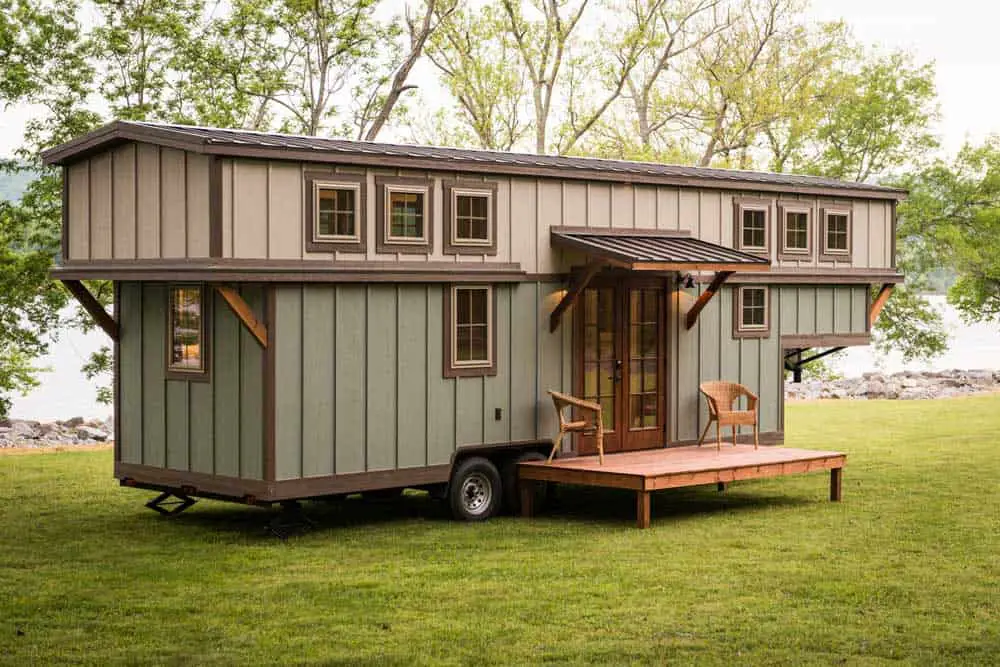 These days, minimalism is the popular trend. Whether it's saving money, getting rid of possessions you no longer need, or decluttering your mind, minimal is in. Minimalism is supposed to calm the mind and life. The fewer things you own, the less you have to think about. You can apply this to almost any facet of life, including your home. That's why tiny homes on wheels are so attractive. But, what exactly are homes on wheels?
What is it?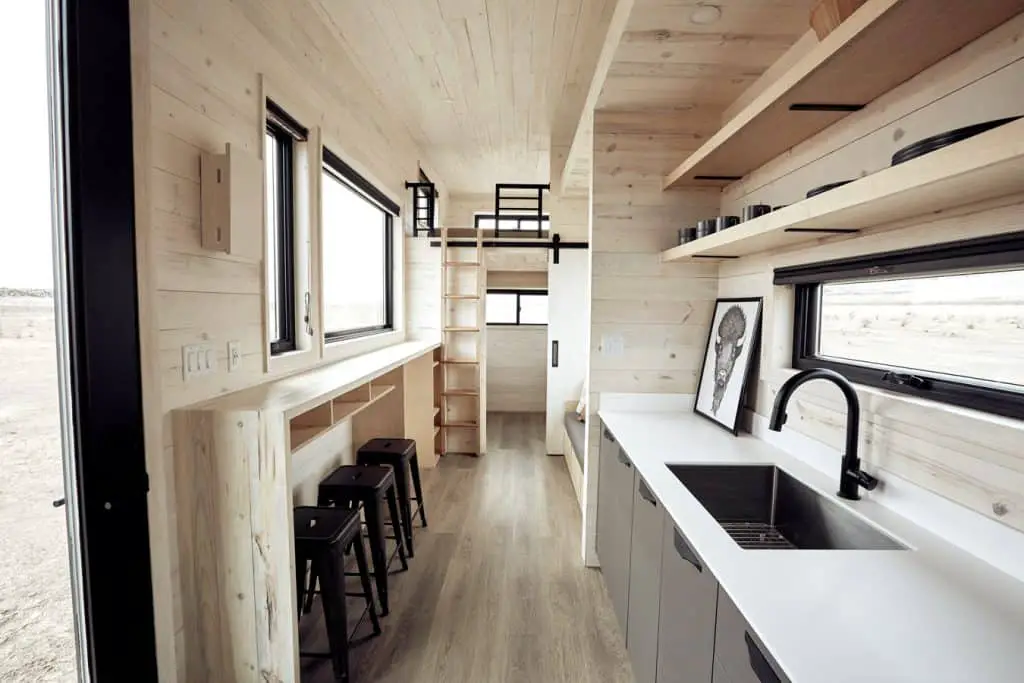 Tiny homes on wheels are just what they sound like. They're reminiscent of a trailer but with all the makings of an apartment. These homes span between somewhere as low as 150 square feet to 500 and 600 square feet. They function as small homes you can tow anywhere you can manage it. They're fascinating and all the rage in a world obsessed with mansions and overindulgence.
Where can you buy these tiny homes on wheels?
Amazon, eBay, and anyone who has one can sell it to you. They're fairly small, so that's how Amazon gets away with selling them. They're a growing market, so you may want to get ahead of the game and buy one before they become a hot commodity. These homes are great for any use. Whether you're vacationing for a weekend or just want to break away from the pressures of a huge mortgage, it's never a bad choice to buy one of these tiny homes on wheels.
How We Chose Our Favorite Tiny Homes on Wheels
When you boil it down, we factored in a couple of major attributes when choosing our favorite tiny homes on wheels. First, the price needs to be right. Expensive is alright, but the quality needs to be there if you're coughing up $100,000. Also, features are key to a great home on wheels. Does the home have a bathroom? Bedroom? How does it look? How environmentally friendly is it? We took all of these into consideration when choosing our favorite tiny homes on wheels.
Our Favorite Tiny Homes on Wheels
Tiny homes on wheels come with a variety of looks, shapes, and sizes. The accommodations also prove a deciding factor in our favorites. Which ones made the list? Read on to find out our favorite tiny homes on wheels.
The Cozumel
[amazon box="B0771NM4R5″]
Tiny homes on wheels all look and feel different. Some give off a country vibe while others fit right in with the bright lights of the city. The Cozumel is a rare tiny home in that it fits in anywhere. With 339 square feet, the gorgeous yet simple house contains one bedroom and one bath. A living room and kitchen also adorn the inside.
On the outside, you have the option to step out onto a beautiful covered porch. Capping it all off is a mono-sloped roof, which gives it a modern feel. Starting at $64,000 to $70,000, it's hard to find a better bargain than this when looking at tiny homes on wheels.
The Irish Cedar Caravan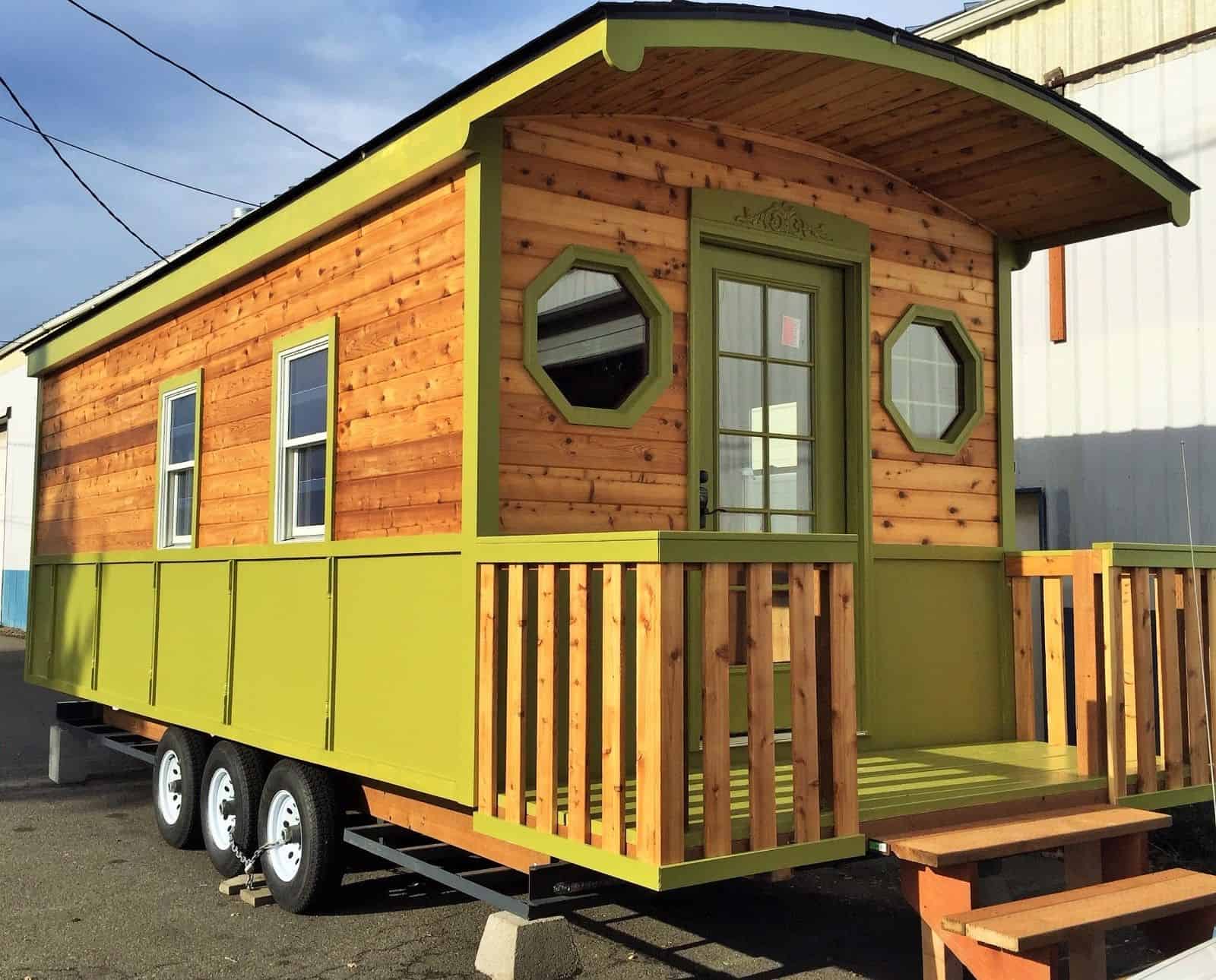 Caravans by themselves aren't used that much anymore. But, a lot of them are being re-purposed into things that you can use. So, why not shelter people and turn it into a home? Tiny homes on wheels are a hot commodity right now, and it makes sense to take advantage of this market.
A premium hardwood laminate floor graces you with its presence. A full bathroom and kitchen make the deal even sweeter. Fully insulated floors and ceilings make the Irish Cedar Caravan a tiny home on wheels you need to look into. Starting at a price of $48,450 to $52,000, it's a fantastic home.
The Drake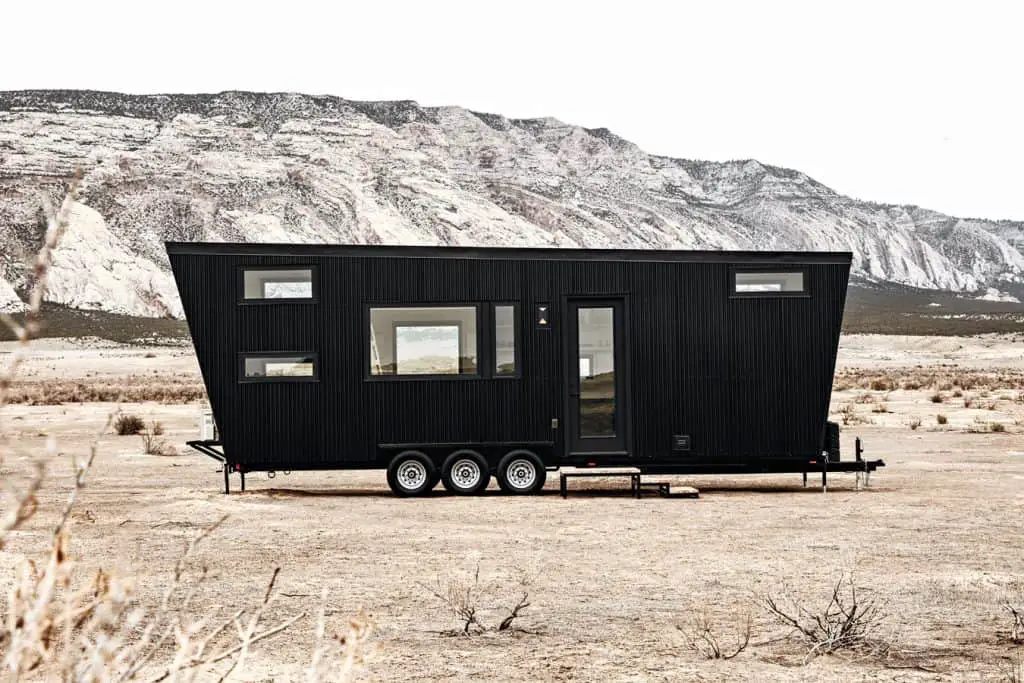 A respectable 357 square feet greet you when you first step into this lovely tiny home on wheels. One of the features that makes the Drake stand out from its peers is the siding. Heavy-duty black corrugated metal siding adorns the side of the home, and this means that you needn't worry about weather wrecking your home.
A built-in sofa gives you the luxury of lounging around when you feel like it. A multi-position ladder leads to a small storage space, and the kitchen accommodates a stainless steel refrigerator and freezer. Listed at $139,900 to $145,000, don't pass up the Drake. It's a serious contender for the best when shopping for tiny homes on wheels.
The Nugget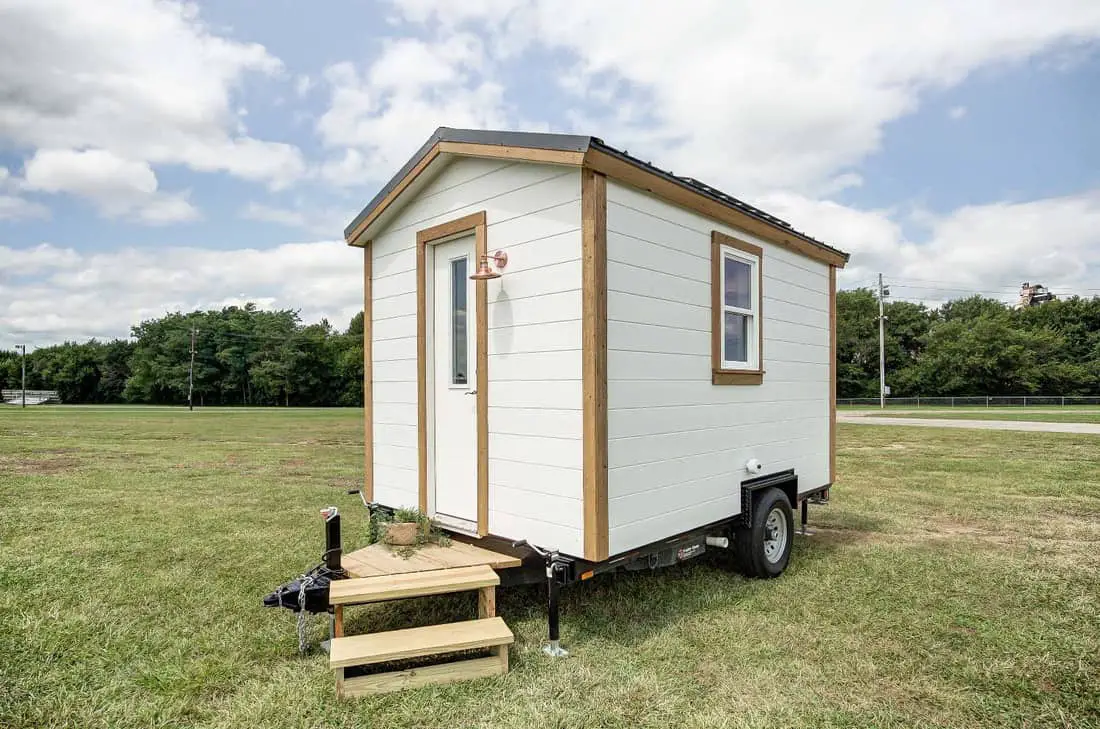 Taking care of the environment is a big issue these days. Any steps you take into saving the environment is a great act. And now there's a house that reflects these values. Meet the Nugget, a 102 square feet home that hugely helps the environment.
The major pull for this tiny home on wheels that helps the environment is the collection of solar panels on the home. Four solar batteries also come with the panels, so you can continue to help care Mother Earth. You also get a propane heater and propane tankless water heater. A 30 by 30-inch shower means a small area, but something that you can surely take.
Starting at $39,000 to $49,000, keep this house in mind when you're looking for tiny homes on wheels.
The Sturgis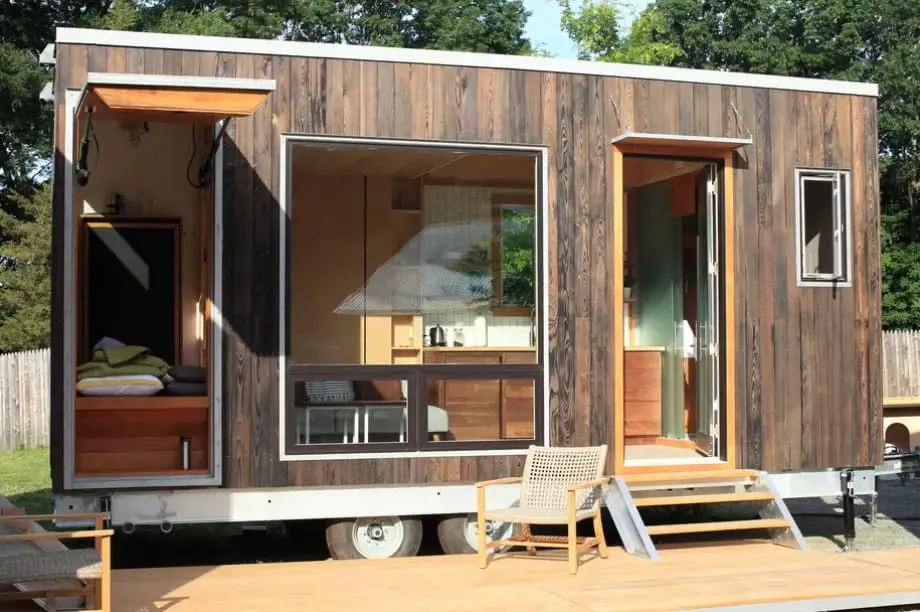 The cypress siding is one of the many things that you'll love about this beautiful tiny home on wheels. A large picture window lets the owner have a wonderful view of wherever they plan on parking it. There's also a unique feature in this home dubbed an "obsession space." Basically, you can theme this small part of the home any way you want. It's a neat little addition.
One hundred seventy square feet is more than enough to enjoy this amazing home. Tiny homes on wheels are increasingly popular, but it's hard to find ones that are worth the money. The Sturgis is one of those homes. Listed between $99,000 and $110,000, tiny homes on wheels will never be the same after this wonderful creation.
The Wheel Pad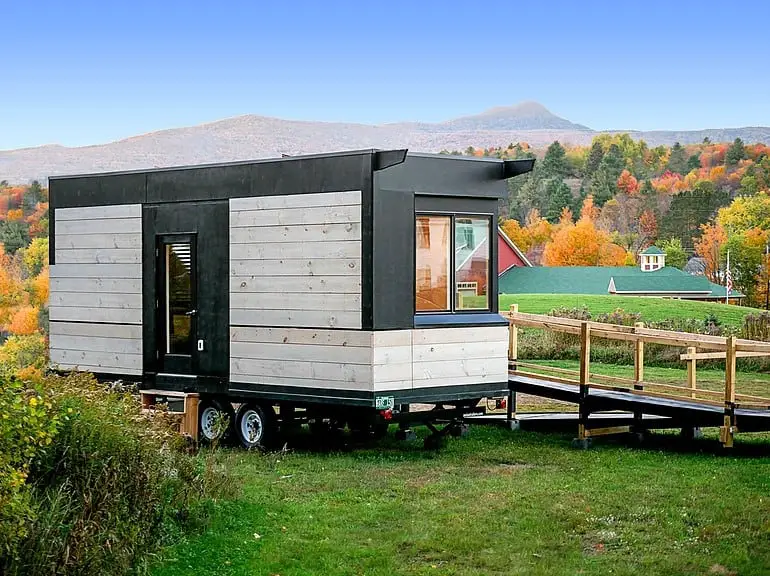 Accommodation is a vastly important theme in today's society. Whatever accommodations you need, there's almost always an option wherever you go. With this in mind, it's important to realize that even things such as wheelchair ramps are in some of these tiny homes on wheels. The Wheel Pad is an exemplary example of this type of design thinking.
Although it's 220 square feet, it's universally accessible. It features a mobile chassis base, and it even has things that are great for the environment. Composting toileting and solar panels are just a few of the amazing features of this universally accessible home on wheels. Priced between $60,000 and $75,000, it's a fantastic price range for this one-of-a-kind home.
The Greenmoxie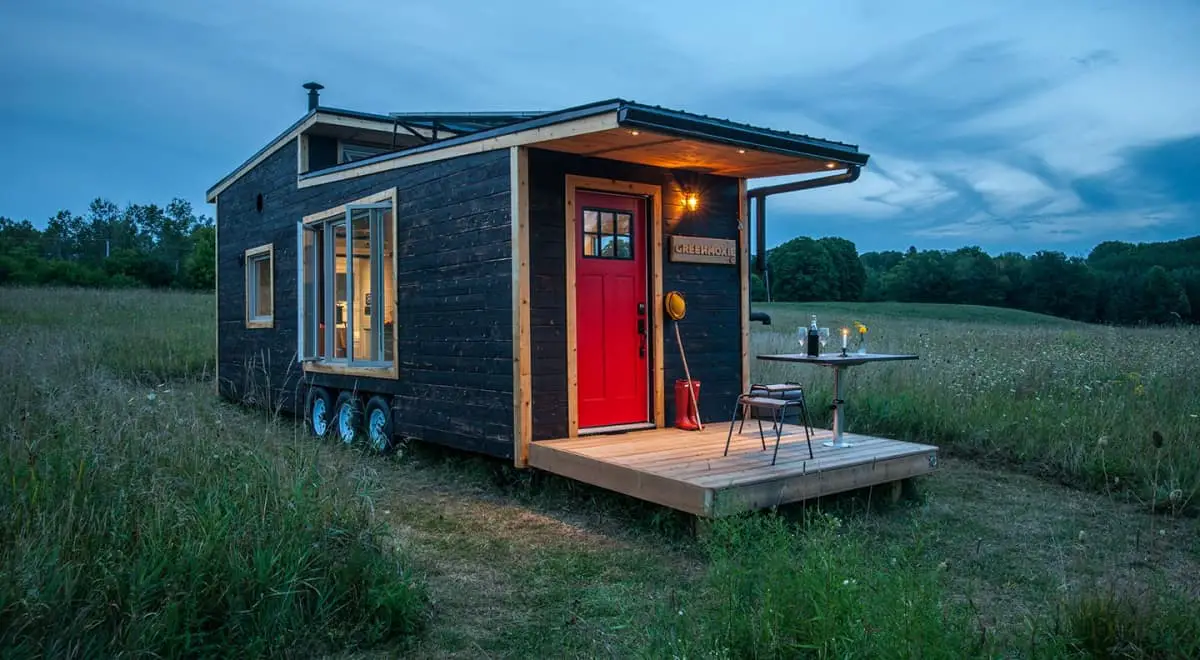 There's been a lot of talk about eco-friendliness, and the idea keeps on rolling with this wonderful home on wheels. When you take a look at the Greenmoxie, it may not stand out. You may just see what looks like a cabin on wheels. But, the Greenmoxie is so much more.
A refrigerator and freezer keep your belly full while a wood burning stove gives you a more rustic feel. Reclaimed modern windows are a treat, and hardwood oak flooring makes for a classic look. The Greenmoxie is full of surprises, and it's well worth the $65,000 to $80,000 price. Looking for tiny homes on wheels has never been easier when you come across a winner like the Greenmoxie.
The Living Vehicle
Tiny homes on wheels are, essentially, both homes and vehicles. While you don't necessarily drive around in your home everywhere you go, you still can drive it. That perfectly encompasses the Living Vehicle. Aluminum siding reflects the sun and solar panels placed all around the home makes this one of the best examples of an eco-friendly home on wheels.
A security system comes with the home, so you'll always be secure. Two people can comfortably live within this tiny home on wheels, and it's a fantastic buy. The home even comes with a spa-style bathroom. This tiny home on wheels costs a pretty penny, as the entire price range is $129.000 to $135,000. However, you can't fake quality, and this is easily one of the best values you can get.
The Cypress
When you look for the best tiny homes on wheels, what do you look for? Is it more about how it looks than what's on the inside? Maybe you cherish the appliances rather than the square feet. Or, maybe the square footage is the only selling point for you. Either way, the Cypress houses all these things.
First, the Cypress has a loft. So, you don't have to spend all your time on one level. The first floor is 123 square feet, and the loft is 71 square feet. Sealed cedar wood makes the home stunning, and a refrigerator and freezer mean you won't be going hungry. These also include heating and air conditioning.
All of these features make for a tremendous package between $66.850 and $80,000. It's a price well worth it.
The Escape One XL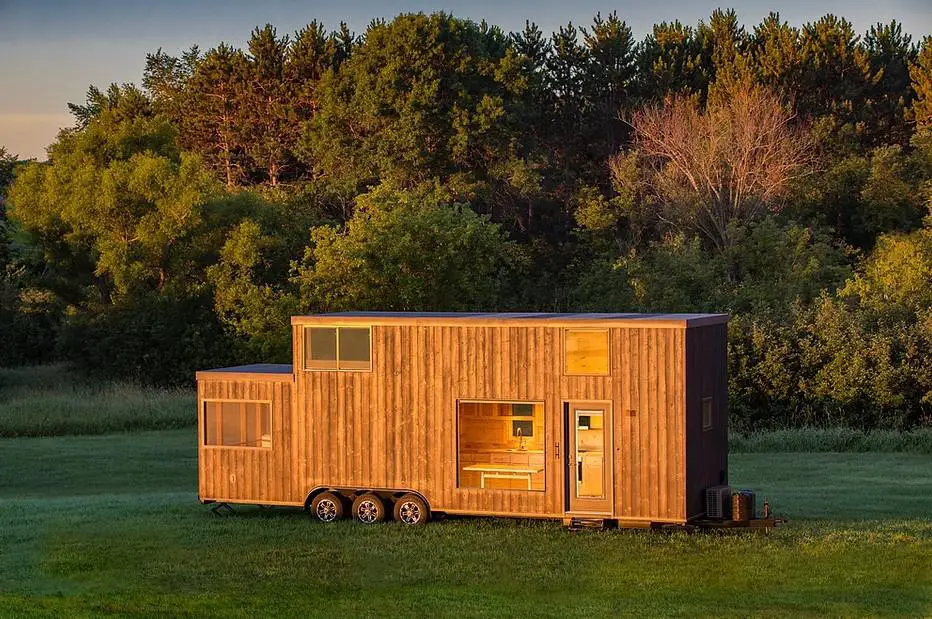 There are a lot of different designs tiny homes on wheels can take. Some incorporate lofts into their design, while others steer clear of two stories and just focus on one. Some focus on solar panels while others concentrate on quality craftsmanship. The Escape One XL thrives on its architecture and smart design decisions. That's one tiny home on wheels to look out for.
Spanning 400 square feet, this is one of the bigger homes on wheels. A loft area means you have more than one space to sleep. Shou Sugi Ban siding adorns the outside and gives this home a feel unlike anything else. A lovely living room and kitchen space add to the delight that this home gives the owner. It's a fantastic tiny home on wheels, priced between $68,000 and $80,000.
Our Favorite Tiny Home on Wheels: The Greenmoxie
| Product | Details | Price |
| --- | --- | --- |
| The Cozumel | Floor Area339 sq. ft.Features1 bedroom1 bathLiving roomKitchenCovered porchMono-sloped roof | [amazon fields="B0771NM4R5″ value="button"] |
| The Irish Cedar Caravan | Size9 x 22 x 13.5 ft.FeaturesInsulated floor, walls, and ceilingDead bolt lockFull kitchenFull bathroomPremium hardwood laminate floor | |
| The Drake | Floor Area357 sq. ft.FeatuersHeavy-duty black corrugated metal sidingBuilt-in sofaMulti-position ladderSmall storage spaceStainless steel refrigerator and freezer | |
| The Nugget | Floor Area102 sq. ft.FeaturesFour solar batteries and panelsPropane heater and tankless water heater30 x 30-inch shower | |
| The Sturgis | Floor Area170 sq. ft.FeaturesLarge picture windowCypress sidingTankless water heaterLiving roomKitchen | |
| The Wheel Pad | Floor Area220 sq. ftFeaturesWheelchair rampsMobile chassis baseComposting toiletSolar panels | |
| The Greenmoxie | Floor Area340 sq. ft.FeaturesRefrigerator and freezerHardwood oak flooringSustainably built | |
| The Living Vehicle | Size27.4 x 8.4 x 10.11 ft.FeaturesAluminum sidingSolar panelsSecurity systemSpa-style bathroom | |
| The Cypress | Size20 x 8.6 x 13.4 ft.FeaturesLoftSealed cedar woodRefrigerator and freezerHeating and air conditioning | |
| The Escape One XL | Floor Area400 sq. ft.FeaturesShou Sugi Ban sidingLiving roomKitchenOak hardwood laminate flooring | |
It's got the perfect blend of country and city. The modern windows and refrigerator and freezer are a great pair of assets to have in a tiny home. And the beautiful hardwood floor makes this tiny home a hard one to pass up. Throw in the modest price tag, and you have our favorite tiny home on wheels.
The Future of Tiny Homes on Wheels
Minimalism looks like it's here to stay. As the pressures of society mount, people will be looking for any way to relieve them. These tiny homes on wheels offer the perfect opportunity for this minimalist approach, and they're extremely convenient. Taking all this into account, tiny homes on wheels are going to stick around for a long time. The future looks bright, so you may want to start thinking about purchasing one for yourself.