*This post may contain affiliate links. As an Amazon Associate we earn from qualifying purchases.
So, you're considering downsizing and possibly moving into a tiny house. However, all you can find are tiny houses with a single bedroom loft, and you need two bedrooms. Maybe you have kids, or perhaps you and your partner just can't share a bed. Whatever the reason, you need two bedrooms, or you can't make it work. Take heart, though; two-bedroom tiny houses do exist.
These tiny houses can accommodate a family of three or four, and come with several different floor plans. You'll always make some sacrifices when you downsize from a regular home or apartment to a tiny house. However, the number of bedrooms you have doesn't need to be one of them.
Tiny House Frequently Asked Questions
You probably have lots of questions about tiny houses. What is a tiny house? What makes it different from, say, a small house or a mobile home? Why are they even a thing? How do you fit two bedrooms in with kitchens, bathrooms and living spaces?
What qualifies as a tiny house?
The average American house has 2,600 square feet of space. That's a lot of house. By contrast, a tiny house has only 100 to 400 square feet of space. That's smaller than most apartments, mobile homes, and small houses. Many of them are closer to the size of a shed than a house.A tiny house does not need to be a permanent structure to qualify as a house. Tiny houses can sit on foundations, or they can ride on wheels like a trailer. Some people even turn trailers into tiny houses.You can put tiny houses on land with existing structures, assuming your zoning laws allow it. You can also park them on their plots of land (again, assuming zoning laws allow it). Your tiny house can be either permanent or mobile, depending on your needs.
Why are people moving into tiny houses?
Several factors contribute to the tiny house movement. The most significant is the skyrocketing costs of living and housing. In general, the average American spends 1/3 to 1/2 of their income just keeping a roof over their head. Add this to the number of people who lost their homes in recent years, and the tiny house movement makes sense.People today are also more environmentally aware than they were just a few decades ago, and tiny houses are more environmentally friendly than their larger counterparts. First off, their size makes it, so they use much less water and electricity. People can build them, so they're entirely off-grid and self-contained. These are but two of the many things that make tiny living attractive to environmentally-conscious people.
How you fit two bedrooms into a tiny house?
Since tiny houses generally have a small living area, a kitchen, a bathroom and a loft for a bedroom, you might find it hard to imagine that two-bedroom tiny houses exist. Nevertheless, they do, and they still qualify as tiny houses.There are a few ways to build two-bedroom tiny houses. One way is to have a loft bedroom and a second bedroom below that doubles as something else like an office. Another way is to have two lofts (that design can work for a three-bedroom tiny house as well). You can also fit two bedrooms into one large loft area that partially covers the living area.In other words, tiny house living doesn't necessarily mean sacrificing bedrooms. In this case, you can have your bedrooms and your tiny house.
How We Reviewed
We went to websites such as The Tiny Life, Treehugger, and Living Big in a Tiny House to find general information about tiny houses. The Tiny Life also featured a story with several different floor plans for two-bedroom tiny houses, which is where we discovered how having two bedrooms in a tiny house would work. We also went to Country Living and Tiny Home Builders to find our favorite two-bedroom tiny houses.
Overall Price Range for 2 Bedroom Tiny Houses
There is an extensive price range for two-bedroom tiny houses. Some are as little as $16,000 while others cost more than $100,000. You should consider whether you want a tiny house on wheels or a foundation. Consider whether you want something like a converted trailer or an actual tiny house before you start hunting for one.Generally, though, two-bedroom tiny houses run from $20,000 to $100,000.
The Best 2 Bedroom Tiny Houses on the Market
How do you choose which two-bedroom tiny houses are the best? We've done a lot of the homework for you. These are our nine favorite two-bedroom tiny houses on the market, in no particular order.
This 272 square foot tiny home sits on wheels for easy mobility. Don't let its small size fool you, though. It comes with two lofts that can both accommodate king-sized beds. Also, it has a bathroom with a glass, stand-up shower; remote controlled heating and cooling, and a full kitchen with an electric stove. You don't have a dining room, but you do have a dining counter. You've also got storage spaces underneath the stairs to one of the lofts. These are perfect for books and other small items. The wood-pattern laminate floor and other dark wood accents provide a beautiful rustic touch to this tiny house.Finally, you get a washer and dryer in this house. Just think, no running to the laundromat to do your laundry every week! As tiny houses go, this one is right up there on top.
It's incredible how much you can fit into such a tiny space. Hideaway's Porchlight has room for a queen-sized bed in the loft and a twin-sized bed on the main floor. The rustic, wood-paneled interior also comes equipped with a galley-style kitchen and a small table on which to eat your meals
. The bathroom comes with a glass, stand-up shower and a composting toilet, with a tankless water heater for hot water. You'll also find storage space in the form of drawers under the stairs to the loft. For 288 square feet, this little place packs a lot of luxury.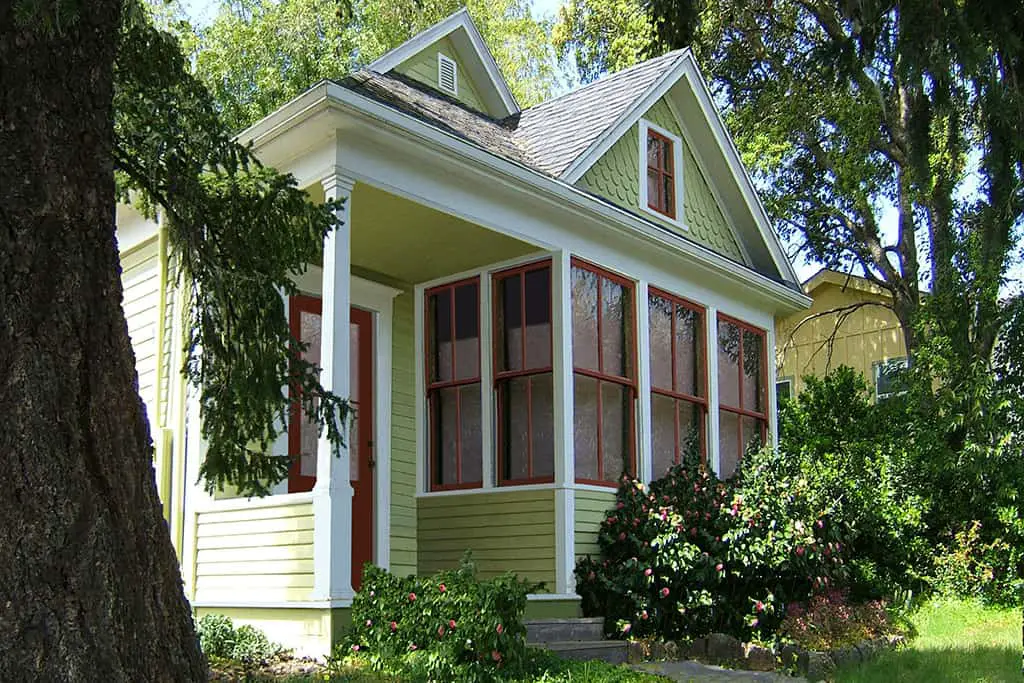 You don't need a loft to fit two bedrooms into a tiny house. Tumbleweed's single-story cottage is a little bigger than what is ordinarily considered a "tiny house." However, even at 556 square feet, its compact size makes it an excellent tiny home for a family of four. There's storage space where a loft would ordinarily be, and there are relatively large closets in both of the bedrooms.Furthermore, you get a full kitchen with a dishwasher in this house, along with a microwave, an under-counter washer-dryer, and a tankless water heater. So even though this is a tiny house, you'll never run out of hot water. Finally, you even get a fireplace in the living room. Talk about luxurious living in a small space!
Want a tiny house in which you can relax or host small gatherings outside? This one comes with the option of a deck. The Escape Premiere is a little cabin that provides a perfect mountain retreat, and the optional deck gives you the ability to enjoy the sounds of the forests from your own house. The bedroom suite features a built-in queen-sized bed with two nightstands, and the second bedroom is perfect for bunk beds. In the kitchen, you have the option of butcher block or stone countertops. You also get a full stove with an oven, a deep sink, and a tall fridge.Finally, you have the option of a tub/shower or a glass walk-in shower in the bathroom, in addition to a tankless water heater and a Toto toilet (a toilet with a bidet). In short, you have many of the features of a regular-sized house in this tiny house.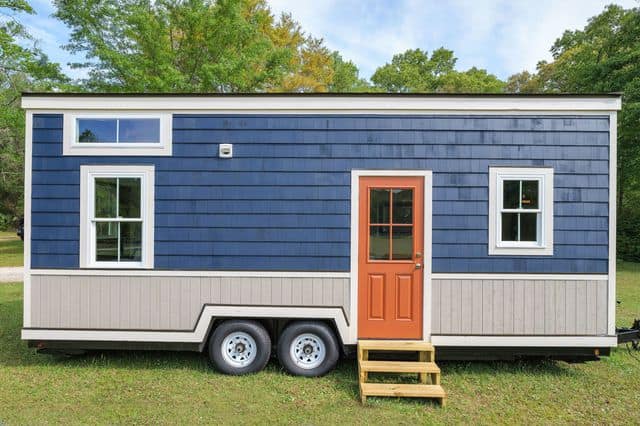 Driftwood's Indigo Tiny Home lives up to its name on the outside, which is a deep indigo color with gray and white accents. At 280 square feet, it's on par with the two-bedroom tiny houses above, including a bathroom with a glass shower and a kitchen with a deep sink and four-burner stove. However, this tiny house features wooden shiplap accents instead of subway tile in addition to its white walls and shelves. You have storage space under the stairs that go up to the loft, and a master bedroom downstairs with a queen-sized Murphy bed you can convert into an office during the day. The high ceiling gives you enough room for a small chandelier over the kitchen and living area, which enhances the beauty of the dark wood in the kitchen.
In other words, if you love country living and want a tiny country-style house, the Indigo Tiny Home may be the right tiny house for you.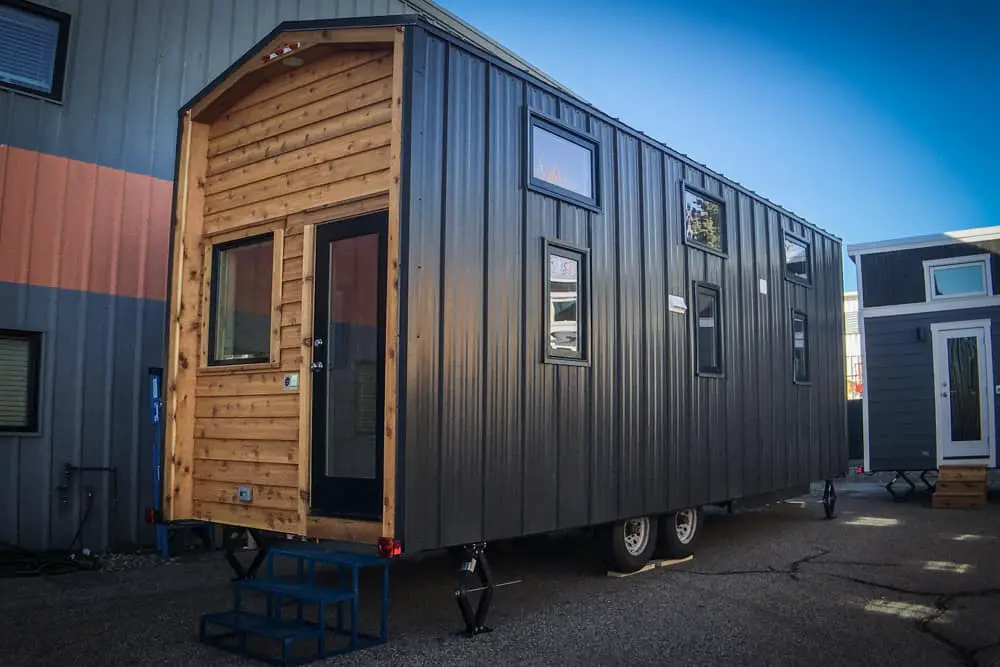 Tumbleweed makes a wide variety of tiny houses. The Farallon Alta comes with one loft and one bedroom on the main floor, both of which can accommodate a queen-sized bed. You even have the option of getting a second loft, which will accommodate a third queen-sized bed. In other words, you can buy this tiny house as either a two or three-bedroom house.
Its knotty-pine interior gives it a cozy mountain-cabin feel, which is perfect for anyone who loves the great outdoors. You get a great room, utility closets, a kitchen with a two-burner stove, and a bathroom with a walk-in shower. If you choose only one loft, you also get extra storage space on that level above the bathroom and utility closet. If a tiny mountain cabin is what you're looking for and you don't want to sacrifice bedroom space, take a look at the Farallon Alta.
Another tribute to country living, the Cedar Mountain Tiny House looks like a mountain cabin on the outside and a traditional farmhouse on the inside. It comes with white shiplap walls, stainless steel countertops in the kitchen, and a small bedroom on the main floor. The bed converts to a bench with a fold-down desk on the opposite wall. The bathroom features a long, nar
row sink, composting toilet, and shower, all in a compact space right next to the main-floor bedroom. You also get a loft bedroom above the bathroom and main-floor bedroom.
For those that have always wanted to live in a farmhouse, but also want to live in a tiny house, the Cedar Mountain Tiny House is worth your time to check out.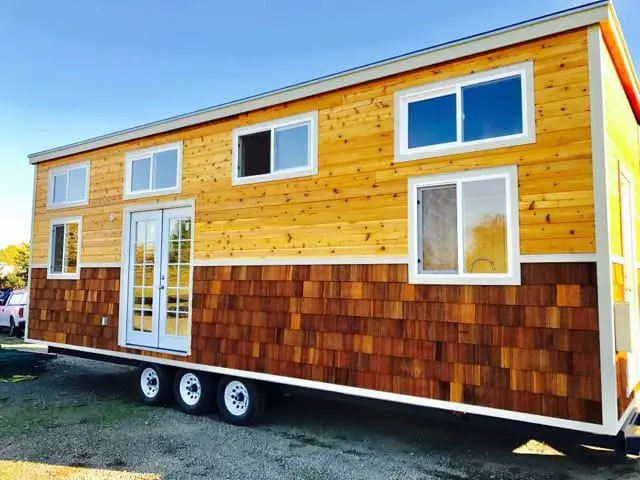 Are you looking for something a little less rustic? You might like the Metro-Retro Cottage, then. You get the beautiful, rustic feel of a cabin with the modern design of an urban dwelling. The Metro-Retro Cottage features a knotty-wood interior with laminate, wood-grain floors, and stone countertops in the kitchen. The bathroom contains a composting toilet, a walk-in shower, and a sink. The whole house has large windows and glass doors to let in lots of natural light. This tiny house comes in more than one model, and if you choose the Big Little Bungalow, you get two lofts for bedrooms. You can even connect this to utility power the same way you would an RV. Check this one out if you're interested in a combination of modern and rustic!
This 252 square foot tiny house has all the classic amenities you desire. The Classic Cottage Tiny House comes with loft and main floor bedrooms, with storage space underneath the main floor bed. The bathroom features a standard toilet, walk-in shower, and enough room for a stacked washer and dryer. No worrying about heading to the laundromat every week! While you only get a small, under-counter refrigerator in the kitchen, you also get a four-burner stove and oven, and a lot of cabinet space. The floor is hand-scraped hickory hardwood and provides a beautiful contrast to the white walls and ceiling. What more could you want?
Choose 2 Bedroom Tiny Houses Wisely
When it comes to two-bedroom tiny houses, what you buy depends on you, your needs, and your tastes. If this is the direction you want to go with your lifestyle, though, give some serious thought to the ones we've listed above. You can also use Google to search for two-bedroom tiny houses, which will provide you with websites chock-full of floor plans and tiny houses for sale. However you decide to do it, two-bedroom tiny houses can give you exactly what you're looking for without requiring you to sacrifice a bedroom to downsize.