*This post may contain affiliate links. As an Amazon Associate we earn from qualifying purchases.
When is a tiny house no longer tiny? That's really the question we ended up trying to answer as we set out to compile a list of our favorite 3 bedroom tiny houses; is it 100, 500, or 1000 square feet? While there are no hard and fast size rules to be part of the tiny living movement, the legal definition of a tiny house is around 500 square feet. Adding the third bedroom can push the square footage to close to 1,000. It's still small enough to force some decisions about sustainable living, but it's getting up there.
People do it though, and the results are amazing to see. Our list of favorite three bedroom tiny houses includes some very creative configurations to keep space needs from spiraling out of control. We've also picked out some floor plans that will allow you to customize your experience by putting down roots exactly where you want.
Some Basics About Tiny Houses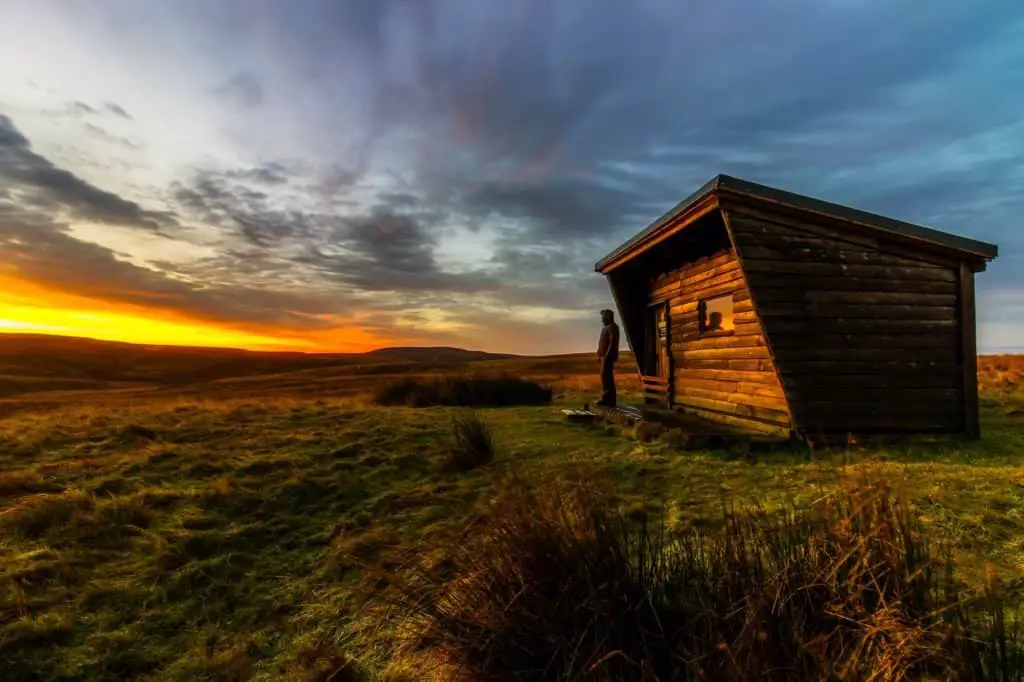 In some ways, the drive toward tiny living is ingrained in our history as a people. As one columnist notes, you could argue that cave dwellers were exercising their own form of tiny living. The current movement, however, probably has its origins in the concept of sustainability. As we became more sensitive to our impact on the environment, many flocked to the idea that less is truly more. Costs have also played a major role. Tiny houses take up less of a footprint, are less expensive to build and less costly to heat.
Certainly, there are trade-offs, but many have found substantial savings in downsizing to less space. There are some hidden benefits as well. As you de-clutter and downsize, you have less space you have to clean. Decorating becomes less of a chore. And because some tiny houses sit on wheels, you can take it traveling. No more expensive hotels. We think for these reasons, and more, you may just fall in love with one of our favorite three bedroom tiny houses.
REALITIES TO KEEP IN MIND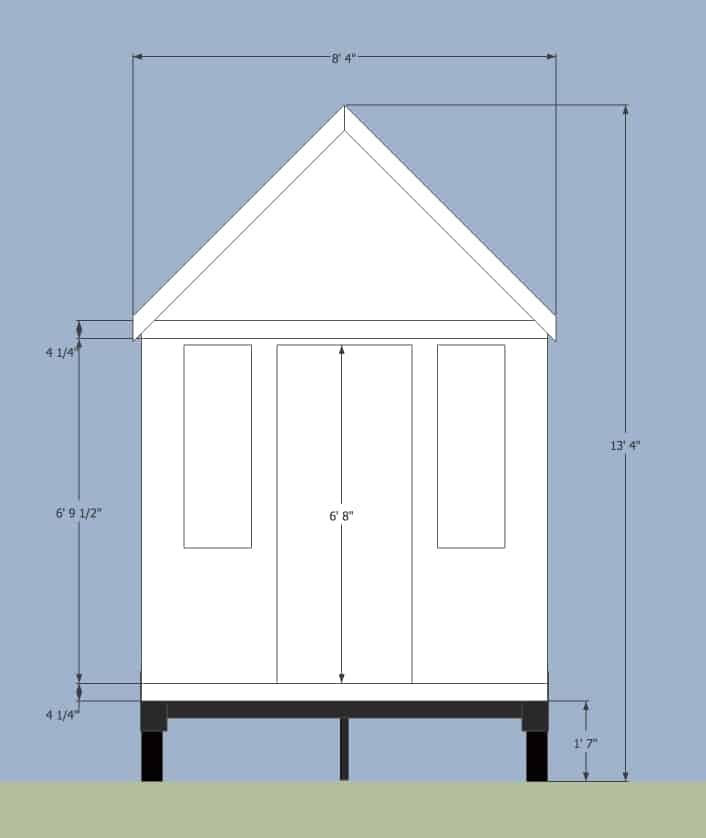 Image from Tiny Ho​​​​​use Design
More and more municipalities have reformed their approaches to zoning to make it easier for you to get into a tiny house. But this is a factor you won't be able to escape, so you'll want to research the laws and regulations very carefully.
The cost of a tiny house is going to vary depending on how many bells-and-whistles you will want to add. The Spruce.com says the median price for a basic tiny house built by professionals is just under $60,000. You might be able to save some money off that amount if you build it yourself. But keep in mind that you can also put these houses on wheels — and several on our list of favorite three bedroom tiny houses will allow you to do just that.
If you're considering the third bedroom (most tiny houses are one or two bedrooms), keep this in mind: If you're looking to go mobile, be mindful of roadway restrictions. Most states have established a maximum size for towing a house. That's typically 13.5-feet tall, 8.5-feet wide, and 40-feet long, or 65-feet including the tow vehicle, according to Tiny House Design.
HOW WE RESEARCHED OUR FAVORITE 3 BEDROOM TINY HOUSES
Given that a three bedroom specification is bumping up against the very notion of a tiny house, we had to dig deep into the journals that chronicle the minimal lifestyle. Our search took us to places such as Southern Living Magazine, Houseplans.com, Familyhomeplans.com, Curbed.com, Tiny House Design, and other specialists writing about the phenomenon. Even then, most of the houses are in the one or two bedroom category. But three bedrooms can be had, and be delightful and comfortable, as we show in our favorite choices below.
Shoreline Cottage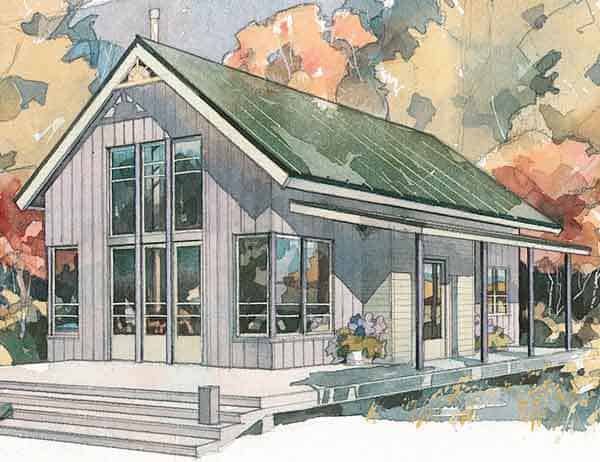 Image from Southern Living
The Shoreline Cottage offers 930 square feet of space in an open floor plan over two floors. Designed by a Seattle architect, the Shoreline Cottage includes a large upstairs loft for sleeping and two downstairs bedrooms. The loft could double as a storage area. But then, wouldn't that start to defeat one of the reasons for the tiny house?
Downstairs is also a kitchen, bath, and sizeable living room. Tall windows are on two sides for wide views of the outdoors. Perhaps our favorite element is the built-in porch. The Shoreline Cottage is a getaway home. It will remind you of a farmhouse or cottage.
Door County 3 bedroom Tiny Home Getaway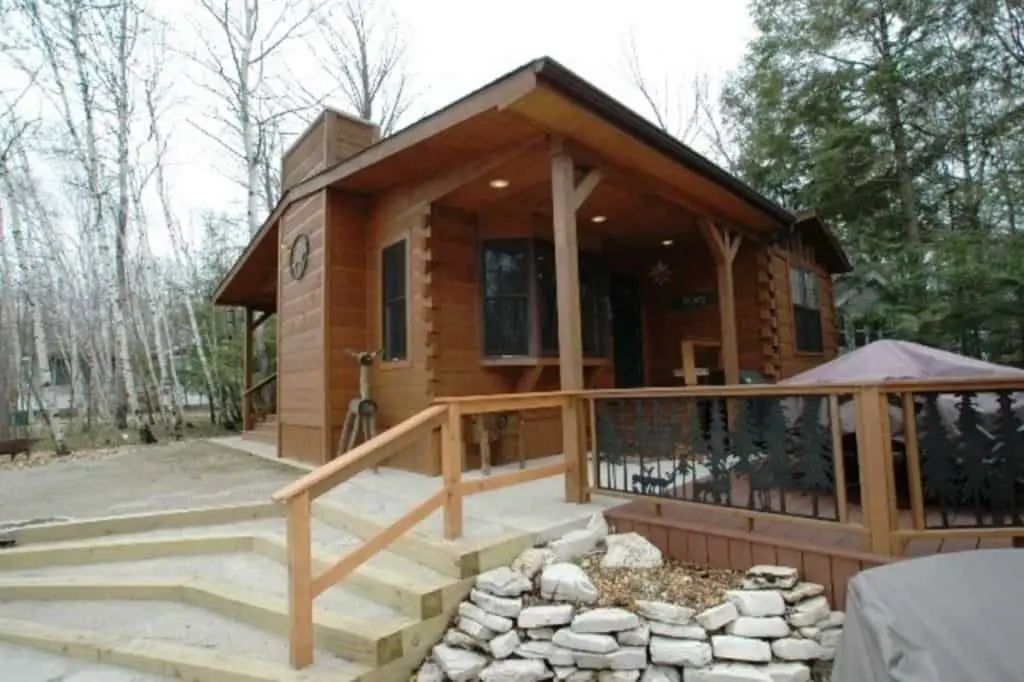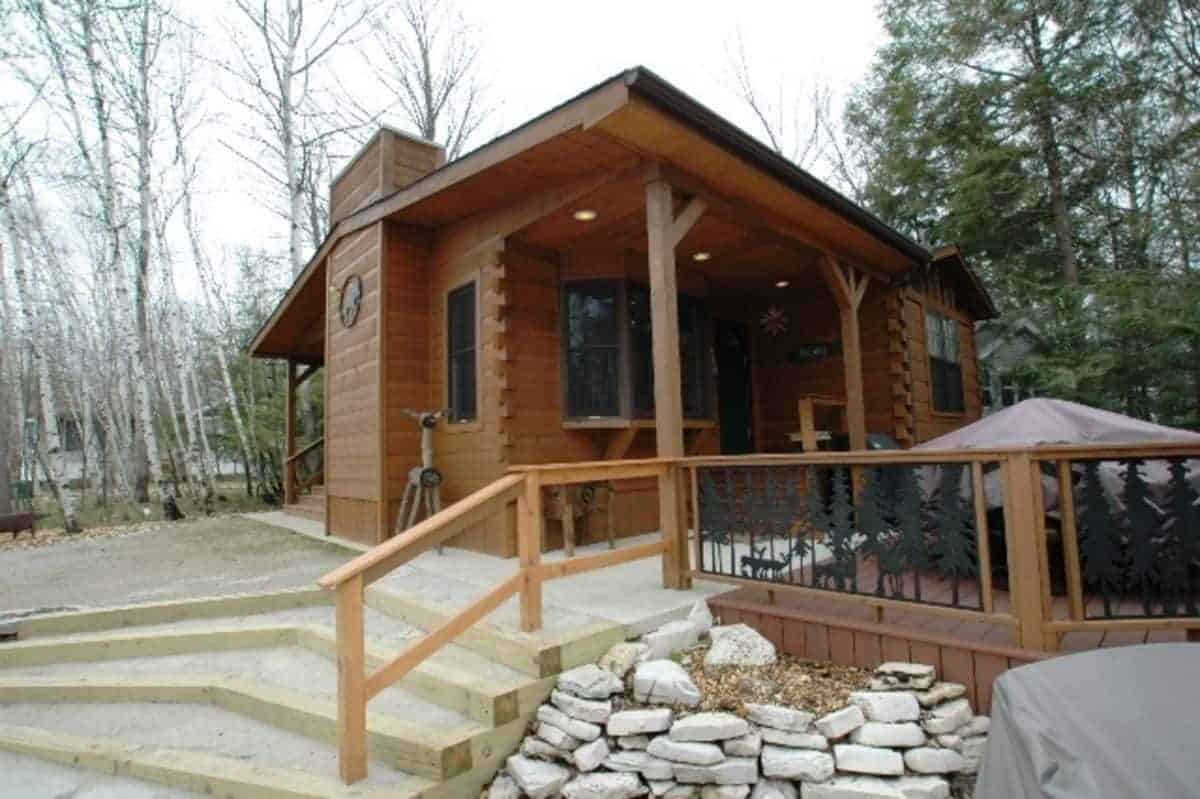 Image from Tiny House Listings
Among our favorite three bedroom tiny houses, we have a clear preference for those built onto a solid foundation, and not on wheels. That's why the Door County, Wisconsin Tiny Home Getaway makes our list. This house offers two structures: The tiny house itself, plus a similarly designed gazebo for entertaining.
Providing a true cabin feel with its knotty pine, this house offers 500 square feet on a single story. In addition to the three bedrooms, there is a living room, kitchen, and a bath. We also love the patio and the wood deck. The Tiny Home Getaway also comes with a fireplace for a cozy family night by the fire. This 3 bedroom tiny house is in Egg Harbor, Wisconsin on the shores of Lake Michigan, north of Green Bay.
Plan 915-2
Image from House Plans
In the search for our favorite three bedroom tiny houses, we had a clear preference for those with porches, decks or other outdoor living space. Plan 915-2 had the added benefit of being offered by a company with a unique name: The Tumbleweed Tiny House Company. Plan 915-2 offers a spacious 874 square feet in this 3 bedroom tiny house, and 1.5 baths tucked in over 3 floors.
Featuring a great room on the first floor and a walk-in closet in a bedroom on the second, we loved the notion of relatively high sloped ceilings. Both the front and rear view offer bountiful windows to let in sunlight and experience nature. We love that the model shown is a cool orange!
High-End Double Tiny House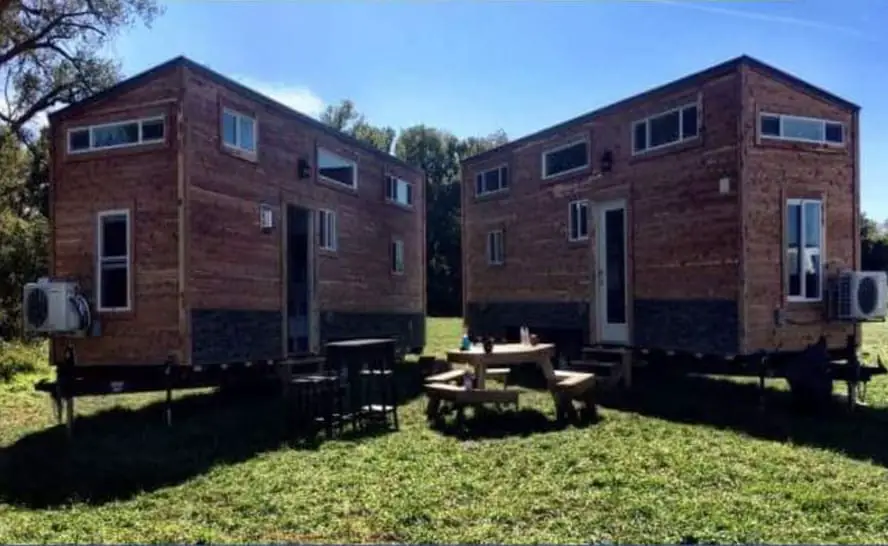 Image from Tiny House Listings
While it doesn't have a porch or a deck, we couldn't resist putting this unique solution to the "large family/tiny house" dilemma on the list of our favorite three bedroom tiny houses. This design, originally built to a suit a family in Nebraska, is actually two houses: You'll find 3 bedrooms and 2 baths spread across 317 square feet. The family used one of the houses as a kid headquarters, with a bunk bed bedroom, while the other has a kitchen, bathroom, fireplace, and two lofts. The tiny houses are built on wheels to be mobile.
Plan 915-6
Image from House Plans
We were drawn in the search for our favorite three bedroom tiny houses to those that mimic a unique style. This house, plan 915-6, is also dreamed up and offered by the Tumbleweed Tiny House Company and looks straight out of the Victorian Age. With 843 square feet, three bedrooms, 1.5 baths, and 2 stories, this is another house meant for a permanent foundation. We liked the fact that there are bathrooms both upstairs and down, and this floor plan also offers a spacious great room. You could put this beautiful house down almost anywhere in the forest for a quiet getaway.
Tiny house on wheels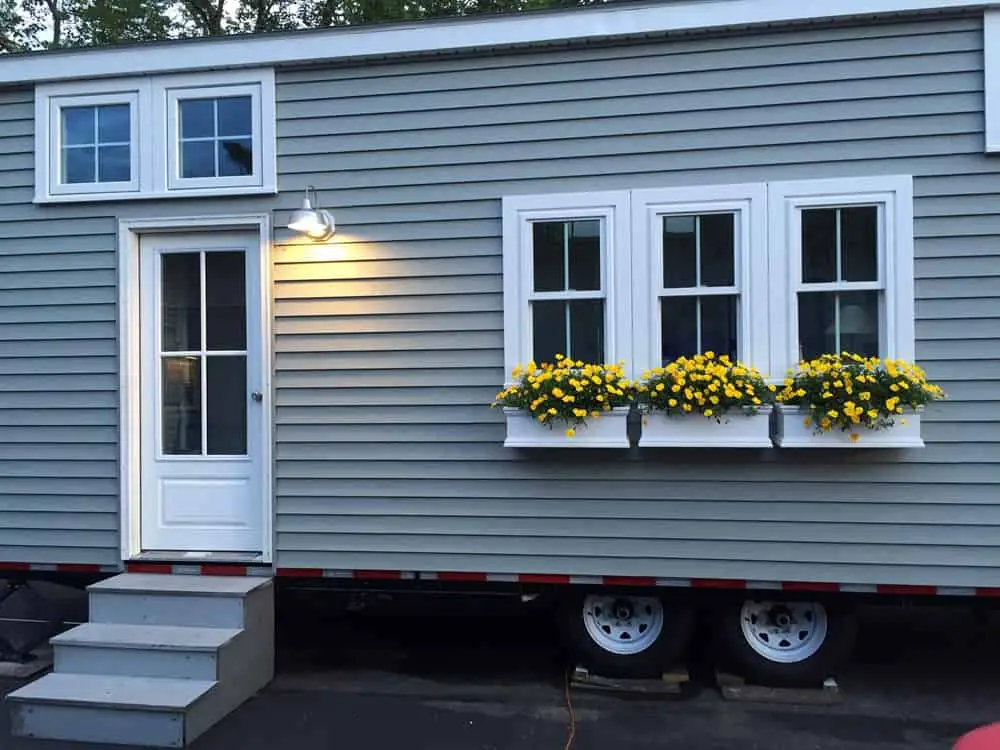 Image from Tiny Home Builders
A bonus pick for the list of our favorite three bedroom houses is this irresistible New England style home on wheels. Marked as a newly built tiny house and still seeking its first resident, this house is deceptively large for 350 square feet and three bedrooms. Designers built the house on wheels and included storage underneath.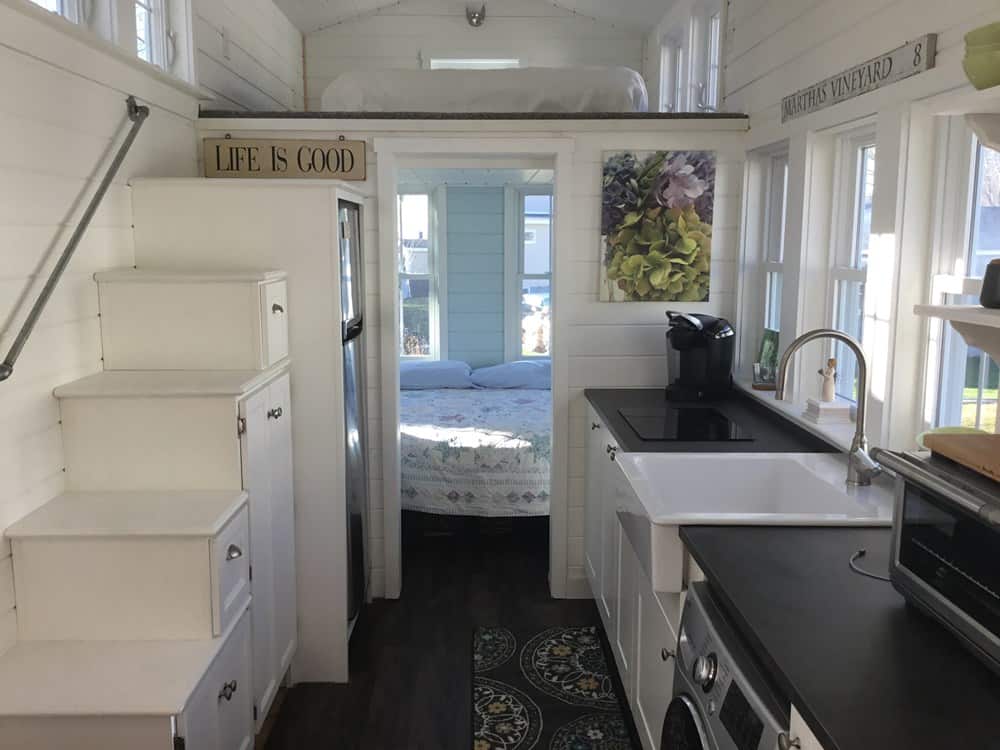 Image from Tiny Home Builders
It also comes with a built-in outdoor shower. Like some of the other houses on our list, this structure has an upstairs loft plus two separate other bedrooms. Designers currently have it parked in Massachusetts, according to the website. But it can go anywhere, given that it's on wheels. And did we mention nobody has ever lived in it?
Vintage
Image from New Atlas
The search for our favorite three bedroom tiny houses promoted a little bit of mischief. We went looking to see just how far the tiny house movement will push the definition of tiny and found that three bedrooms is just about as far as we can go. But in our search we did come across this beauty, the Vintage, which says it can sleep eight people comfortable across three sleeping spaces.
The Vintage XL offers about 355 square feet of space. The second and third bedrooms are loft areas; the main bedroom is a couch that turns into a bed with storage space underneath. As an added bonus, the designers have an additional package that will allow you to stay off the electric grid.
GO TINY BUT NOT TOO TINY
Being willing to live with less has enormous benefits. Some are tangible and measurable; some you will simply have to live your way into realizing. But without the huge price tag of a big house, you can find yourself in a tiny house that gives you the best of all world.
For us, the porches win out on the list of our favorite three bedroom tiny houses. We love sitting outside at the end of a long day, hearing the birds chirping and the crickets clicking. We'd put our money into the Shoreline Cottage. But have to admit we're a little intrigued by the double tiny house set up. Think about how you can strategically deploy that space!