*This post may contain affiliate links. As an Amazon Associate we earn from qualifying purchases.
There's no denying the tiny house trend is taking the country by storm. Developers specializing in this kind of home are on the increase, coming up with different designs for the best tiny houses. The demand for these micro abodes is on the rise, with folks looking to rent and buy the best tiny houses. Businesses are embracing the movement, even. A good number of those don't mind switching from traditional stores to "tiny stores."
Even so, the best tiny houses aren't what you're probably thinking. No, they are not the usual RVs, but real houses with basic utilities. Some of the best tiny houses come with luxuries, including spa bathrooms and full kitchens. It goes without saying these homes could be the next big wave in the real estate sea.​​tiny houses come with luxuries​
What Are Tiny Houses?
With a standard size of 500 square feet, tiny houses are relatively smaller than traditional homes. Some of the best tiny houses stay in place, while others are mobile. These come in several different designs, too, so you can have your pick. Plus, you can choose to lease or buy a completed property. Or, you can have one custom-made for you. Let's take a peek at the different types of the best tiny houses.
Wagon-style
| | A wagon-style small house, otherwise known as vardo (a Romani wagon), is simply a renovated wagon that is fit to be habitable. And no, there's no need to go hunting for a donkey/horse — but you can still have your little house pulled with a vehicle. |
| --- | --- |
Trailer-style
| | The most common design for the best tiny houses, trailer-style homes are little houses built on trailers — the trailer simply acts as the foundation. These homes allow for you to move around in the comfort of your home. Whether you want to camp in the mountains or on the beach, you can simply take your house with you. There's no need to worry about checking into a hotel, which can help cut down on travel costs. |
| --- | --- |
Cob-style
| | These mud houses, native to Africa, are part of the tiny home movement. And don't be deceived: These clay homes aren't temporary. Some even last as long as traditional homes. In fact, some cob-style tiny homes are as much as 500 years old, and they're still sturdy. So this is a handy design if you're looking to stay in the best tiny houses. |
| --- | --- |
RV-style
| | These mobile dwellings were the forerunners of micro houses, enabling people to enjoy the comforts of home while traveling or sightseeing. They are also for cheap housing. Nevertheless, note that RVs aren't built to withstand harsh weather conditions. If you're going to use this little home during winter, therefore, you might want to consider some good upgrades. |
| --- | --- |
Boat-style
| | A house on the waters! It couldn't be more fun, right? Boat-style houses are a good fit if you're looking for adventurous off-grid living. Talk about a holiday on the sea while enjoying a minimalist lifestyle! So the next time you're contemplating a holiday on the sea, you might want to take a boat-style house with you — just to help match the vacation. Some people even live on houseboats full-time. |
| --- | --- |
Yurt-style
| | In case you had no idea, those classic Mongolian tents are here to stay. These structures are a design that could make for the best tiny houses. While they aren't that durable, they add style and simplicity in the tiny home industry, proving that life can still go on in a compact house. |
| --- | --- |
Bus-style
| | How about you just buy and convert a bus into a home? This not only makes for an almost-ready tiny house (considering you're furnishing a completed structure) but also allows you to move freely. Whether it be in a different city or on the river bank, this abode can take you to most spots you like. |
| --- | --- |
Container-style
| | Another handy design with regard to the best tiny houses, shipping containers are kind of durable. These are made to withstand harsh conditions, considering some of these carry valuable imports or exports across the ocean in all kinds of weather. Another bonus is that they don't just come in metal bodies. Some are wooden, so you can choose between the two. Shipping containers come in different sizes, too; you can pick the right size for your needs. |
| --- | --- |
Fixed foundation
| | The best tiny houses can be constructed on a fixed foundation as well. They usually use concrete slabs, as they make for a sturdy base. Then the body is built over the foundation, giving rise to a beautiful tiny abode. The fixed foundation is suitable if you're looking to settle in one spot — usually for a considerable period. |
| --- | --- |
Why the Best Tiny Houses Make Sense
The best tiny houses aren't just a shell of a shelter. There's more to these micro homes. These could save you an entire load of troubles you wouldn't be able to escape from with traditional homes. Let's jump right in:
If you're especially on a budget, the best tiny houses are a good fit for you. They aren't as energy consuming as traditional homes. From electricity to gas and water, you can spend considerably less, while channeling the saved dollars to something else productive.
Tiny means easier maintenance cleaning
With a tiny house, you no longer need to spend hours cleaning your home. The structures boast compact room, meaning you have less space to clean or maintain.
If your tiny house is mobile, you can move to whatever location you like hassle-free. You can enjoy a holiday on the beach in the comfort of your home — which can be like a dream come true. You can visit different cities and explore nature without having to check into a hotel. And you can enjoy an adventurous journey while not sacrificing the comforts of home. You only need to abide by zoning laws.
How about owning a place you can call home while being debt-free at the same time? That's another bonus you get with a tiny house. Some of the best tiny houses are pretty cheap, costing less than $10,000. Simply put, you can own a home without having to obtain a mortgage. Most traditional homes are pretty costly, with most owners being deep in debt due to the mortgage.
If you've ever wanted to de-clutter but are still skeptical about it, you could be the perfect candidate for one of the best tiny houses. These homes help you downsize without winking an eye, ensuring you only have the essentials. That also helps cut down on costs associated with wanting to add unwanted stuff in your house.
A simple lifestyle may be just what you need for emotional balance — and the best tiny houses are sure to deliver. These abodes help you stock only what you need, making for a simpler lifestyle. No more worries about getting a double oven to fill the extra kitchen space!
If you've ever switched homes, you probably know how overwhelming it can be, both cost-wise and timewise. But the best tiny houses (especially if they are mobile) can help you save you the trouble. Just get your property hitched to a vehicle and you should have your home transported to your designated spot in no time. No more packing and unpacking!
While it might not be easy to customize a traditional home, it can be easy with a tiny home. Especially with container-style homes, it's a piece of cake adjusting the size of your tiny abode, as you only need to add another container (or two) to the original thing. Which is a plus, considering it isn't that time-consuming and is also cheaper.
How to Find the Best Tiny Houses on the Market
Planning to shop for one of the best tiny houses? Let's take a look at the best ways to find an option that suits you.
When it comes to searching for the best tiny houses, social media is no bummer. There are groups and pages on Facebook advertising some of the best tiny homes. Pinterest isn't left behind, either, with the platform featuring several different designs.
This platform has been around for a couple of years, and it adds to our list as a handy marketplace for the best tiny houses. Several different options from around the world are on this site. Be sure to be location-specific and limit yourself to those homes in the US.
CraigsList doesn't have the best reputation as a trustworthy website, but you don't want to overlook it in your effort to search for the best tiny homes. This platform has some cool options you might not be able to find elsewhere. Even so, you want to play your cards right — not every ad is trustworthy on this platform. Be scam-aware.
There are several tiny home companies in the nation. You can check them out for the best tiny houses to buy. Some of these include Tiny Home Builders, Tiny Treasure Homes, Zen Cottages, Sprout Tiny Homes, etc. With these home builders, you have several options available — from mobile to stationary options, and pre-made to custom designs. Most of these home builders also ship wherever in the country.
That's right; Amazon sells homes, too. Some reputable sellers, such as Allwood and MODS International, have some of the best tiny houses listed on Amazon. The good news is that you can find options that ship free of charge (if you're a Prime member).
Realtors can come in handy and help find you one the best tiny houses. Check with those within your area before you head online. The good news in that there's a good number of these in the country, and they could be the reason you land yourself your dream home.
Pricing
Tiny homes are priced differently based on many factors. For instance, basic houses are a little cheaper than furnished homes. Different types are also at different prices. As an example, fixed-foundation dwellings have a different price range than mobile homes. Here's a price summary for the common types of the best tiny houses.
| Trailer-style | Fixed-foundation |
| --- | --- |
| These might cost between $10,000 and $200,000 | Pricing starts at just under $10,000 and can go as high as $180,000 |
The Best Tiny Houses on the Market
Here's our list of some of the best tiny houses in the market, in no particular order. As an adviso, there are many companies marketing homes that don't meet the legal definition of "tiny." If you are looking at laws and zoning for tiny houses, those sqare feet limits are important. However, if you need more room, but love the look and lifestyle, there are "tiny homes" on a grander scale.
Shipping container home
If you're looking to enjoy the peace and quiet in Alabama's Fort Payne area, this 320 square feet tiny abode might fit the bill. The house sits on one acre and features utilities like electricity and water. Plus, you get to enjoy peace and quiet as the home stands in a secluded spot. And no, you're not far from town. This shipping container home could be yours for $80,000 to $100,000.
Minim homes
Whether you're looking to have your tiny house on a fixed or mobile foundation, you have it covered with the award-winning Minim homes. You can buy pre-made units or have one customized according to your tastes and preferences. Utility packages are available should you need those. Floor plans range from $450 to $600. And, depending on the additions you want included, each unit goes for $4,000 to $80,000. These 264 square foot units ship in 12 weeks upon placing your order.
The Shonsie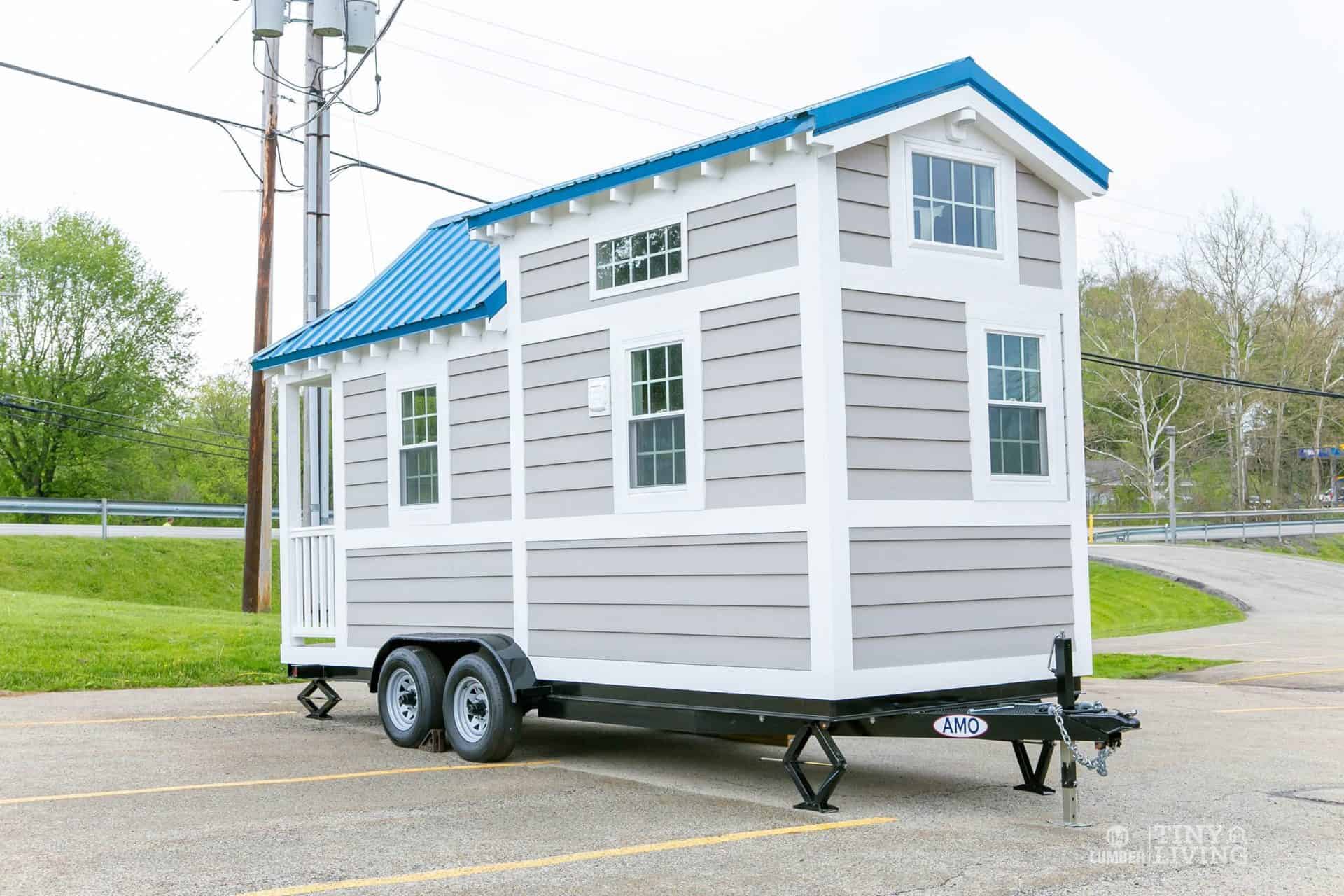 A mobile home by 84TinyLiving, this house isn't just the average tiny house. You get a semi-equipped kitchen with a refrigerator and cooktop, and the bathroom features a toilet and shower. There's extra storage in the ceiling, and you have access to LED lighting throughout the interior. The underfloor storage is a plus, and you will love the folding dining table. You get a 52 square foot sleeping loft, too. Prices range from $6,000 to $65,000, and you can have a ready-made unit or have the builders build one from scratch.
Tiny Home — Park Model RV
[amazon fields="B0771NM4R5″ value="thumb" image_size="large" image_align="center"]
Complete with bathroom cabinets and kitchen fixtures, this tiny house could be yours for $60,000 to $70,000, including shipping. Plus, you get decent storage space. The open-floor-plan home is 400 square feet and comes with high ceilings. Among other things, you get electrical equipment as well as plumbing material.
Allwood Eagle Vista – Not a Tiny House, an Honorable Mention
[amazon fields="B077L6KSGM" value="thumb" image_size="large" image_align="center"]
​​​Marketed as a tiny home, this unit does not meet the legal description. If you like spreading out hassle-free, this two-floor abode probably will not disappoint. It defies standard sizing and gives you a whopping 1,336 square feet. For the roofing and foundation, however, you'll need to spend extra, as these don't come with the unit. The price revolves around $62,000 to $70,000, and you might need the help of a pro to put up the tiny home.​​​
What Next?
If you are interested in living in a tiny home, you're now equipped with the knowledge you need to start making decisions. First, you'll need to decide which type of tiny home is most suitable for you. What each person expects out of the best tiny houses is going to be different, so having a great sense of the market is an important first step.
Second, you're now aware of the best options to start pursuing once you decide on what type of house to purchase. Good luck!
Do you live in a tiny home, or know someone who does? Let us know your story and experience in the comments!