*This post may contain affiliate links. As an Amazon Associate we earn from qualifying purchases.
Dreaming of a home that is highly space-efficient and still has everything you want? It is possible! Luxury tiny homes are emerging and gaining popularity. As more people who have long dreamt of living in comfort and style gain the means to make it a reality, more and move are moving out — and up.
As prices rapidly increase, it is getting impractical to think big when it comes to your dream house. Dreaming of quality and expensive materials along with grand house amenities become non-sensible. Imagine spending between $240,000 to $260,000 for a modest 2,000 square feet home. It is not surprising to reach more than half a million dollars to add luxurious features. Therefore, people who want extravagant upgrades, often too costly for bigger houses, opt to live in luxury tiny homes.
What Are Tiny Homes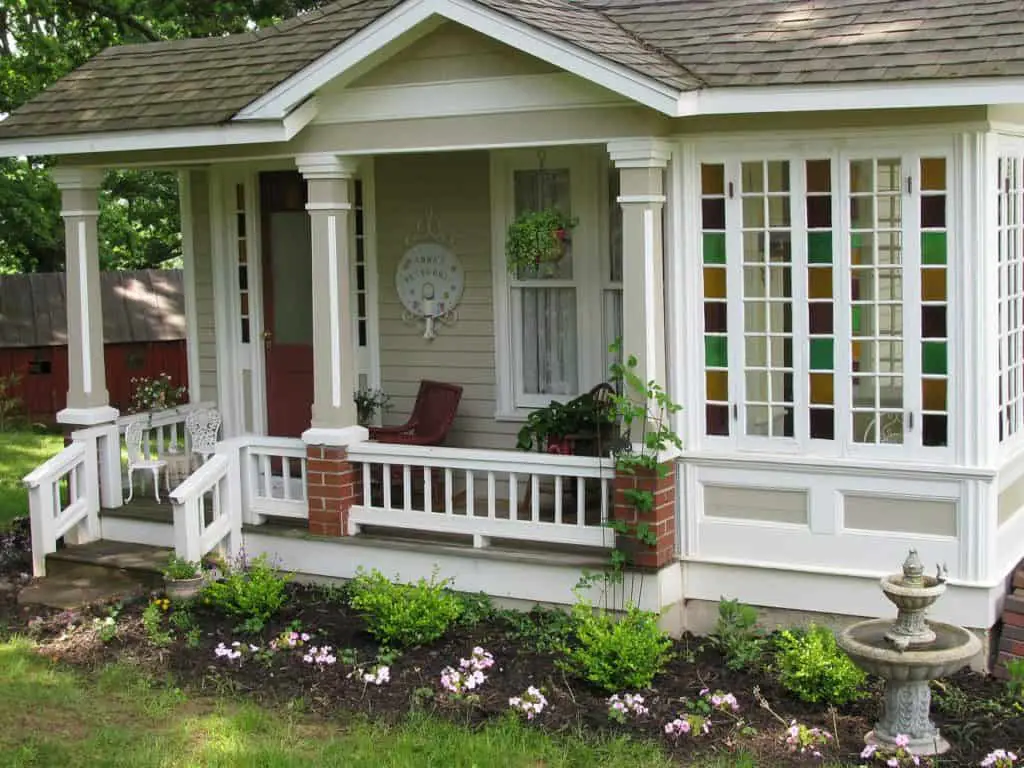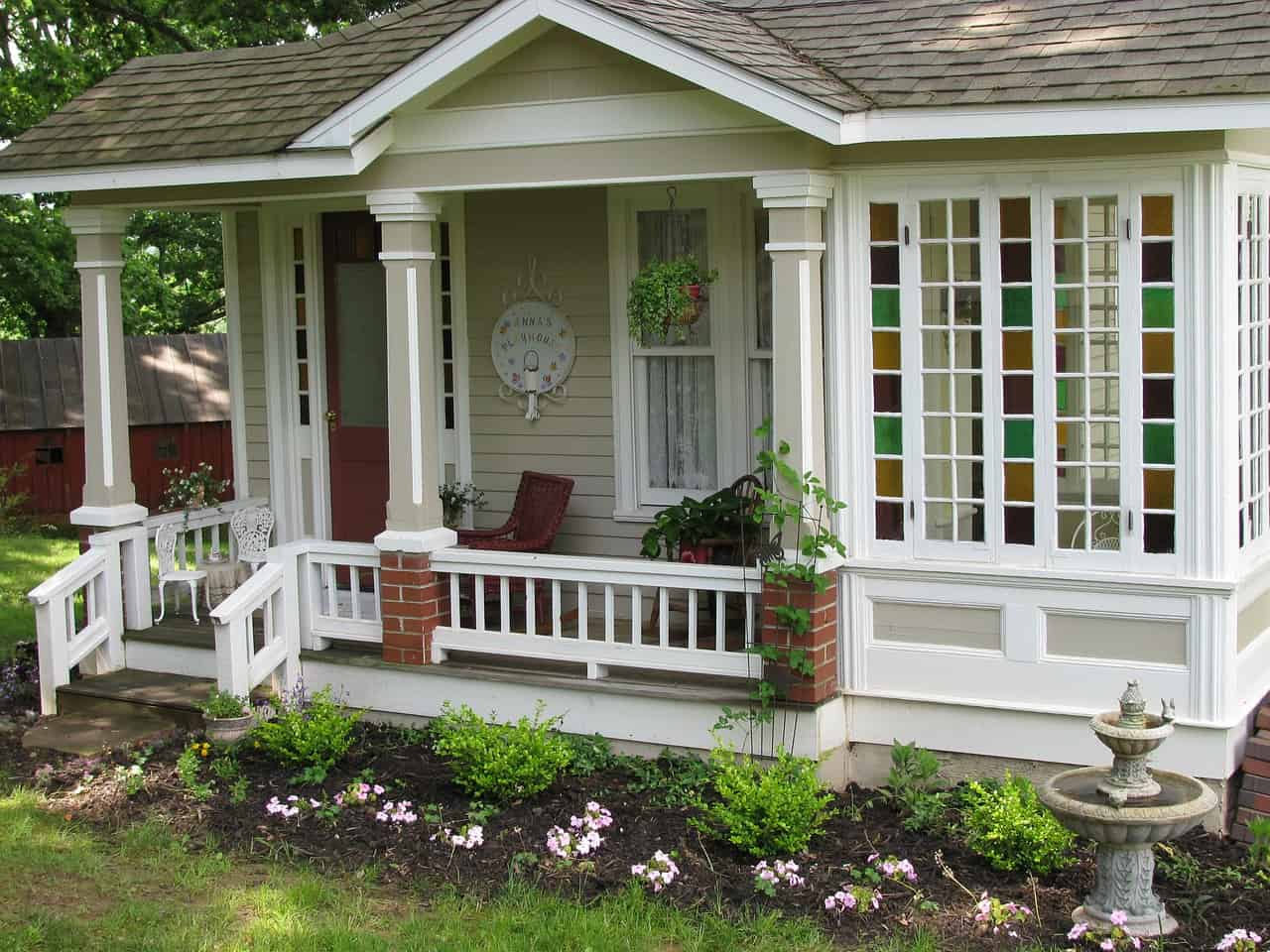 The tiny home legal definition is newly defined. It notes that a tiny home is 400 square feet or less, while a mini home is between 401 and 500 square feet. On average, they usually fall around 100 to 400 square feet of space. By comparison, typical houses in the United States range from 1,000 to 2,000 square feet. Tiny homes vary in design and functionality as well. Generally, there are two types of tiny houses: one that registers as a Recreational Vehicle (RV) and the other that records as an Accessory Dwelling Unit (ADU).
[amazon fields="1612128769″ value="thumb" image_size="large" image_align="center"]
[amazon fields="1612128769″ value="button"]
RVs, also known as motor homes, are tiny houses you can either drive or tow on the roads legally. They are, therefore, extra fun for people who are seeking for adventure. An ADU, on the other hand, is built on a foundation, much like an average home. This type of housing focuses more on offering stability for people who prefer to settle than to move around. Living in either of these two types of tiny homes requires a particular — and sometimes challenging — way of life.
Living in a recreational vehicle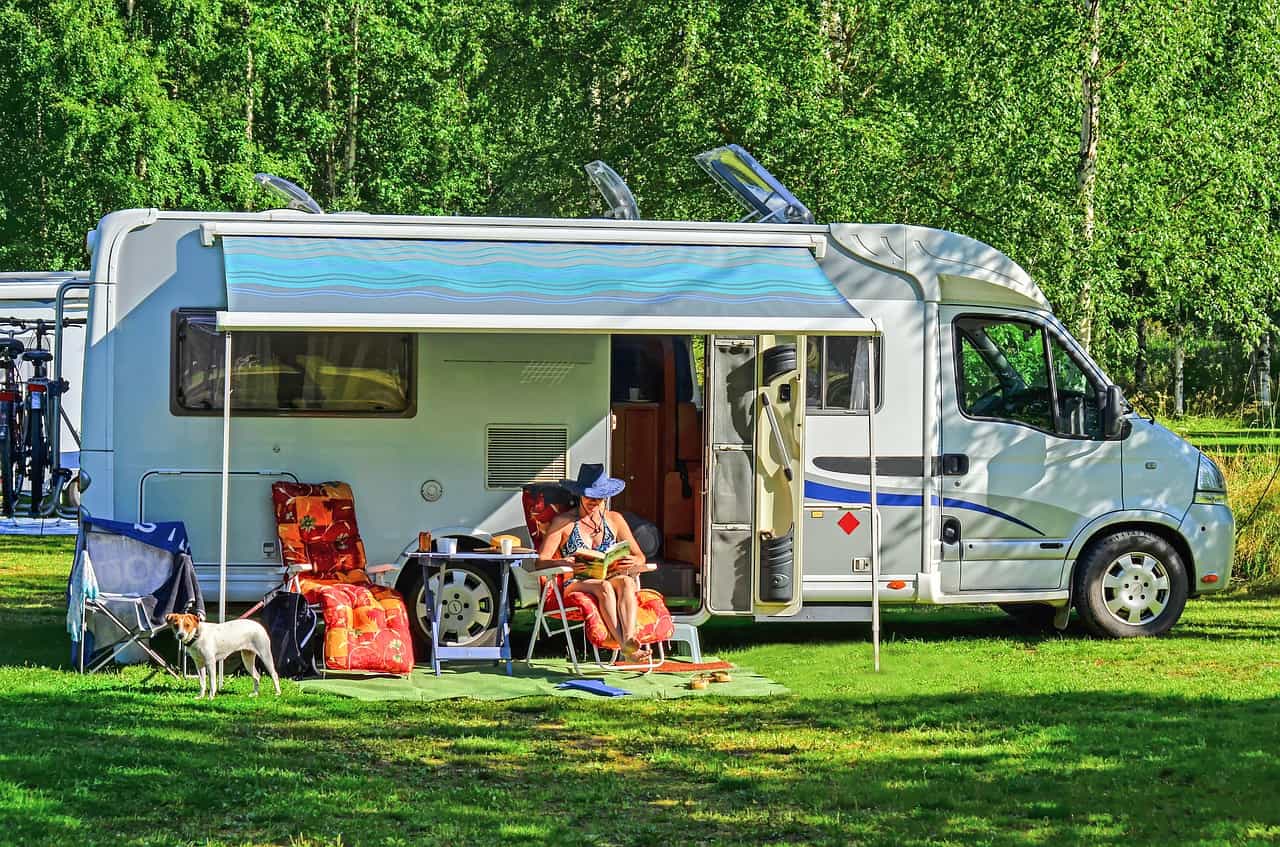 If you plan to live in an RV, you need two things: an RV registration and a parking space. Registering an RV in most States is relatively easy. You need to know what class of RV you are listing. Class A are those motorhomes. Class B are those campervans, and class C are those homes attached to a truck. It will undergo inspection before one gets his license plate. Afterward, the next concern is the parking space of the RV which varies from your friend or family's lot to RV sites.
[amazon fields="1534957340″ value="thumb" image_size="large" image_align="center"][amazon fields="1534957340″ value="button"]
Living in an accessory dwelling unit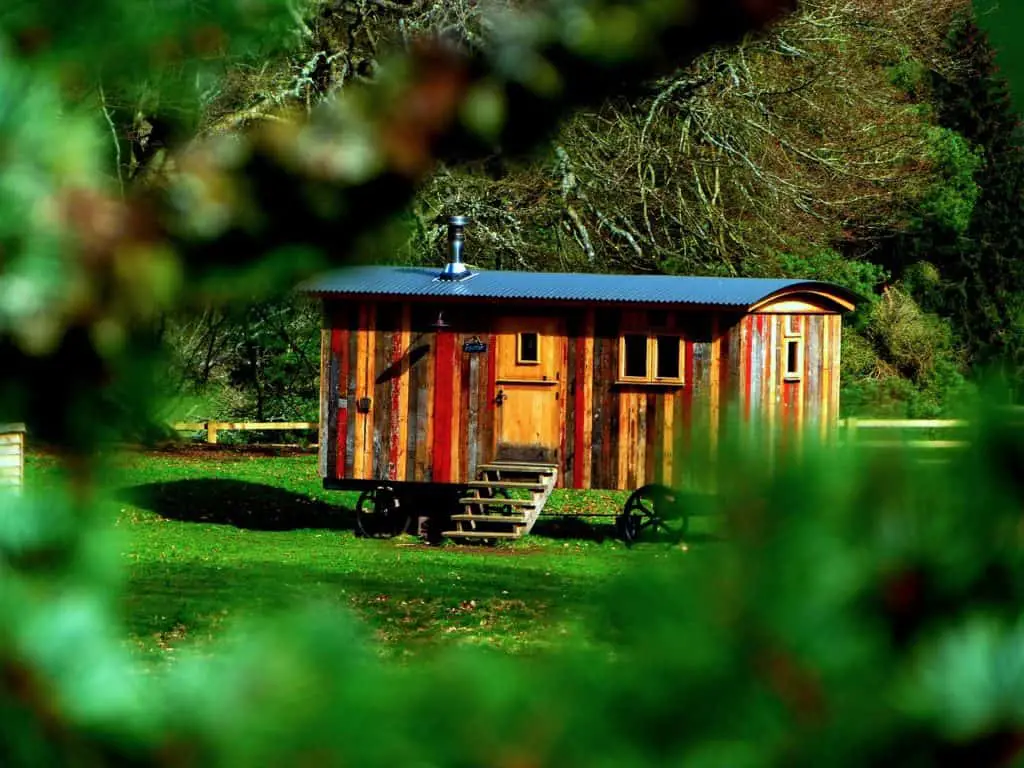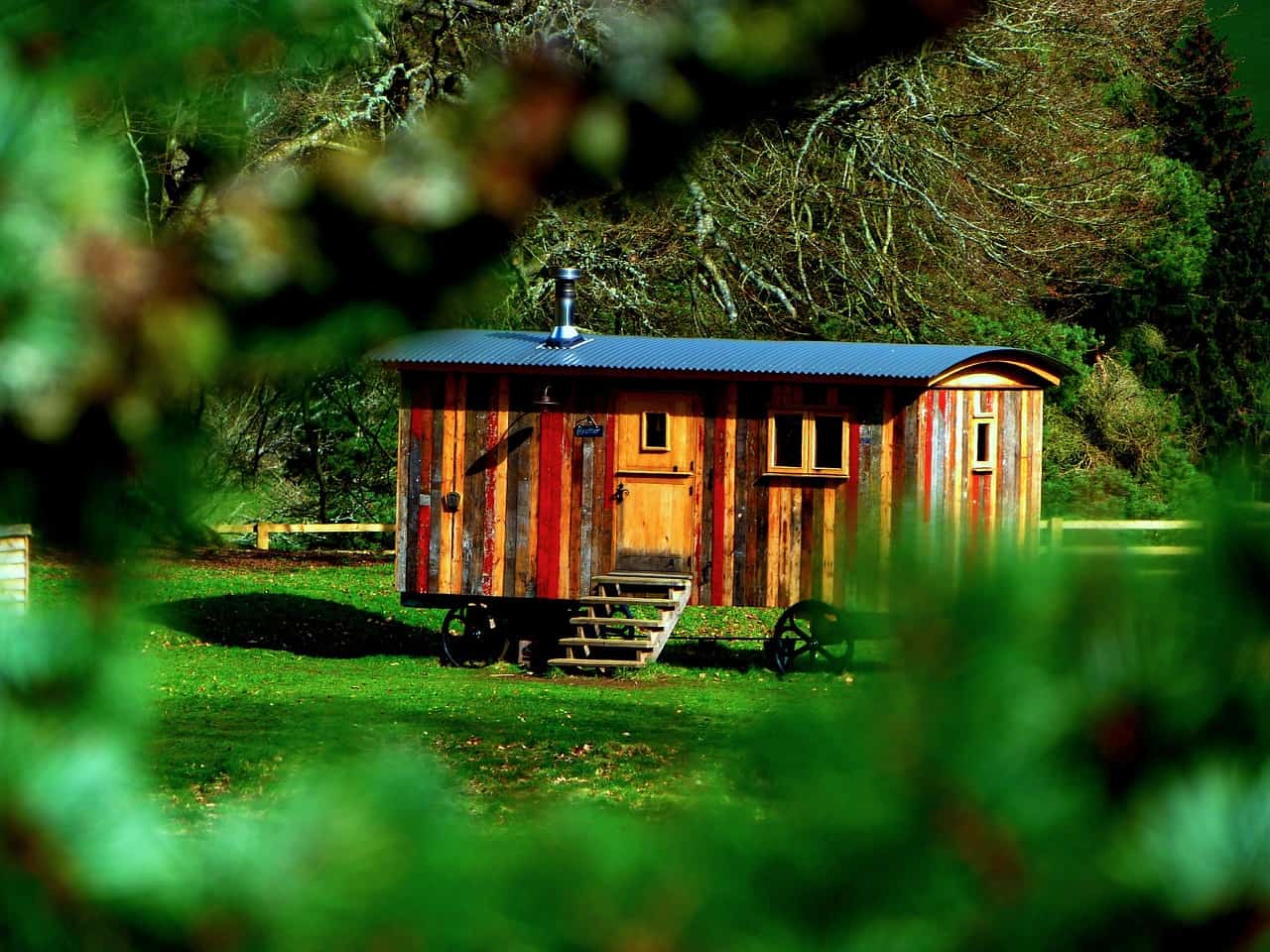 Not all States join the bandwagon and hype of living in tiny homes. Most have minimum size requirements in building a single household dwelling. On average, the required size is 1,000 square feet with ceilings reaching 7 feet and room space amounting to 70 square feet, which is almost ten times the size of a regular tiny home. Thus, before thinking of moving into an ADU, try to know the building or construction codes, and zoning laws of the State.
There is an ongoing campaign for all States to open up on the idea of tiny homes. In some States, they have specifically designated "tiny house communities." In others, they allow people to convert their private spaces into one small neighborhood. Therefore, if you have friends thinking of the same thing, you might want to turn one old lot into your little town. Among all the States, Texas, Oregon, California, and Florida are the most progressive — and supportive — when it comes to tiny houses.
The Tiny House Movement
One of the most fundamental needs of humans is a shelter. However, along with the rapid development of infrastructures comes a rapid increase in the prices of land and housing. Issues surrounding economic troubles create homelessness. The scarcity of land results in high maintenance costs to build even modest houses.  In addition to that, the inhabitable land in areas most in need is limited and expensive. Hence, the people needed to adapt and change their ways of thinking when it comes to housing strategies. Thus, the Tiny House Movement started to boom.
[amazon fields="1548078492″ value="thumb" image_size="large" image_align="center"][amazon fields="1548078492″ value="button"]
We live a very consumeristic lifestyle. We think that bigger is always better. However, recent trends suggest otherwise. The current generation gears towards minimalism where less is more. Practicality compensates for what small houses lack in space. This shift in paradigm, coupled with the recent economic crises, led to the rise of the Tiny House Movement. Instead of paying mortgages and maintenance costs for a typical-sized home, people opt for a tiny house — a cost-effective way of life.
What Are Luxury Tiny Homes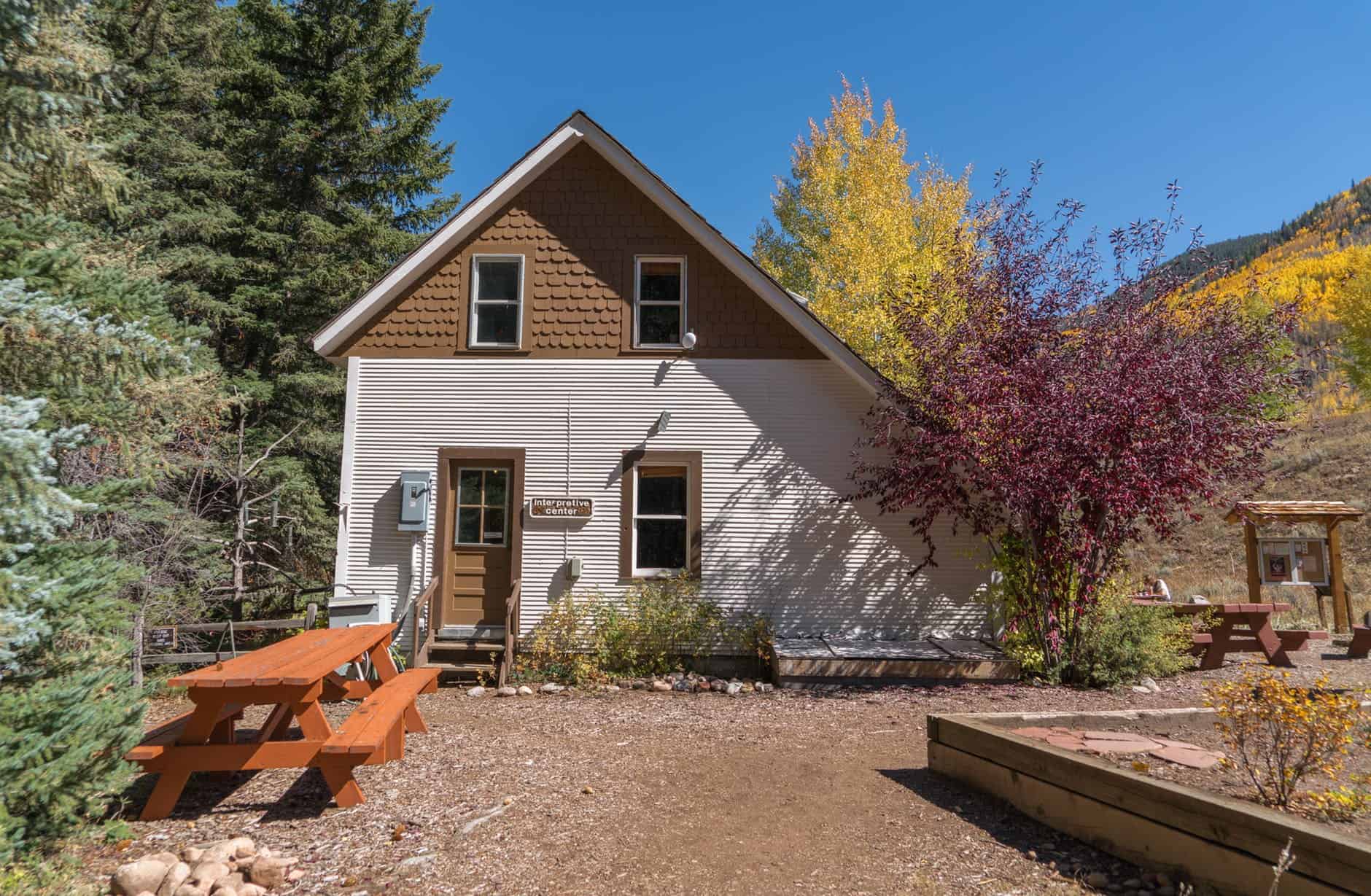 Luxury tiny homes are small dwellings that are around 100 to 400 square feet; however, better in looks, features, and amenities. These luxury tiny homes offer more than just shelter as they come with extra comfort, exciting features, and high-quality materials reserved for extravagant dwellings.
High-quality materials and finish, upgraded features, and, the capability of off-grid technology are what makes luxury tiny homes desirable. These characteristics not only improve the aesthetics and durability of the house but also increase its comfortability. These attributes would affect affordability if the household chose to live in a home with an area of about 2,000 square feet.
How Lavish Are Luxury Tiny Homes
The price range for luxury tiny houses varies depending on several factors. Dwellings which have minor exterior furnishing costs as low as $15,000 to $45,000. While fully-furnished, grandeur and customized tiny houses range from $80,000 to 100,000. The price ranges boil down to whether you build your own home from scratch or buy a premade luxury tiny house. Before getting one, however, you should take note of other indirect costs such as fuel/moving costs, storage unit costs (optional), and maintenance costs.
Do-it-yourself luxury tiny houses
Costs luxury tiny homes differ depending on the floor area, type of house, upgrades, quality of materials, among other factors. Several data are providing rough estimates of luxury tiny homes. Dee William's 84 square feet Kozy Kabin cost her $10,000 in 2003. PAD Tiny Houses currently estimates the same cabin at around $15,000 to 25,000. While building bigger ones — about a 150 square feet — usually costs $35,000 to $45,000.
Pre-made luxury tiny homes
On the other hand, the price range for pre-made luxury tiny houses alters depending on the extent of opulent furnishing and inclusions, the expertise of contractors, among other factors. However, the consensus for the price would range from $35,000 to $85,000. Prices may rise to $150,000 if upgrades and customizations are beyond standard.
How We Chose Our Favorite Luxury Tiny Homes
Aesthetics
Kinds of materials used
Privacy
checkAmenities
checkUpgrades
This list came from a thorough review and research of home features by industry professionals. We looked into different websites offering luxury tiny homes and reviewed by aesthetics, kinds of materials used, the privacy of the house, and, its amenities.
Aesthetics provide the overall grandeur of the house. Privacy is one of the things that luxury item buyers value most; therefore, a valued metric in our review. We also looked at the upgrades on the amenities, facilities, and other miscellaneous available in the dwelling.
Our Favorite Luxury Tiny Homes
Now that we have established what makes these houses extravagant, we can now look at our Best 9 Luxury Tiny Homes. They are in no particular order.
The Greenmoxie Tiny House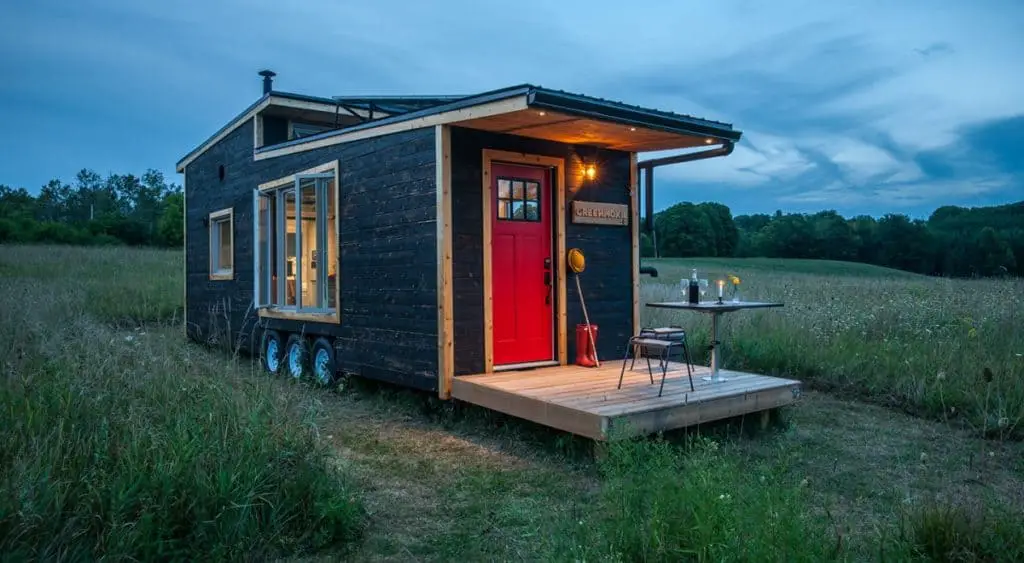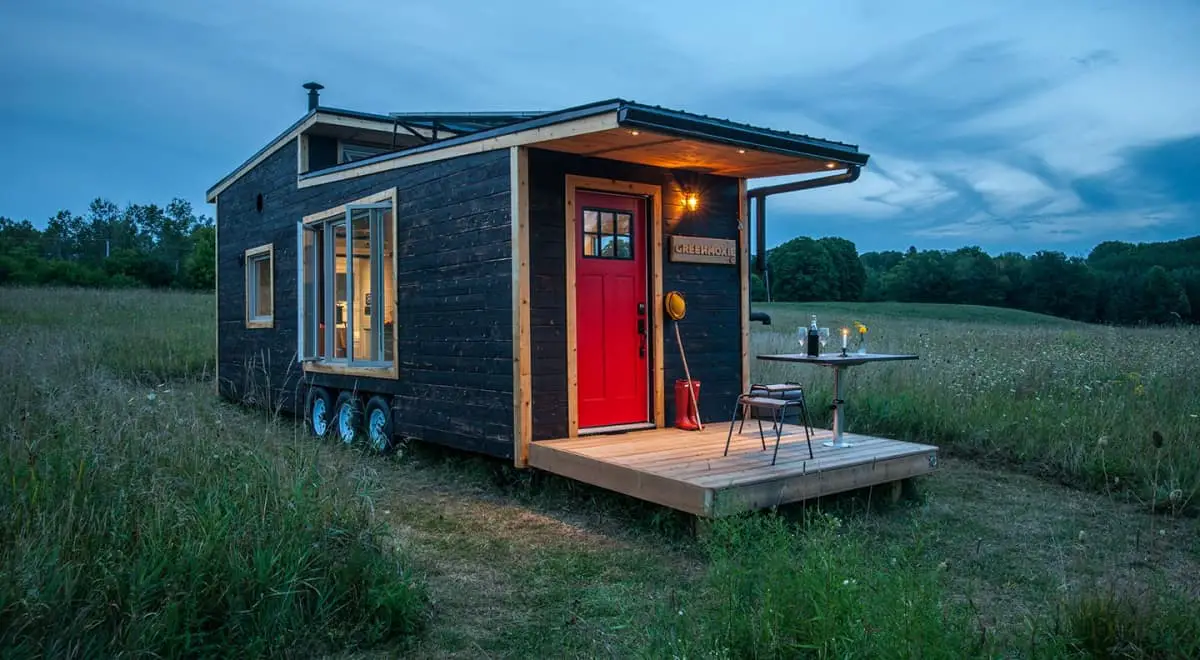 Image from Greenmoxie
One of the most popular options is the Greenmoxie which is a 340 square feet RV luxury tiny house. The central theme of this tiny home is sustainable construction. It focuses on building envelope for heat and cold resistance, air quality, water conservation, and renewable energy. It has a 1-kilowatt solar photovoltaic system with 11-kilowatt storage capacity for the battery, a rainwater collector, and LED lighting going with their sustainable design.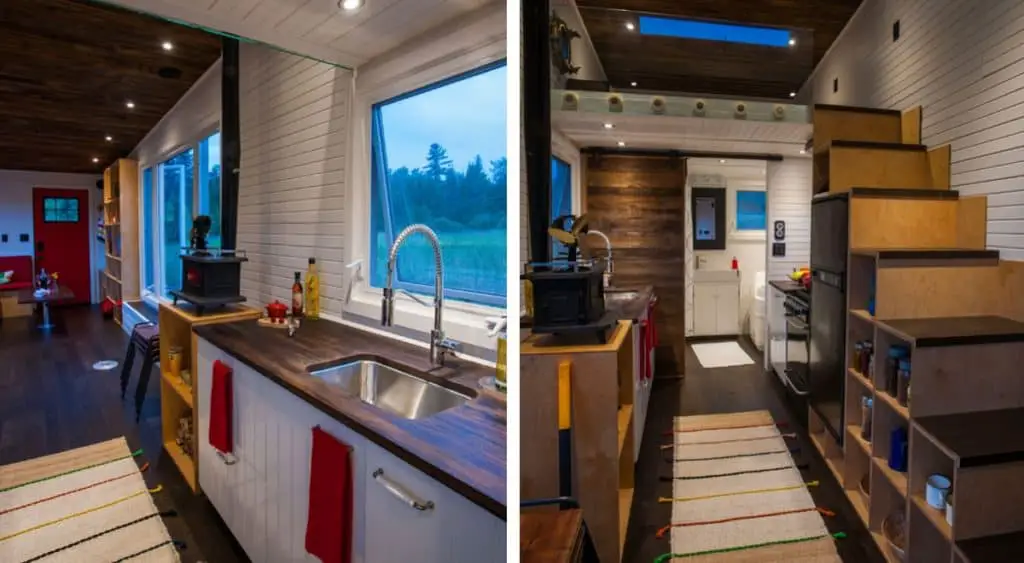 Image from Greenmoxie
There are options to include a Baltic Birch Shelving with a matching bench, a frameless glass railing, and an electric drawbridge deck providing additional outdoor living space. It has a bright living area, kitchen, and a bathroom with a composting toilet. It features a 4-speaker integrated sound system w/ Alpine amplifier and a remote control panel. Its built with a custom moveable dining table with Garelick gas rise pedestal. The Greenmoxie Tiny House costs between $60,000 to $70,000.
The Vintage XL by Escape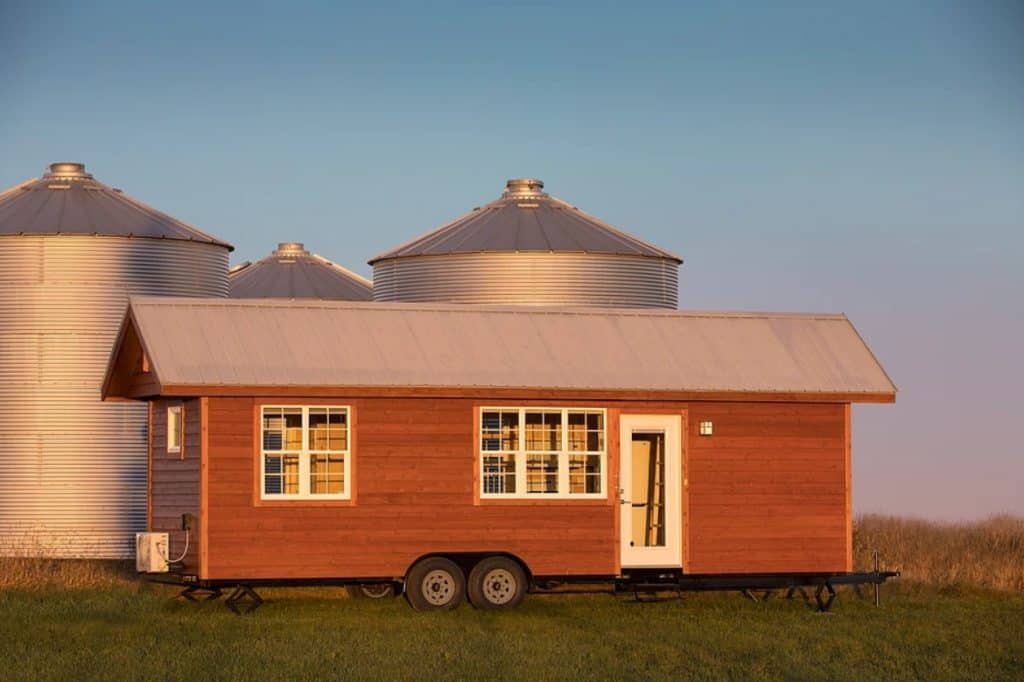 Image from Escape Traveler
Vintage XL is a 360 square feet tiny house. A 35-feet trailer, it has 7,000 pounds HD tandem axles, radial tires, electric brakes, Hopkins break-away safety system, easy use leveling jacks, steel, rodent resistant belly. It is perfect for you to get away from the hustle and bustle of the city making your way into a comfortable and private living.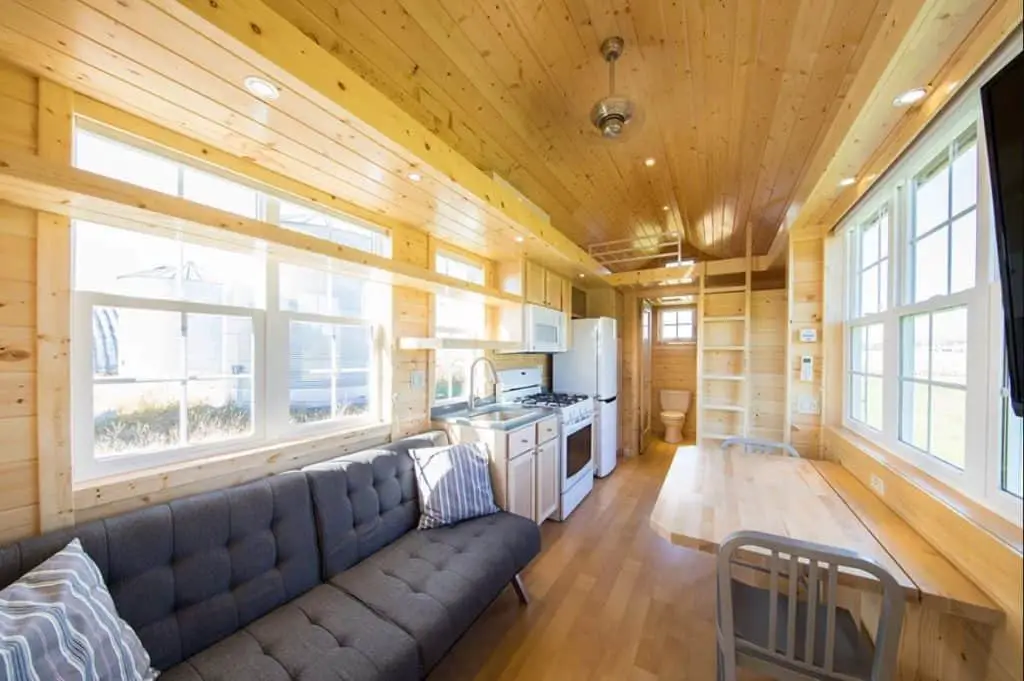 Image from Escape Traveler
The exterior has cedar siding with steel accents and a large glass entry door. The interior, on the other hand, is finished with pine and pine trimming and a laminated oak hardwood flooring. Closed-cell foam insulation and climate control options like a high-efficiency split system of the air-conditioning unit and heat pump make this luxury tiny house very efficient. The kitchen comes with a maple cabinet, a designer faucet, and a full-sized refrigerator. Unlike many tiny houses, The Vintage XL prides itself of a tub and a shower in the bathroom. There are also options for television with BluRay, a second sleeping loft, a frosted light bathroom door, and, off-grid options for privacy and convenience. The price per unit is around $75,000 to $85,000 with a two-year warranty.
The Vintage Glam by Tiny Heirloom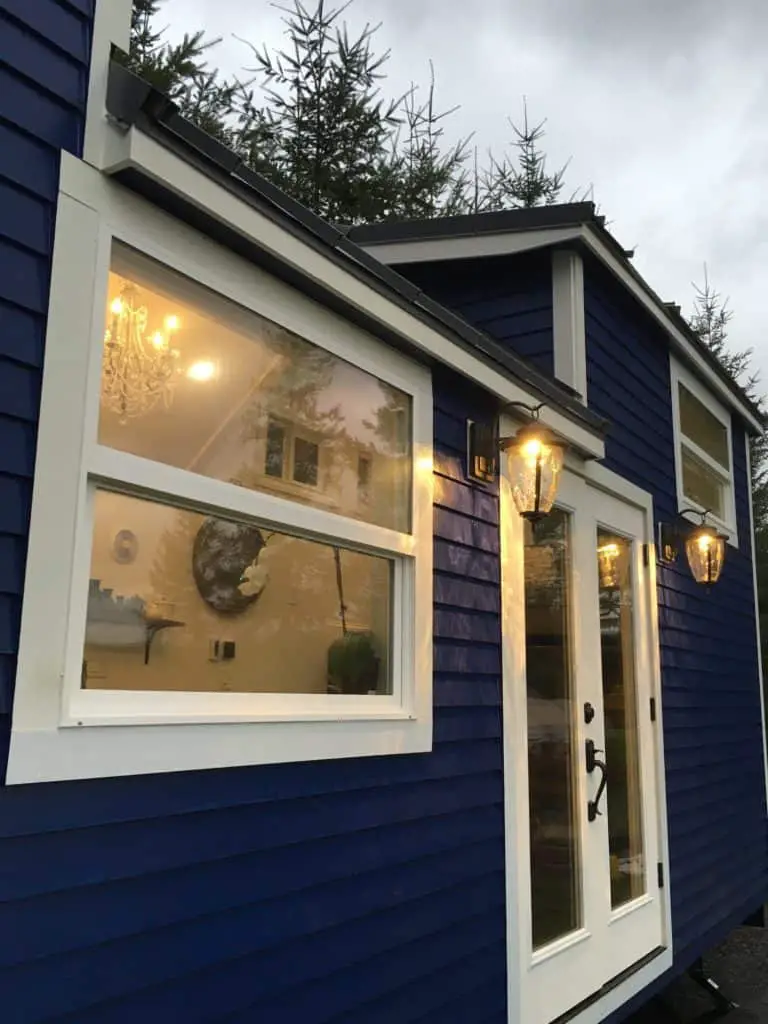 Image from Tiny Heirloom
The Vintage Glam is a 33-feet long trailer that has a total floor area of 200 square feet. The interior design is a combination of vintage posh and modern sophistication. Its bed, bench seats, table, and stairs have a motorized platform that hides away when not in use. It has glass diamond chandelier, marble quartzite countertops with white cabinets and dark handles in the kitchen. The bathroom is the game changer for this tiny house because it has a clawfoot bath bathtub and a live garden wall with dual powered skylights. It also has a porch which is rare for tiny homes.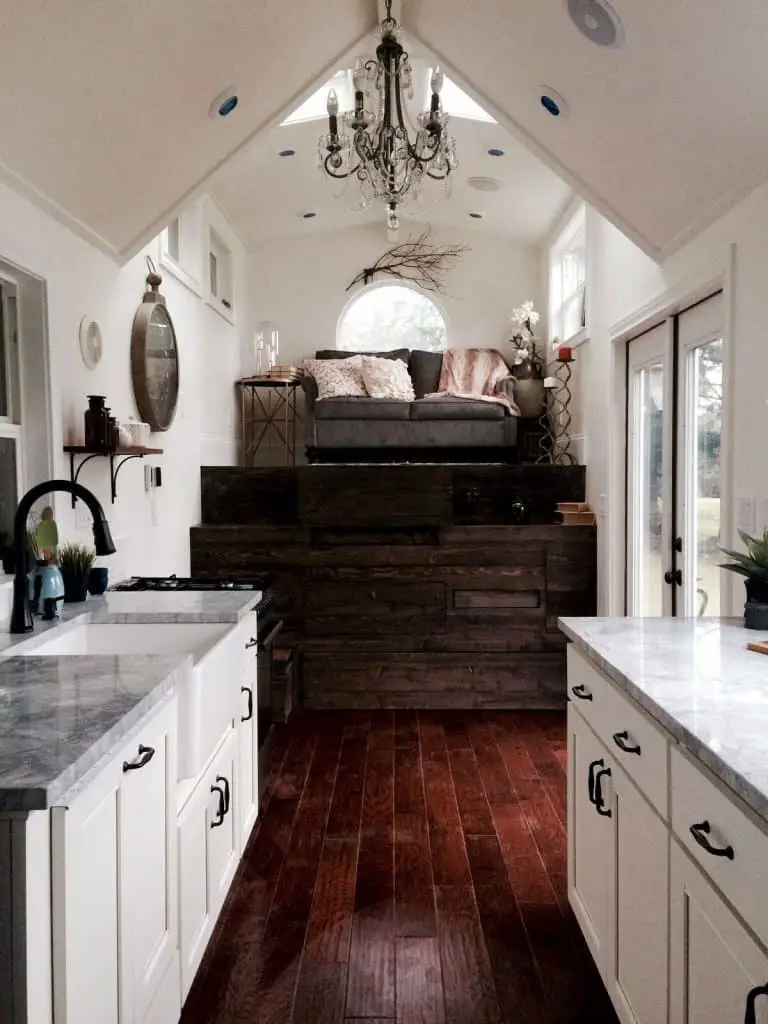 Image from Tiny Heirloom
This luxury tiny house's claim to fame is its high-end home automation systems — the section of the bed's automated platform and the chandelier that turns on once the dining table and chairs slide with just a push of a button. It costs between $145,000 to $155,000.
The Aurora 26′ FKS by Zero Squared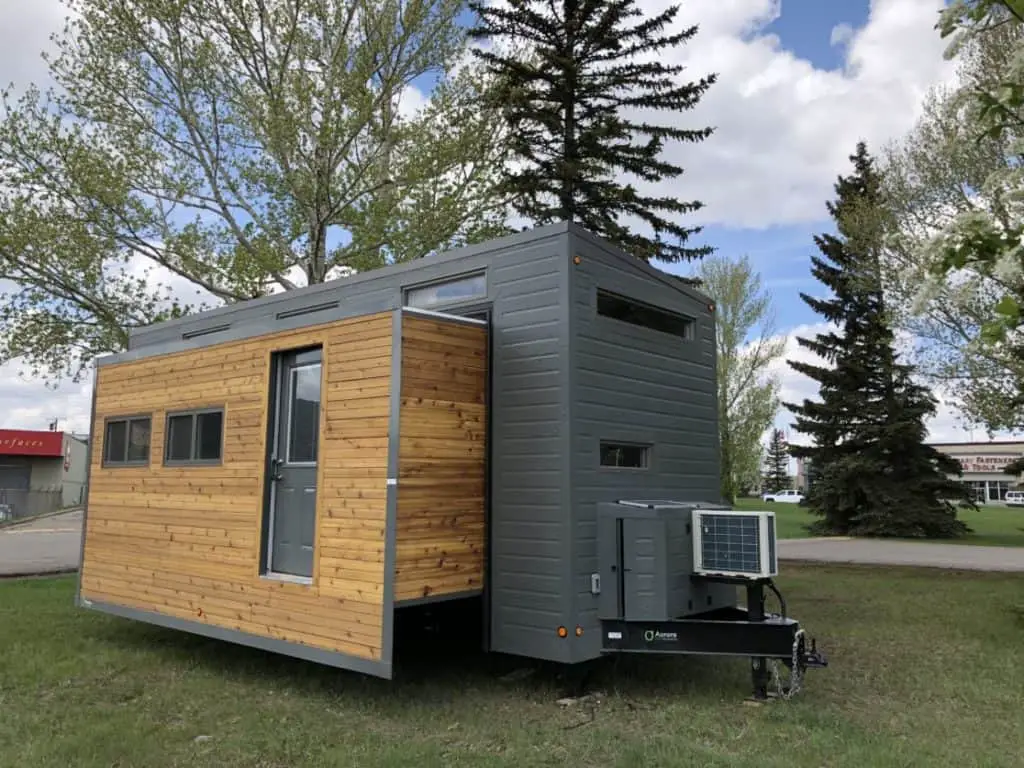 Image from Zero Squared
The Aurora 26′ FKS by Zero Squared has a total expanded floor space of 374 square feet. It is first to organize an electrically operated dual expanding slides to extend the area. For insulation, the house is on a rolling chassis and structural insulated panels. It includes a maintenance-free exterior cladding with a metal door. The interior has pine cladding. Its motto is to downsize without downgrading; hence, offering full features of a living room, kitchen, dining, and bathroom — which are typically absent in tiny homes.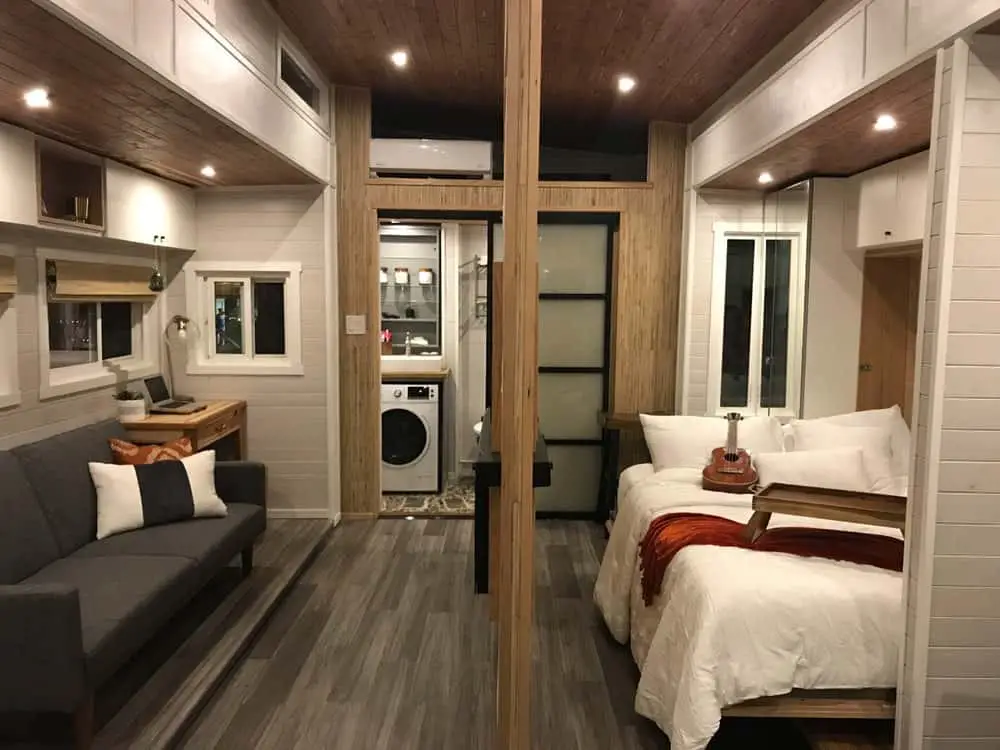 Image from Zero Squared
This tiny dwelling has a queen-sized Murphy bed on the main floor. The living room houses a sofa, a TV, and a table. The apartment-sized kitchen is complete with a countertop, gas range, and full-size appliances. Its dining area has a table that seats four and may be convertible to an office space. The bathroom has a toilet, sink and faucet, a whisper-quiet exhaust fan and a countertop; it may also house a washing machine. This luxury tiny house costs around $73,000 to 83,000.
The Alpha Tiny House by New Frontier Tiny Homes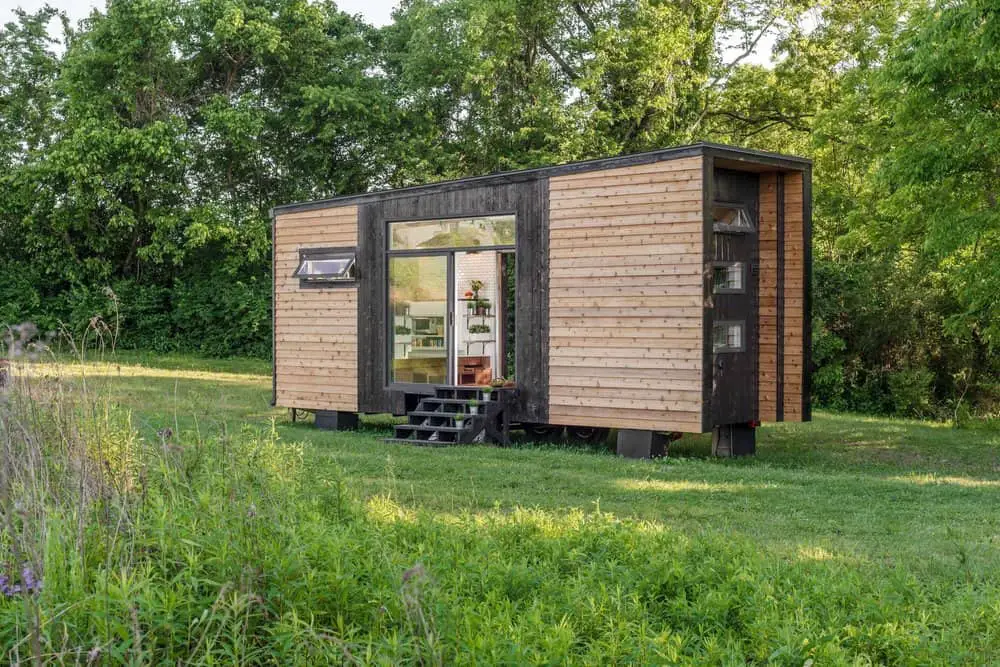 Image from New Frontier
The Alpha Tiny House has a floor space of 240 square feet, somewhere around the average size of luxury tiny houses. This luxury home opens on both sides with glass sliding doors and a garage-style door. Near the garage-style door is a large porch space that can be put down for extra space. Its tempered insulated glass windows made the house look a little bigger. The siding is cedar, treated using the Shou Sugi Ban method to increase its durability. Its floor is a hand-hewn solid walnut hardwood.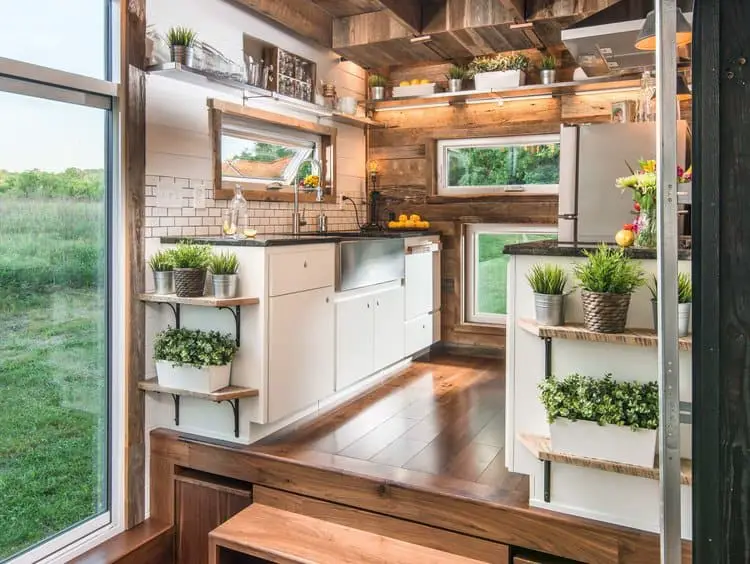 Image from New Frontier
The bedroom houses a King-sized bed and dimmable nightstand. Its kitchen features custom drop down cabinets and peacock gold granite countertops. The kitchen has a dining table with a bench seating and a dishwasher. In the bathroom, you will find a jacuzzi tub, a shower and a one-of-a-kind antique bathroom mirror. This place comfortably fits eight and costs around $95,000 to $115,000.
The Brown Bear by Utah's Alpine Tiny Homes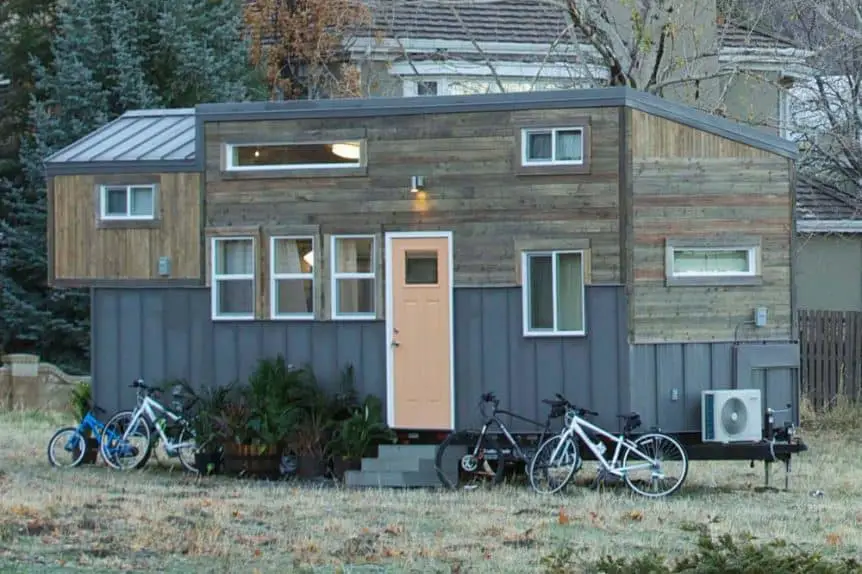 Image from Tiny Living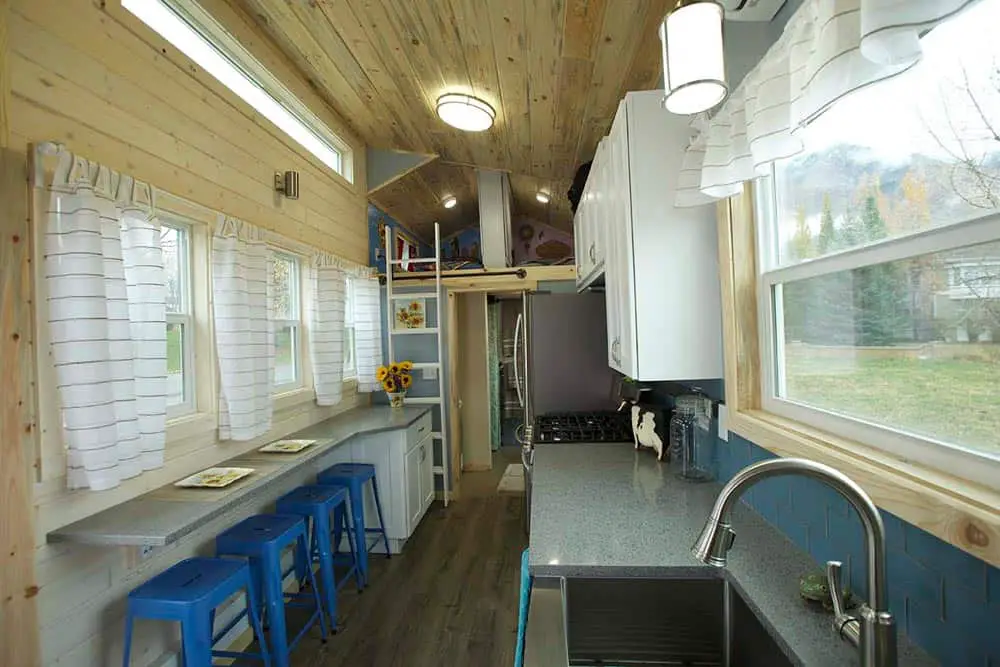 Image from Tiny Living
The Brown Bear has a total of 335 square feet. Its claim to fame has a large kitchen with quartz countertop, dining area, and a breakfast bar the houses four people. The kitchen has a full-sized sink, refrigerator, and stove with oven. This home has a mid-sized bathroom with sink, toilet, and shower. The lounge, however, like other tiny homes is quite small and only has a top bunk bed. Despite that, it has an air-conditioning and heating unit which uses a solar panel array and a Humless solar generator. There is a metal roof and detailing on its exterior. The price for this luxury tiny home ranges from $68,000 to 78,000.
The Retreat by Alabama's Timbercraft Tiny Homes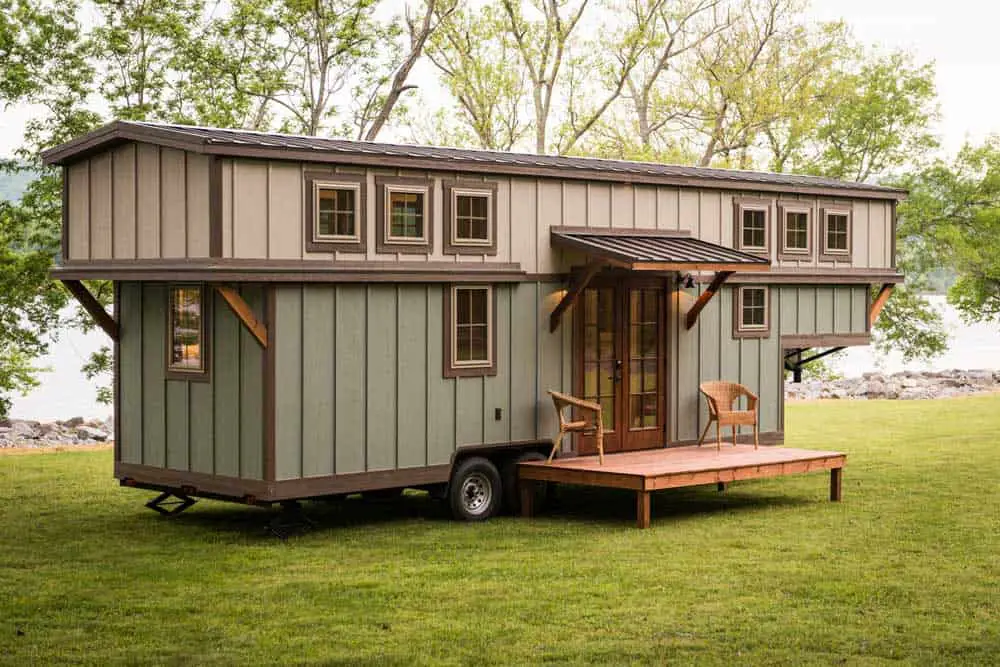 Image from Timber Craft Tiny Homes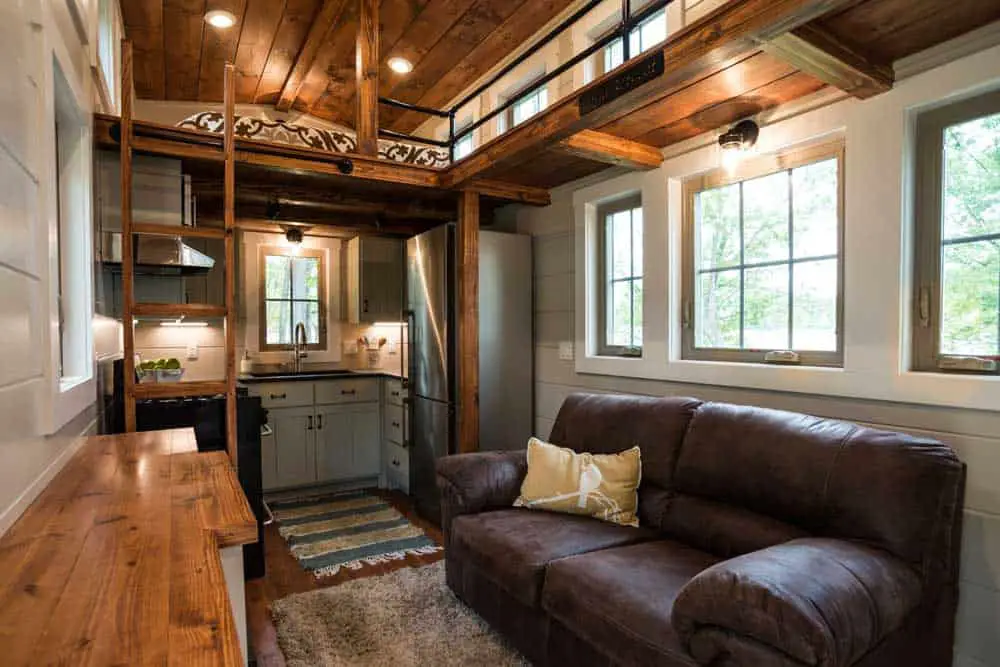 Image from Timber Craft Tiny Homes
The 33-foot long Retreat has large floorspace reaching up to 416 square feet. It has a spacious living room with a U-shaped kitchen and a bathroom with both a shower and a tub. The house has three bedrooms. The largest one has enough headroom to stand. It has high-end craftsman style finish throughout. Outside, it has two board and batten siding with a metal roof and cedar porch. Inside, the walls are white pine with stained ceilings. It has a yellow pine floorboard. The price of the Retreat Tiny Home ranges from $74,000 to $84,000.
Tradition by Escape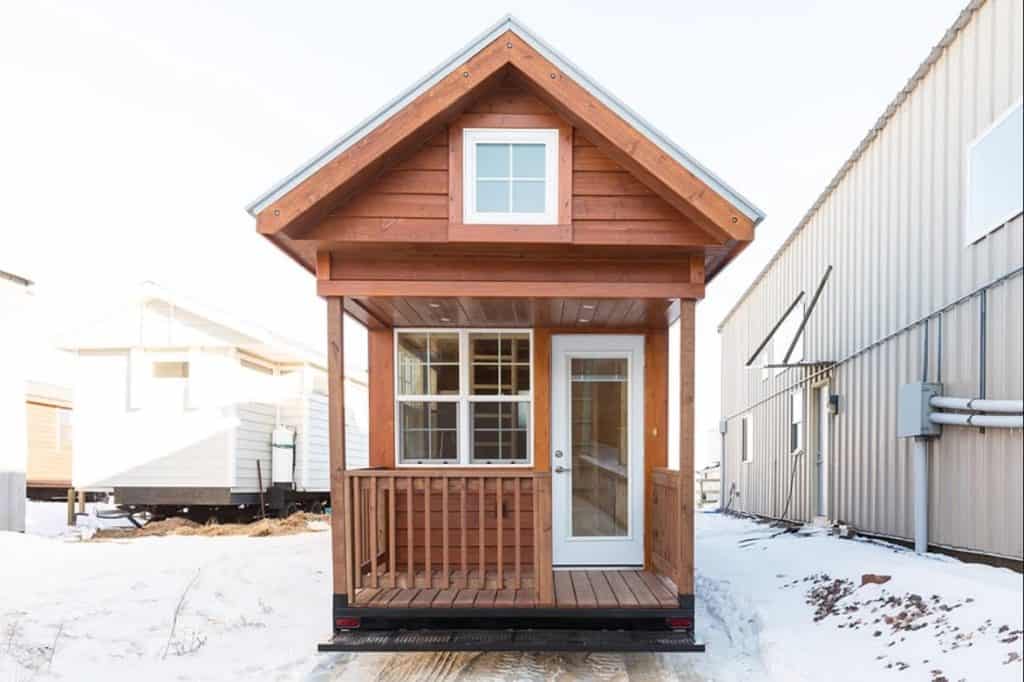 Image from Escape Traveler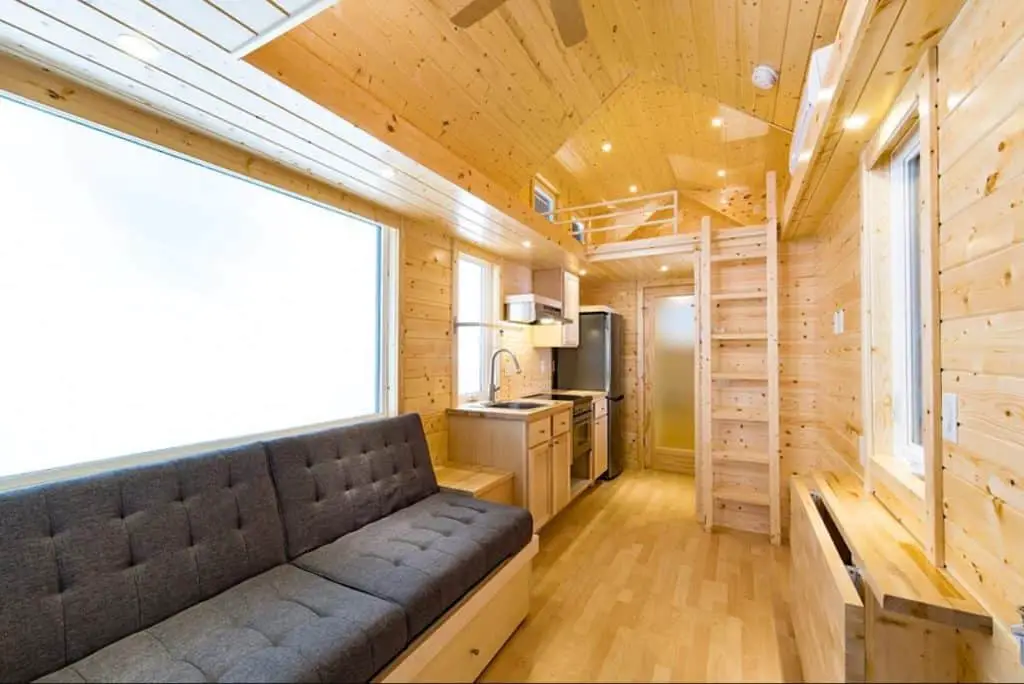 Image from Escape Traveler
Tradition by Escape is a contemporary tiny house has two options for the length of the house: 21 feet and 25 feet model with a porch. Both of them have cedar siding and a gable roof. The exterior looks as if it is a posh cottage. The ground floor boasts an open living room that houses a sofa, kitchen with a full-size fridge, a propane-powered oven and three burner stove, and a drop-down dining table. The bathroom is at the opposite end of the house, complete with a shower. The Tradition starts at $48,000 to 58,000 but can still be upgraded to run off-the-grid technology.
The Lighthouse by Knowhow Shop
Image from Arch Daily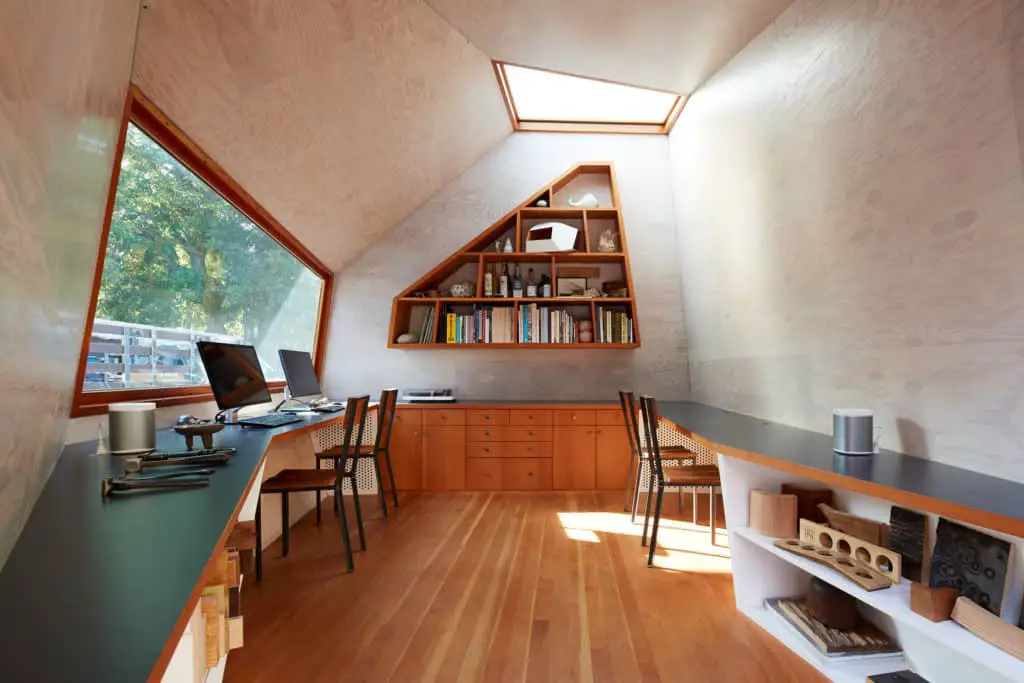 Image from Arch Daily
Made with lightweight prefabricated panels, the Lighthouse is the most eccentrically shaped yet sophisticated and modern-looking tiny house on this list. This geometric micro-office style home is 154 square feet. It is a backyard office on wheels. The materials used include structurally insulated panels and Douglas fir wood. Inside, the walls are wooden, has enough space for four workstations, and plenty of room for storage. It costs around $45,000 to $55,000.
Sumptuous Living in Luxury Tiny Homes
Among the best nine the luxury tiny homes, The Vintage Glam tops the list. Its aesthetics are unquestionably remarkable. The classy chandeliers, indoor garden, clawfoot bathtub, and white fixings show the chic sophistication. Not to mention, the automated buttons say smart home.
Have you ever dreamed of living in luxury tiny homes? Have you been fortunate enough to try it? Tell us what you think in the comments.