*This post may contain affiliate links. As an Amazon Associate we earn from qualifying purchases.
People are taking back their freedom by learning how to build a tiny house on wheels. With delightfully designed homes, that don't sacrifice luxuries even in the minimized space. Tiny houses are so popular they've become a movement. You can travel the country and park your home wherever you want. People who own tiny houses claim that they have happier and more fulfilling lives.
With a wide variety of reasons to build and live in a tiny house, several questions arise. How could less be more meaningful? Is this legal? What kinds of tiny houses can you produce? How much does it cost? Are there any supplies that you need? What is a tiny house anyway?
What Is a Tiny House?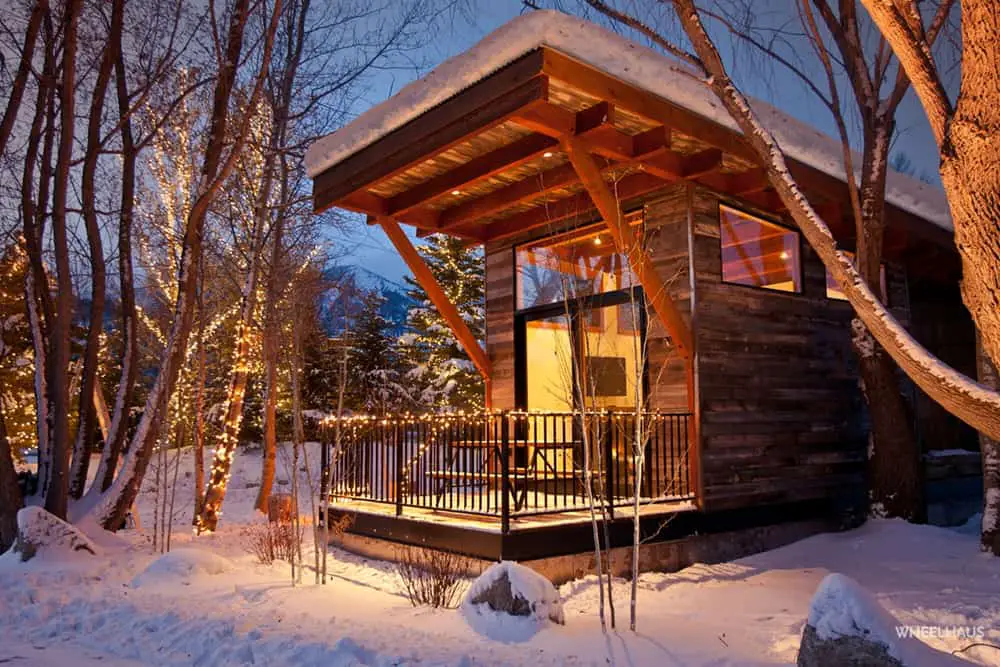 A tiny house is a home, just like any traditional home, built with roughly 400 feet of available space. It's small, and every inch counts when you're creating these little homes. Tiny homes have gotten so much attention lately that building tiny houses has quickly become a movement. There is a certain freedom that goes along with living in a tiny house. Especially if you decide you want to learn how to build a tiny house on wheels.
If a tiny house is put together on a trailer, you'll be able to hitch it to a truck or SUV. Some people travel in their tiny houses wherever they want, though it's technically not legal yet. No current stories are indicating that anyone has reported trouble with the law for having one. Some people have eviction notices posted on their parking spaces because of their tiny home, but they can just pack up and drive off. Some people can't handle the tiny house movement, so why do you want to build a tiny house on wheels.
Why Do You Want to Learn How to Build a Tiny House on Wheels?
There are many reasons to learn how to build a tiny house on wheels; one reason is to follow a minimalist lifestyle. With tiny houses, you need to be able to fit everything inside your home. Which means you're going to have to let go of a lot of stuff that you probably aren't using anyway. Most tiny house owners who force themselves into minimalism find this to be a very freeing process and end up loving their new lifestyle.
Another reason to learn how to build a tiny house on wheels is to become more environmentally friendly. You can buy a plot of land, park your home, or travel with minimal water and electricity included. That limits your overall carbon footprint and gives you the freedom to move around.
You can also pursue the things you're passionate about outside. Do you love skiing or hiking? You'll be able to engage in outside activity more frequently if you learn how to build a tiny house on wheels. Some tiny house owners say that their homes also give them a greater appreciation for the things that matter. Others are more delighted with the limits they put on things such as their wardrobe, and some are delighted to get out of debt while still being a homeowner. Another great aspect is that you get to design the house based on your needs, and no one else's giving you full creative freedom.
The bus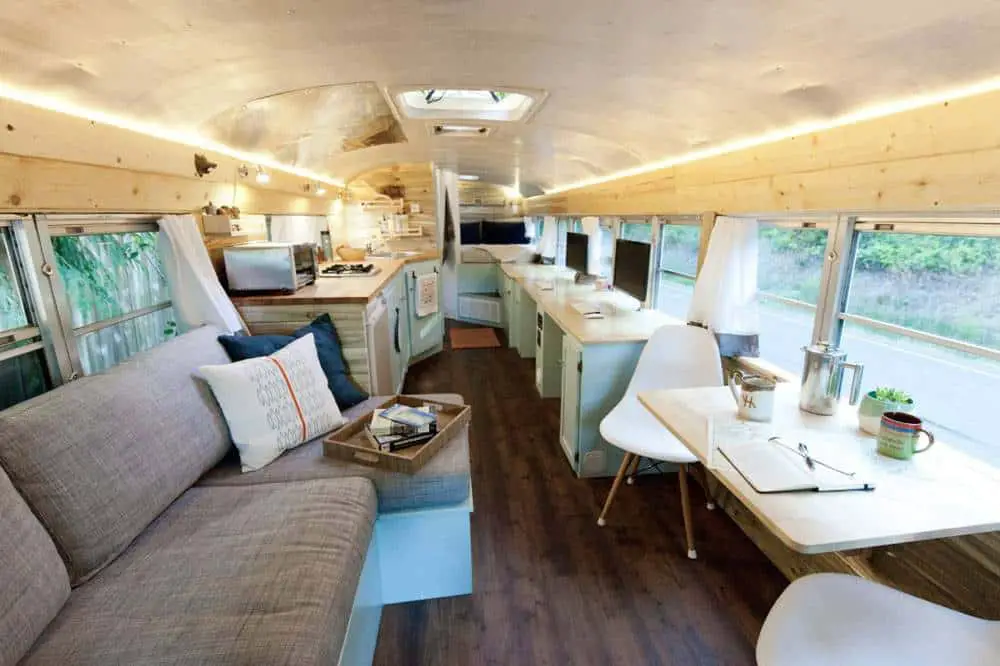 This tiny house comes on the frame of an actual bus. As long as you're capable of driving a bus, you can literally go anywhere. With plenty of headroom, these tiny houses are not only mobile, but you can house a whole family in them. People buy school buses, strip out the seats and replace the walls and floorboards with whatever they want. Building chic looking houses from scratch to fit their style. These buses can even feature wood stoves for heat if you take the heating systems out. With full creative freedom, these tiny houses on wheels can really be delightful.
Most people who engage in this lifestyle full time have a flexible job which allows them to work when they want to, all from the comforts of their bus. Many of these buses come with fully working showers and toilets, enabling you to stay on the move no matter what. If you don't implement a shower into your space that's fine as well, many people use more public showers, like at fitness clubs, truck stops, or the local Y. It really is your choice, though, depending on your comfort zone.
Deckover trailer tiny house
These tiny houses are incredibly large for their name. With space from 12 feet to 36 feet long, you can build your tiny house easily and efficiently. These trailers are completely flat, which is a great foundation to start building your tiny home. The lack of wheel wells is a big plus as well. This trailer is perfect to build a one-story house, but don't add a loft here! You may run into some problems getting where you want to go if you add a second story. You'll likely be too tall and find your home won't fit under standard bridges and overpasses.
Deck between the tiny house
This is a flatbed trailer that sits beneath the wheels, so you'll have to factor in that space when you're building. It's a very low trailer, which gives you a lot of room for creative freedom when you learn how to build your tiny house on wheels. It gives you the room for a loft if you want one, and though some people add fold-down stairs for their tiny house, you won't have to. The deck between still has a quite a bit of space even though the wheels aren't below the flat section of the trailer. That makes them appealing to build houses on, regardless of the difficulty of navigating around the wheels.
Gooseneck trailer tiny house

This trailer is a great trailer for a deck between or deck over trailer. With a special hitch, you can build a delightful home on this massive trailer. You can build an efficient house without worrying about the space requirements of your tiny home. Do remember that there are weight limitations for every trailer though.
For the gooseneck, you can have a total of 7,000 pounds, including the trailer. Giving you some guidelines to work with when building the walls of your home. All of the trailers, including the first two should include brake lights and a license plate, as well as a way to hit the brakes safely. Which is especially important on larger tiny homes, and trailers like the gooseneck.
Choosing Your Tiny House
When you're thinking about your tiny house, there is a lot that you have to consider. Firstly how many people and pets are going to live in this tiny home? Are you single or do you have a family? Another aspect you have to factor in is, do you want plumbing and water? A shower and toilet? Some tiny homes don't have these amenities. Do you want to work with a loft or not? Are you towing your home or not? Will you need a permit? All of these questions and more need to be answered before you decide upon your tiny house.
Firstly judge your basic needs and requirements in your home. What do you want to include? Start looking for designs based on those needs. If you have pets or kids factor them in, make it your own. There are a wide variety of guides to help people learn how to build a tiny house on wheels. These are pre-made plans that you'll need some know how to tackle, but they're out there.
If you have the money, but not the time you can also employ any one of the tiny house builders available. Tell them what you want to be included, and any other design details you require, and they'll make it happen. Of course its a bit more pricey than building the home yourself. With a professional tiny home builder, you get maximized space, and a beautiful design without having to put the raw work into it.
Laws
If you want to learn how to build a tiny house on wheels, you have to get ready to deal with the rules that accompany this lifestyle that so many love — and they can be strict. Some people just hate tiny houses. They don't want you to live your way, but most turn a blind eye and let you do what you please. Some will act on their irritation, usually in the form of an eviction notice served by the town.
Before you learn how to build a tiny house on wheels, you should first be familiar with the difference between zoning and building laws. Building laws and zones tell you how to build your house, and zoning laws say where you should build your house. These are important to differentiate when building a tiny house. Call your local zoning and planning department to find information about your specific locations. There are some states, such as California, New York, Michigan and more accept tiny houses due to lax building regulations and other developments.
Supplies
Supplies for your tiny house are going to differ house to house. If you take a look at some of the basic building guides, they usually deliver a total list of supplies for when you are learning how to build a tiny house on wheels. You'll absolutely need a heating and cooling option, and possibly a restroom if you decide to make this your full-time home, but your supplies are going to be based on your needs and your requirements.
Take a look at the home you want to build, and if you can't get a supplies list, make one yourself. What kind of ceiling space do you want? What kind of bed? Are you going to have a stove or a fridge? Where will they go? Make a master list of appliances, lumber, siding, electrical wires, tape, outlets and so much more. A list of the basics can help you get started in this daunting feat.
Cost
How much you spend will depend on the kind of house you choose. But overall, learning how to build a tiny house on wheels can be easy with budgets as low as $500 for the bare minimum, to over $50,000 for a pro-built home. These costs depend on a lot of different variables. What house are you building? What trailer are you using if any? Are you building the house yourself or will you have it built professionally?
These are all questions you should ask yourself when you're pricing a tiny house. Another option is to pull together your budget and work from that to get an idea of what you can handle financially. You could write a hefty paycheck if you want to get the home professionally made by a tiny house builder.
Is a Tiny House Right for You?
From picking your tiny house out to living on the road learning how to build a tiny house on wheels is a wild and interesting experience. Some people claimed they are happier with less, but will you be? Imagine giving away all the material possessions you have, selling them, and getting rid of them because you want to. You could alter your carbon footprint, or even tackle your student loans head-on at the right price.
Regardless of your reason for looking into how to build a tiny house with wheels you should be ready for the time commitment. Unless you have a professional builder building a tiny house can take time. If you've got the time, money, and itch for wanderlust and a yearning for more freedom, you've found the right housing movement to follow. Do you have a tiny house? Is it on wheels or not? If so tell us your wildest story, good or bad, about life in your beautiful home.