*This post may contain affiliate links. As an Amazon Associate we earn from qualifying purchases.
If you've ever dreamed of picking up all of your possessions and going somewhere far away, micro houses may be the answer. Sometimes mobile but always tiny, micro homes will make sure your priorities are always on track. As human beings, we are often caught up in the materialistic side of life: big house, fancy car, and the best job. But downsizing your home and removing frivolous things in your life will help you focus on what is truly important: life itself!
Small spaces call for small amounts of material possessions. When you spend less time thinking about what you need, you can focus more on things you already have. Besides spending less time and money on material things, there are many other benefits to owning a tiny home. We will explore how micro houses work, their average price tag, and a few beautiful examples.
BENEFITS OF OWNING MICRO HOUSES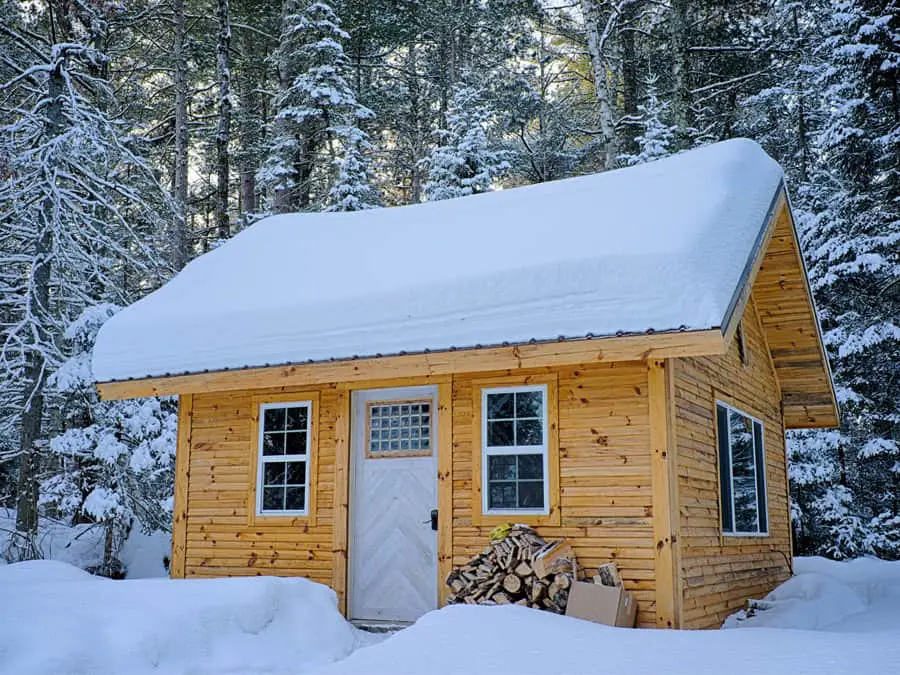 When we first think about micro homes, we may think of the things that we may lose. The most obvious is the square footage lost when we decide to live in a micro house rather than an average-sized home. However, there are plenty of fantastic benefits to think of when we pour all of our efforts into living in a micro house.
First and foremost is the lack of a mortgage or large loan. Buying a house often means asking the bank or a lender for money and then financing your home. If you opt for a tiny house, you can often build or buy the home without getting a mortgage. Should you have the money on hand for materials and labor costs, you won't have to get a loan at all! However, loans to build a micro house will always be much less than a mortgage for an average-sized home.
Secondly, having less square footage can also be a good thing. For instance, less furniture means less cleaning! It also means you have to choose your furnishings very carefully and only select the stuff you cannot live without. Careful item selection means your life's achievements will focus less on things you have and more on adventures you experience.
HOW MUCH DO MICRO HOUSES COST?
If you're a numbers person, building a tiny house typically requires around $25,000 to $35,000. But the final cost to build a micro house depends mostly on two things: size and material. The larger your home, the more it will cost to build. While we won't go into detail regarding the construction of micro homes, they require a framework like any other average home. Necessary materials include wood, plywood, drywall, nails, and everything else essential to turn your dream into a reality. But if your micro home is set to be mobile, remember to include the cost of the trailer.
$25,000 to $35,000
First thing's first: Micro houses needs to be furnished. Furnishing micro homes usually takes a large chunk of your budget. Mobile micro homes require materials that are light to make moving from place to place easy. This may mean choosing light wood such as cedar instead of cherry, which is significantly heavier, for weight reduction purposes. Thankfully, cedar is generally less expensive than cherry wood so that you can save some money. However, ranges or stove tops made explicitly for small homes may be more costly than those for traditional houses, which will cut away at your budget.
Lastly, micro homes have micro bills! Should you live in a climate where heating and cooling is a necessity, your bills will be small. After all, the lower the square footage, the less electricity needed to cool or heat your tiny house! Alternatively, if your climate is moderate, you may not require air conditioning or a heater at all. To eliminate your bills, you can live off-grid by investing in propane tanks, solar energy, and an integrated water system. While this may cost more upfront, it will pay for itself in the long run.
HOW WE RESEARCHED
We looked online to find the most awe-inspiring micro homes in the United States. Unlike the products we buy, these homes cannot be rated using traditional metrics. They are each unique in structure, furnishings, and style. We highlighted their best qualities to show you how micro homes are lovely alternatives to traditional houses.
The Rook by Wind River Tiny Homes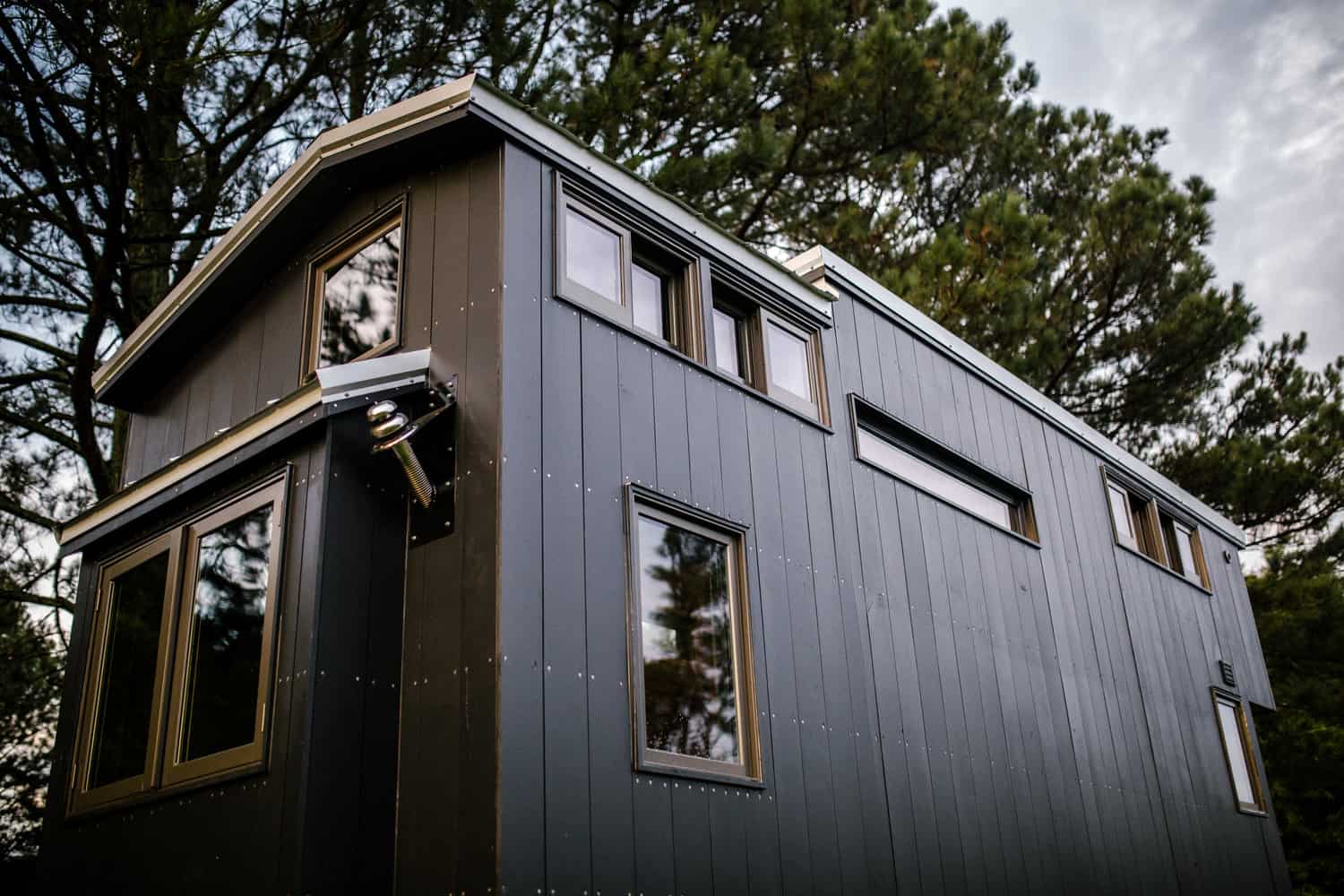 Image from Wind River Tiny Homes
If you think all micro homes are built equal, you would be very wrong. Tiny houses often bring the words "rustic or "cabin" to mind — but "The Rook" completely defies that line of thinking. Made by Wind River Tiny Homes, The Rook's exterior is made of painted vertical siding and exposed stainless steel screws. Enter through the dutch door and inside you'll find a stunning little mobile house filled with exposed piping, moody lighting, and plenty of storage space.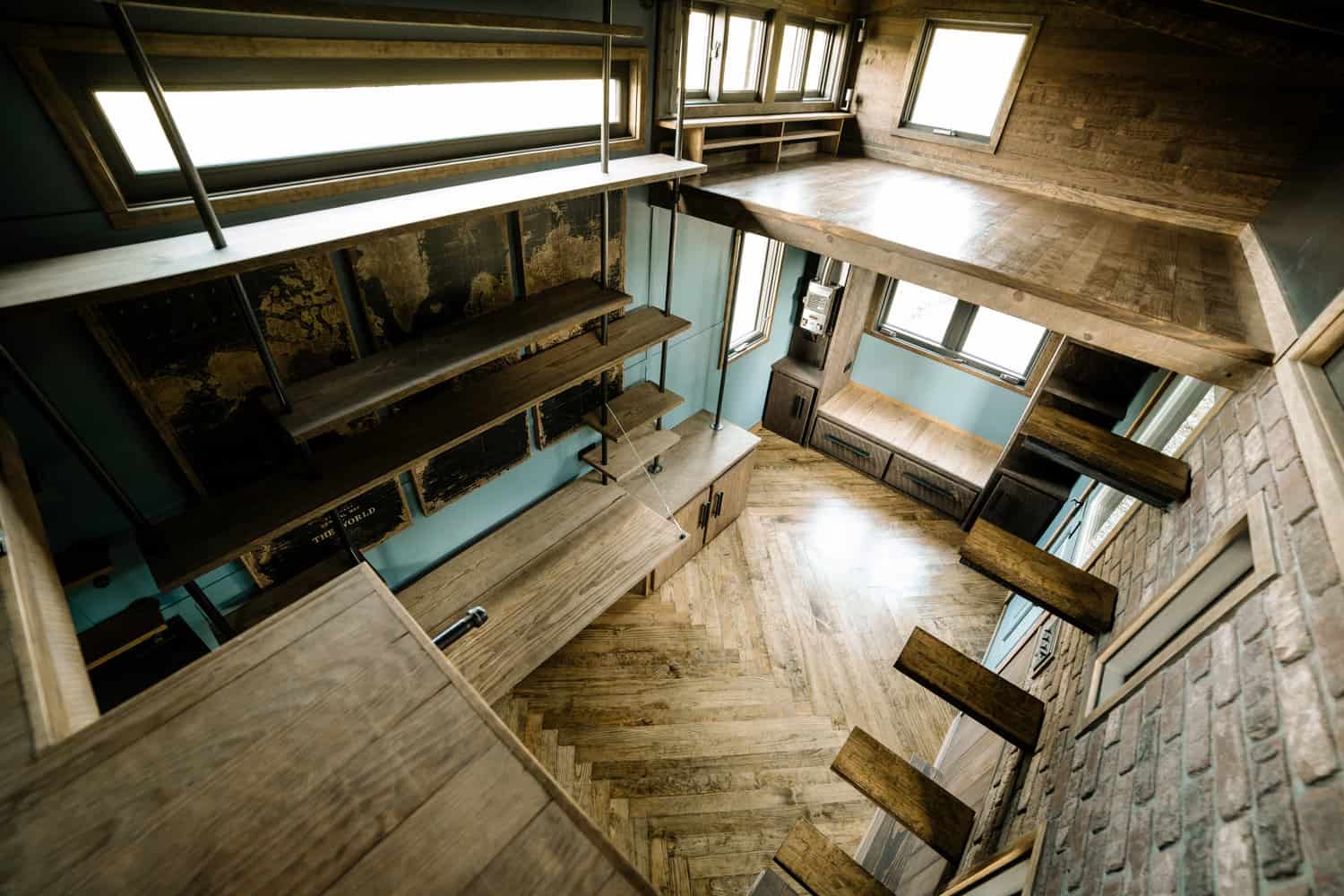 Image from Wind River Tiny Homes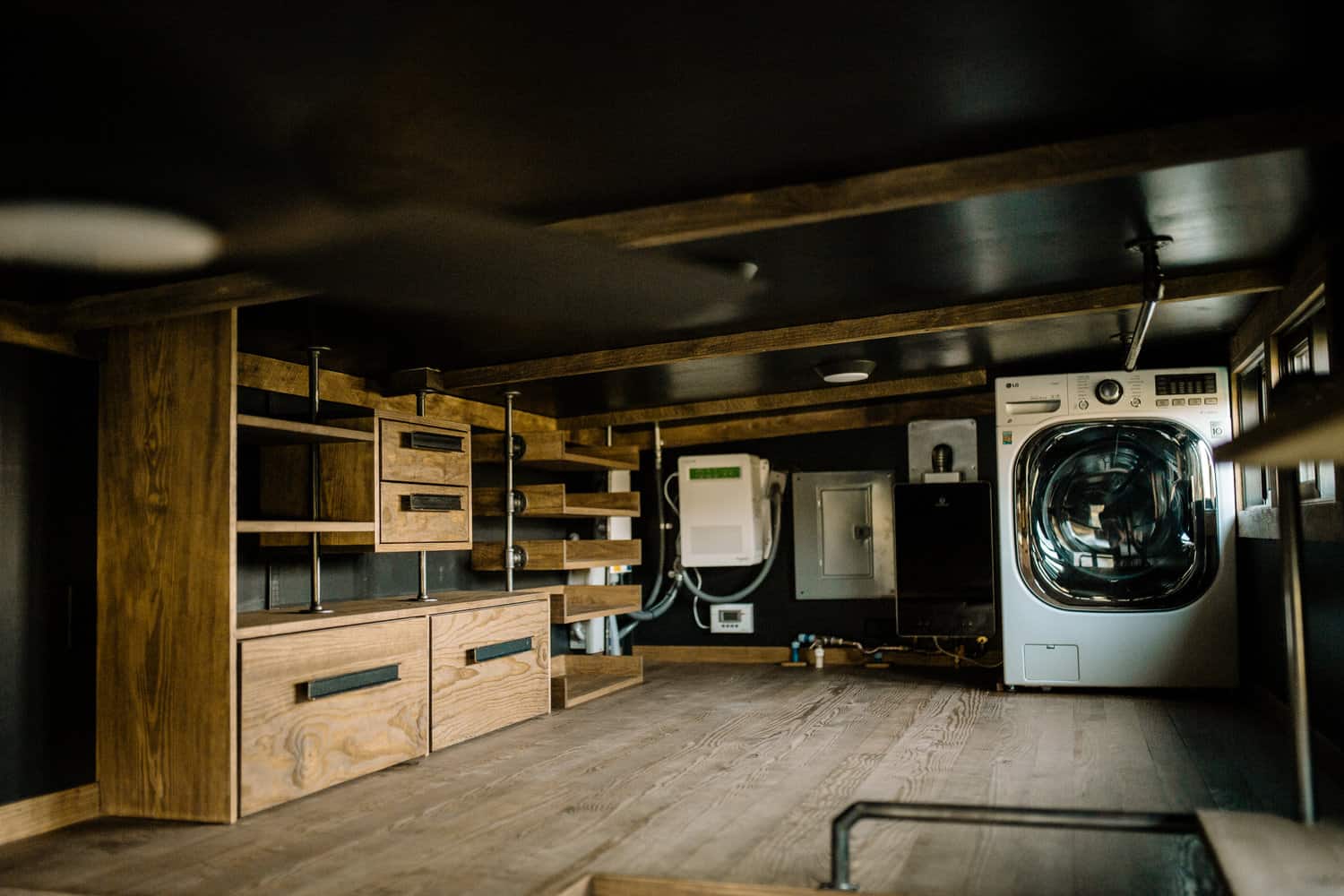 Image from Wind River Tiny Homes
The herringbone flooring, exposed brick wall, and roughed cabinetry give the entire space a very industrial feeling. The kitchen features concrete countertops, open shelving, a propane cooktop, and raw steel spice racks. The counter serves as a table thanks to the cast iron swivel swing-in stools. Or opt for the fold-down desk when company is over. Access the master loft via floating re-bar steps or the secondary bed using a pipe ladder. The secondary loft holds the breaker box, solar converter, tank-less water heater, and washer/dryer combo. The main floor bathroom contains a fully compostable toilet and a stand-up shower. The Rook as pictured cost nearly $100,000, however, Wind River Tiny Homes sells similar models starting at $70,000.
Macy Miller's micro home
Image from Mini Motives
One of the advantages of living in a micro house is living mortgage-free. This was the motivation for Macy Miller, an architect who decided to build her very own little home. Macy and her family (husband, child, and even her Great Dane) have called this 196 square foot micro house home since 2011. It was renovated in 2015 and contains everything a growing family needs to live comfortably.
Image from Mini Motives
Image from Mini Motives
Just past the door are two built-in bunk beds, one of which sleeps her daughter Hazel. After a row of vertical storage is the kitchen. The kitchen contains a four-burner stove, fridge, washer/dryer, microwave, and a deep sink with a stainless steel faucet. On the other side of the kitchen is a small bathroom with a mini sink and stand-up shower. At the back of the home is the living room combined and a master loft divided by a row of white shutters. The steps leading up to the loft double as storage cubbies to keep anything from blankets to pillows. The entire micro home was built atop a 24 by 8-foot gooseneck trailer and cost Macy approximately $13,000 to complete.
The old caravan by Nick and Aaron Troisi
Image from Tiny Living
Micro houses don't have to have a box-like exterior. Using round and interesting shapes is challenging, and the result has the potential to be extraordinary. Such is the case with Nick and Aaron Troisi's "The Old Caravan," a tiny home build for a former client. If you find micro houses don't have a lot of storage, the Old Caravan will blow you away.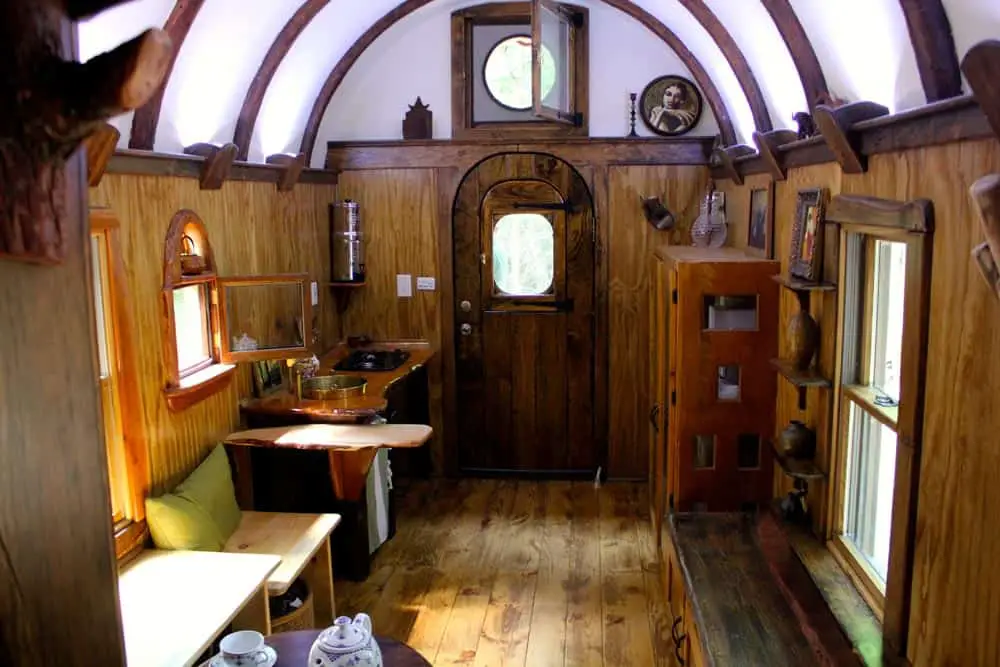 Image from Tiny Living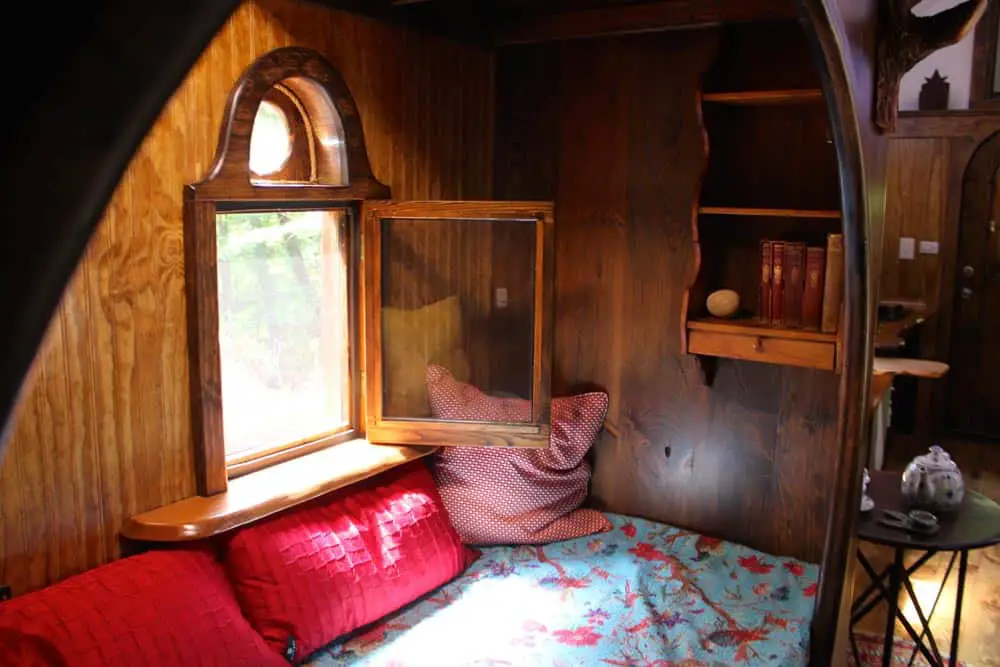 Image from Tiny Living
The interior matches the exterior in that it feels rustic and cabin-like. The wooden kitchen counter is made from an old apricot tree cut down in the client's backyard. The small kitchen holds a two-burner stove, a bowl-like sink, and plenty of cabinet space. Rounded windows throughout the caravan bathe the interior in light. Guests can choose to sit adjacent to the kitchen to eat their meals on the live edge table and later read a book in the cozy cubby at the back. The bookshelf doubles as stairs leading up to the master loft, which features a rounded ceiling. The entire structure is mobile and off-grid, so you can sleep, work, and live comfortably wherever you go.
The Highland by Incredible Tiny Homes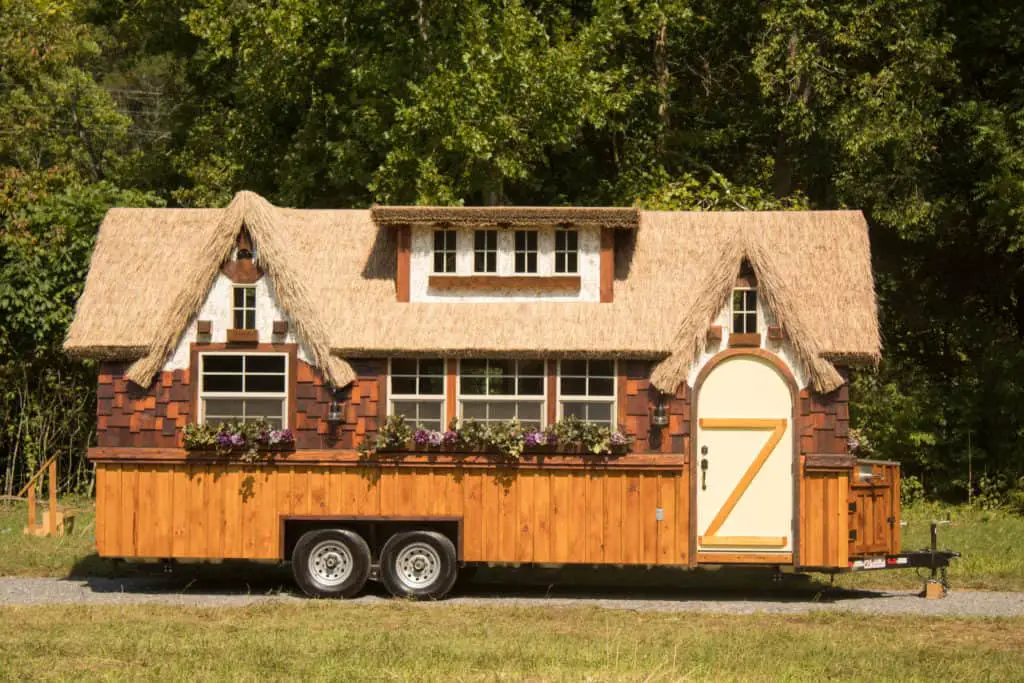 Image from Incredible Tiny Homes
Do you dream of living out the rest of your days in a Hobbit-like structure surrounded by cozy corners and warm blankets? If that sounds like a dream come true, then you will fall in love with the 10-foot by 24-foot Highland home. Constructed by Incredible Tiny Homes, this home's exterior resembles an old cottage thanks to the siding made of board and batten siding. However, the inside is an inviting oasis you can be proud to call your own.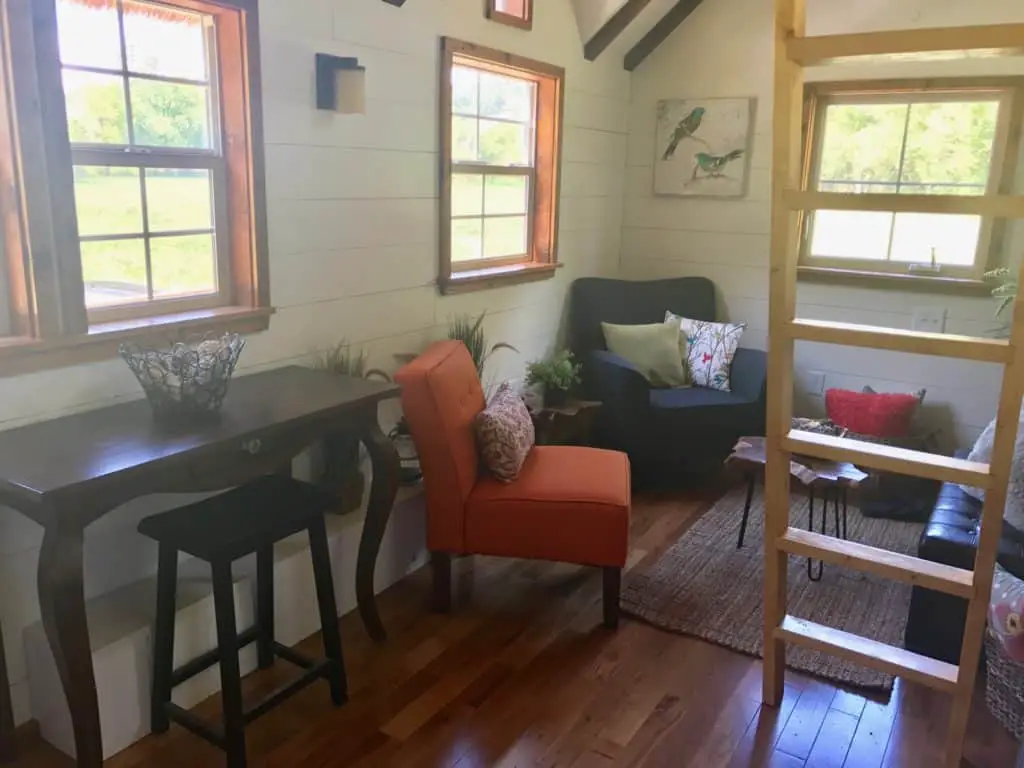 Image from Incredible Tiny Homes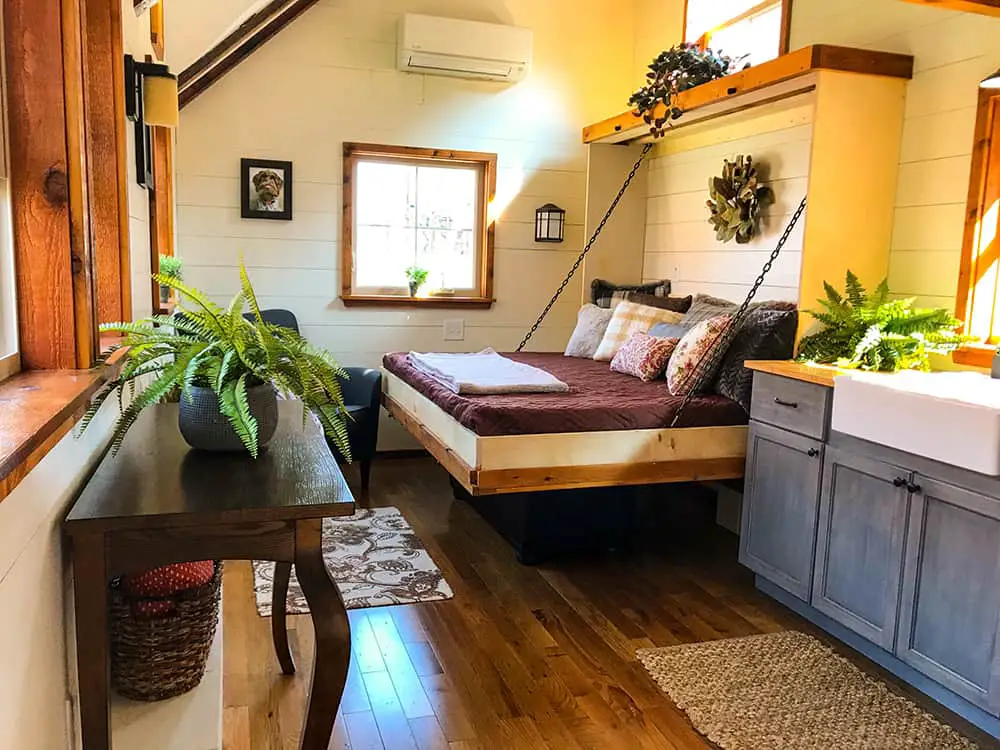 Image from Incredible Tiny Homes
When you enter via the round top door, you will be face-to-face to the bathroom entrance. The bathroom boasts a 36-inch shower, standard flush toilet, and a washer/dryer combo. To the left is a hallway which leads to the combined living room, master bedroom, and kitchen area. Above are exposed wooden beams, and a ladder leads to the second bedroom in the loft. The living room transforms into the master bedroom when you pull the Murphy bed from the wall, which is secured with heavy chains. The kitchen features an apron sink, a four-burner electric range, a 10 cubic foot refrigerator, and plenty of space for meal prep. Plus, the Highland sits on a trailer, so you can bring your home with you wherever you go. This stunning home is currently on the market for $65,000.
The Fox House in Nashville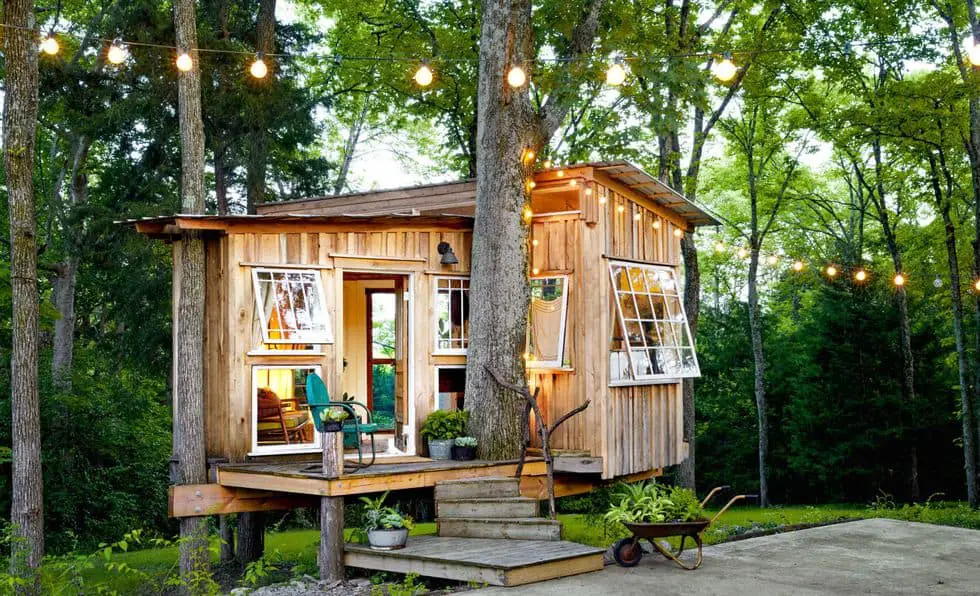 Image from Southern Living
Lovers of the great outdoors can live within nature just minutes away from the heart of Nashville. Nestled on a quiet piece of two-acre land is The Fox House, a tiny home away from home designed by Emily and Sloane Southard. The family built the tree house from the ground up using old restored windows and lots of elbow grease. The result is an alluring space filled with natural light made with exactly zero right angles.
Image from Southern Living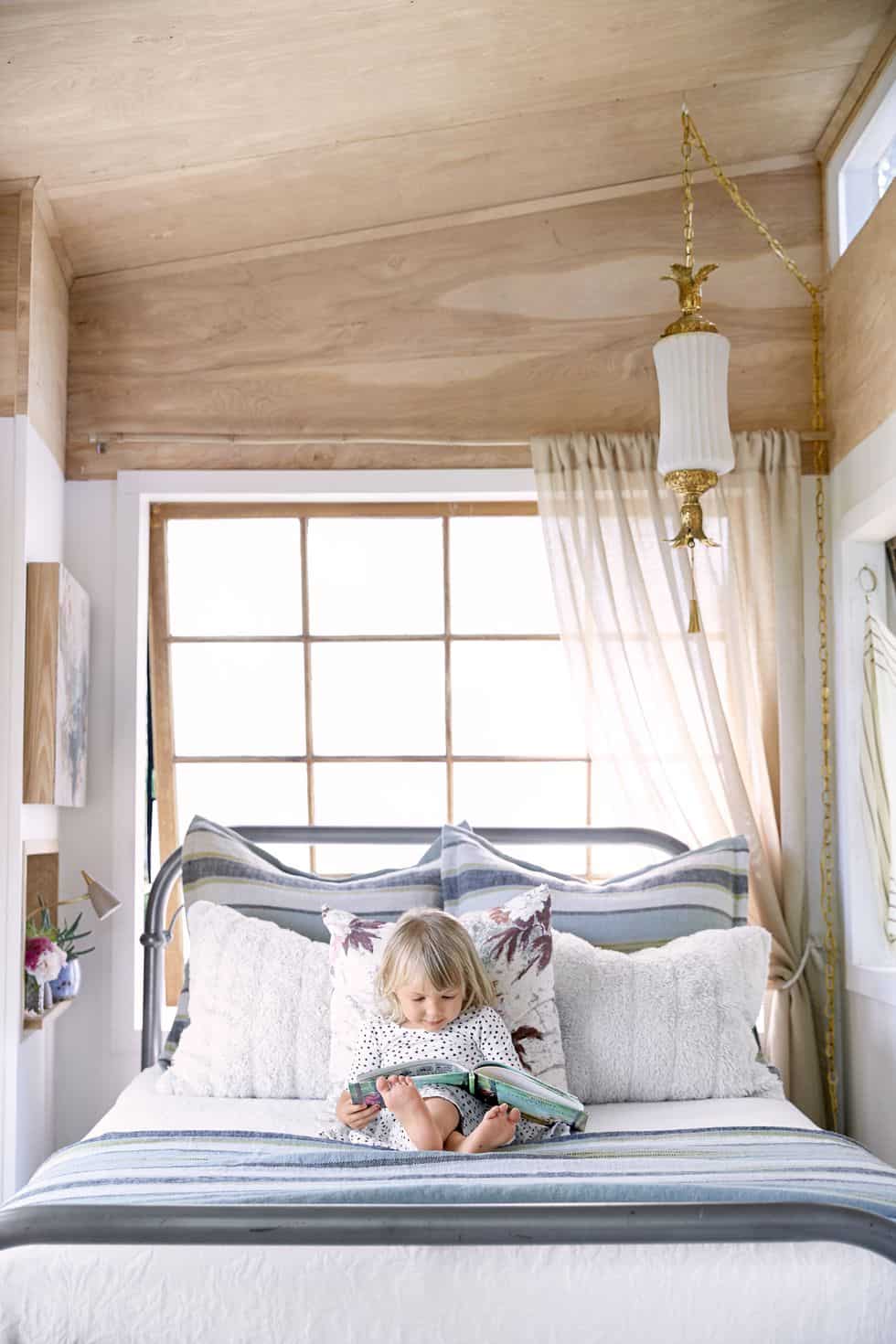 Image from Southern Living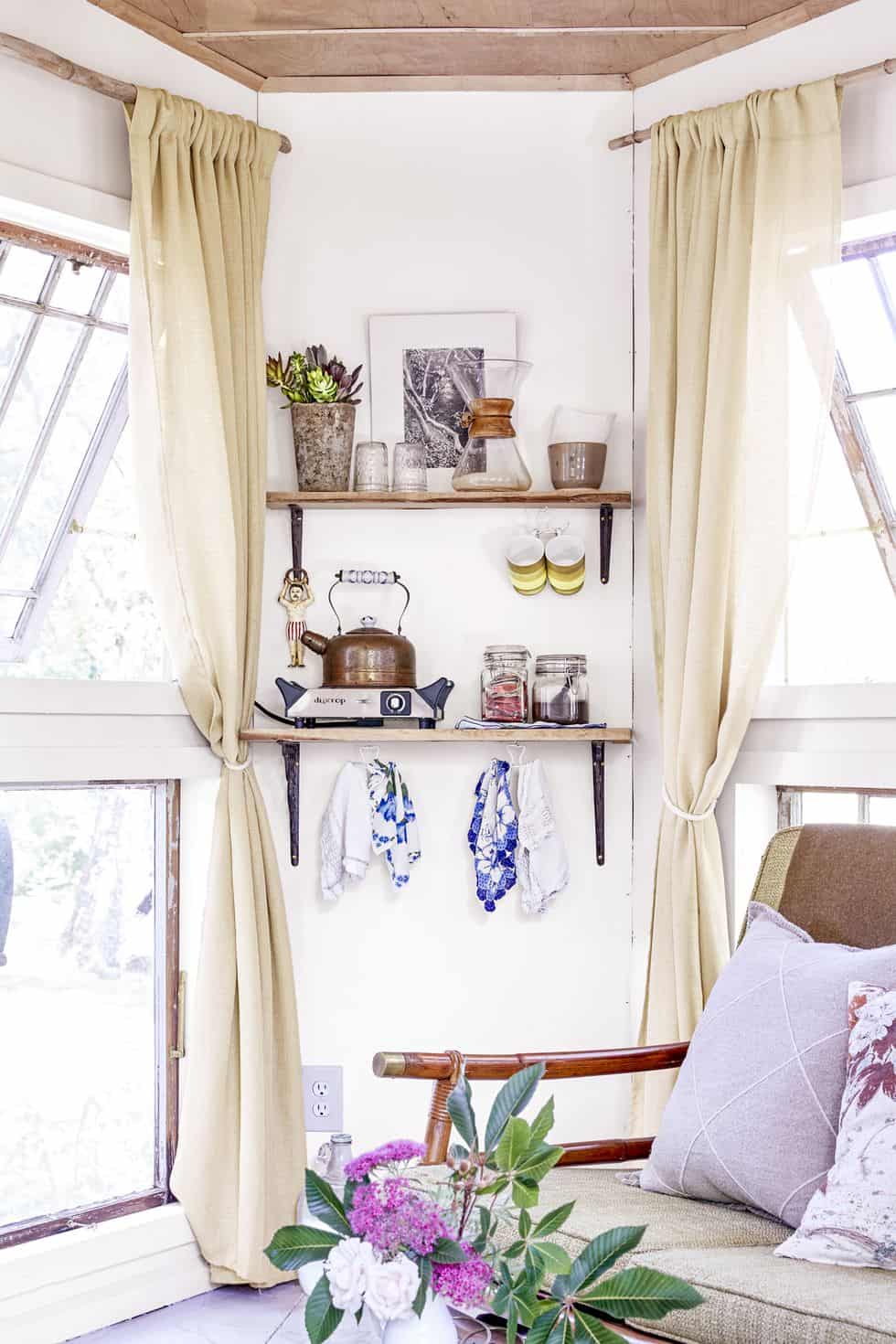 Image from Southern Living
Inside, the Fox House is purposely small — there is no kitchen or bathroom. Guests who spend the night are welcome to use the main home's private guest amenities. The tree house has no walls to divide one room from the other. The open concept seamlessly connects one place to the other. The master bedroom features an iron bed with a full-sized mattress surrounded by large windows, plus a thin peek-a-boo window on the ceiling. A 1950s bamboo sofa gives the living room a vintage feel, while the crisp white curtains make the tree house feel bright and airy. There is also a walk-out to a small balcony facing the area's flora and fauna. Guests can book the tree house on a nightly basis via Airbnb from $120 to $165 per night.
Escher micro house by New Frontier Tiny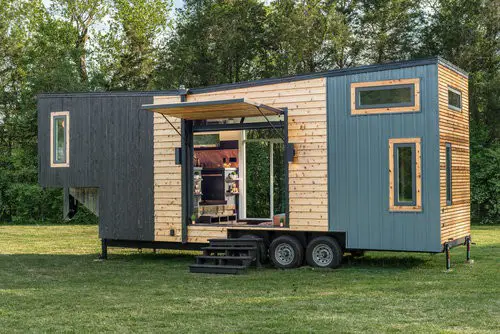 Image from New Frontier Tiny Homes
New Frontier Tiny designs three kinds of micro houses: the Alpha, the Cornelia, and the Escher. While all three micro homes have a different layout and use a variety of materials, we'll be focusing on the Escher. The Escher is like their Alpha model but re-designed for a family of three instead of two. Gooseneck trailers are the base for these micro houses, so you can travel with your home.
Image from New Frontier Tiny Homes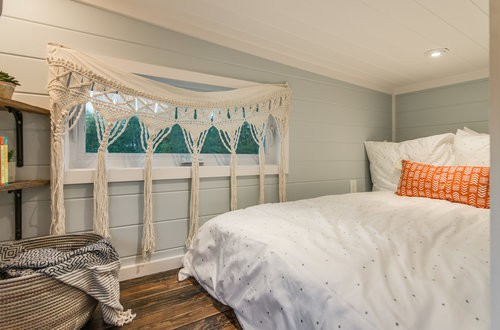 Image from New Frontier Tiny Homes
Instead of a traditional vertical door, the Escher features a garage-like door with an awning to easily connect with its surroundings. Inside, the Escher features dark hardwood flooring and high-quality finishes like no other home. This entrance area converts into the dining room, thanks to hidden furniture underneath the kitchen. The steps pull out to reveal a dining table and wooden benches.
Step up to the classy kitchen featuring an apron sink, copper backsplash, and dark custom cabinetry. The kitchen also contains a secret pull-out dishwasher, full-size stainless steel fridge, and an enviable chef's range. Double doors hide the master loft from view, which holds a bed with a hydraulic lift for storage underneath.
On the other end is the full bathroom with a compostable toilet, walk-in shower, and exposed wooden beams on the ceiling. Up a wooden ladder is a small play/study area for the kids, as well as a second bedroom hidden behind a set of shutters. The Escher is New Frontier Tiny's most upscale model and starts at $149,000.
SHOULD YOU MAKE THE MOVE TO MICRO HOUSES?
Micro houses are a great alternative if you can afford to work and travel at the same time. It means you can live comfortably in any part of the country and discover new places you never knew existed. Plus, you won't have to worry about paying a huge mortgage or expensive monthly bills. However, owning micro houses also means being away from your family and friends for long periods of time. But so long as you're calling, texting, and even video chatting, you're never far. Consider your housing options and weigh the pros and cons carefully before you make your decision. It's a big step, but if you make it, we guarantee you won't regret it.